Berlin 2018: Great Britain name team
Seven world champions to star at Para athletics Europeans
11 Jul 2018
Imagen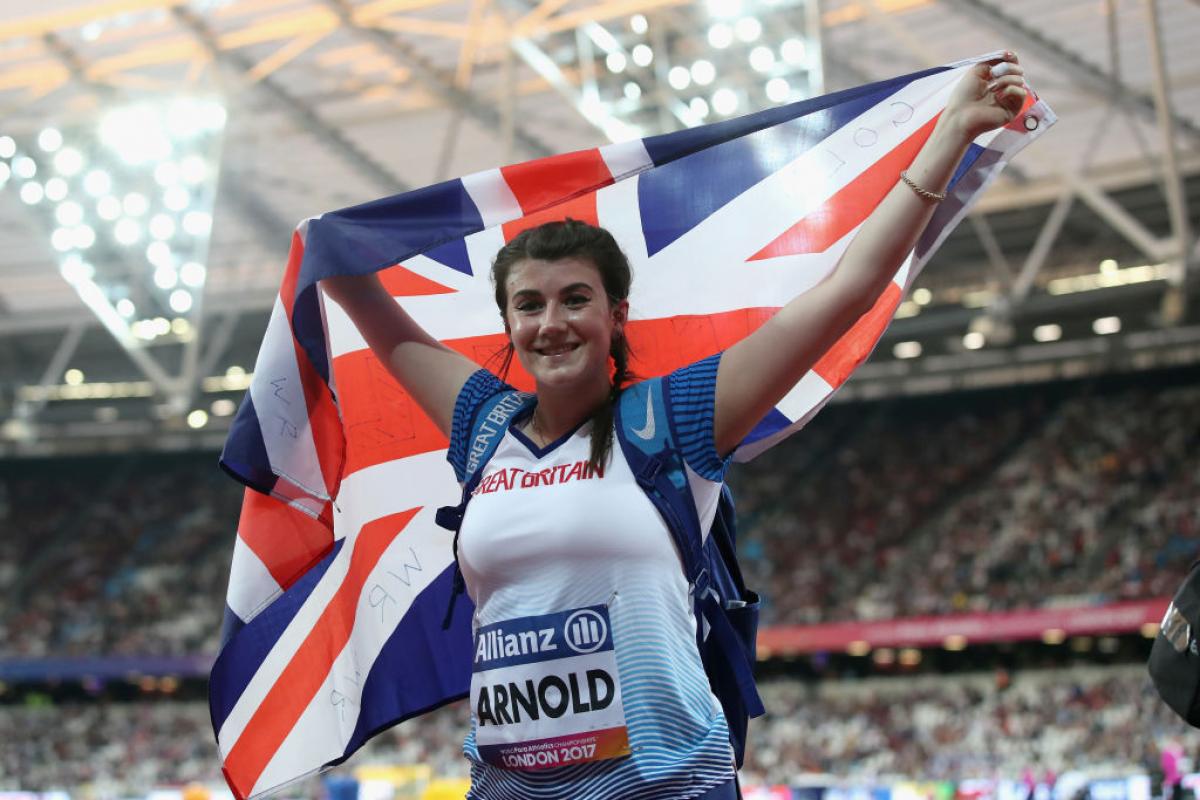 ⒸGetty Images
By British Athletics
Great Britain has announced its 52-strong team for the 2018 World Para Athletics European Championships to be held 20-26 August in Berlin, Germany. The squad includes 15 medallists from the 2017 World Championships held on home soil in London. Among those returning medallists are world champions Hollie Arnold, Olivia Breen, Hannah Cockroft, Aled Davies, Sophie Hahn, Stef Reid and Richard Whitehead .
Arnold, Breen and Hahn are fresh off gold medals at April's Commonwealth Games in Gold Coast, Australia, winning the javelin F46, long jump T38 and 100m T38 respectively. The trio are also among 18 who won medals at the 2016 European Championships in Grosseto, Italy. The medal haul of 56 at Grosseto 2016 was a record for the British team at the event.
Richard Chiassaro, a four-time medallist from Grosseto 2016, is seeking to continue an excellent 2018 season in Berlin after setting the 800m T54 world record, along with personal bests in all distances from 100m to 800m.
Seventeen athletes will make their major senior international debuts. Eve Walsh Dann, who claimed world junior gold in the 100m and 200m T35-38 in Nottwil, Switzerland, last summer. Luke Nuttall also steps up having won silver in the 1500m T46 in Nottwil.
Four race runners will represent Britain for the first time at the European Championships, while Sally Brown earns her first call up since the London 2012 Paralympic Games.
Paula Dunn, Head Coach at British Athletics, said: "We have a great tradition of winning medals at a continental level and I am looking forward to watching how our experienced athletes and those making their debuts perform.
"After a three-year period involving two World Championships, a Europeans and a Paralympic Games, it was always the intention for a handful of athletes to rest and recuperate in 2018. We have a great mixture of athletes going to Berlin who have reached the very top of the sport and those beginning their journey and I've no doubt they will learn a lot from each other in Berlin."
More information on Berlin 2018 can be found online.
Full team:
Kare Adenegan – 100m, 800m T34
Hollie Arnold – Javelin F46
James Arnott – 100m, 200m T47
Graeme Ballard – 100m, 200m T36
Martina Barber – Long jump T20
Olivia Breen – 100m T38
Sally Brown – 100m, 200m & 400m T47
Jo Butterfield – Club throw F51
Richard Chiassaro – 100m, 200m, 400m, 800m & 1500m T54
Hannah Cockroft – 100m, 800m T34
Aled Davies – Shot put, discus F63
David Devine – 1500m, 5000m T13
Hannah Dines – 100m RR3
Gavin Drysdale – 100m RR3
Sabrina Fortune – Shot put F20
Dan Greaves – Discus F64
Kylie Grimes – Club throw F51
Kayleigh Haggo – 100m RR3
Sophie Hahn – 100m, 200m T38 & 4x100m mixed relay
Callum Hall – 100m, 400m & 800m T53
David Henson – 200m T61
Jordan Howe – 100m, 200m T35
Harri Jenkins – 100m T33
Mo Jomni – 100m, 200m & 400m T53
Rhys Jones – 100m & 200m T37
Kyle Keyworth – 100m & 200m T35
Dillon Labrooy – 400m, 800m & 1500m T54
Maria Lyle – 100m, 200m T35
Nathan Maguire – 100m, 200m, 400m, 800m T54 & 4x100m mixed relay
Polly Maton – Long jump, 100m T47 & 4x100m mixed relay
Stephen Miller – Club throw F32
Steve Morris – 800m, 1500m T20
Taz Nicholls – Discus F64
Luke Nuttall – 1500m T46
Stephen Osborne – 100m, 200m T51
Javaughan Parkes – 100m T36
Ross Paterson – 200m, 400m T38
Stef Reid – Long jump and 200m* T64 (200m subject to confirmation)
Ben Rowlings – 100m, 400m & 800m T34
Amir Sarvestani – Long jump T11
Zac Shaw – 100m & 200m T12
Luke Sinnott – 200m & long jump T63
Zak Skinner – 100m, long jump T13 & 4x100m mixed relay
Ali Smith – 100m, 200m, 400m & Long Jump T38
Rafi Solaiman – 100m RR3
Laura Sugar – 100m, 200m T44
Isaac Towers – 400m, 800m T34
Vanessa Wallace – Shot put, javelin F34
Eve Walsh Dann – 100m, 200m T36
Shaun White – 100m T33
Richard Whitehead – 200m T61
Thomas Young – 100m, 200m T38