Berlin 2018 Home Grown Heroes: Niko Kappel
German field athlete confident ahead of Europeans Championships
30 Jul 2018
Imagen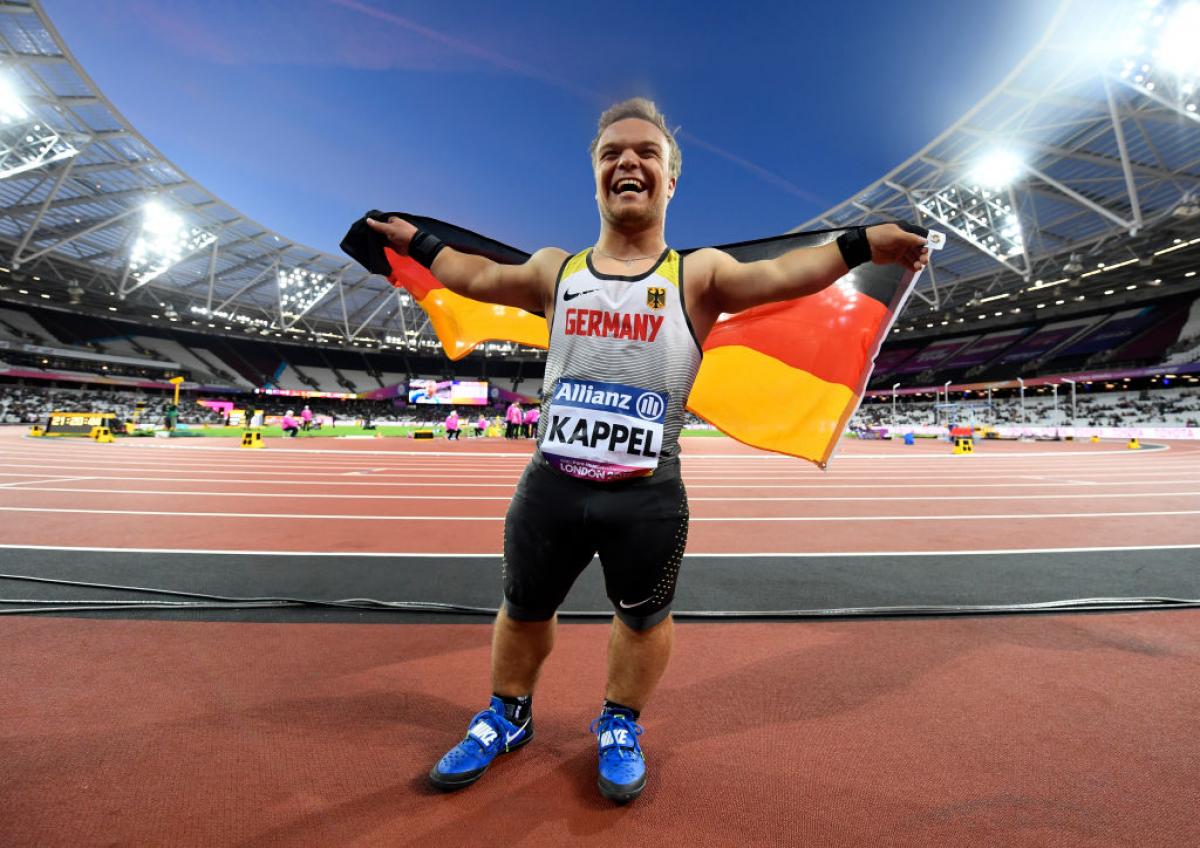 ⒸGetty Images
By IPC
Germany's Paralympic and world champion Niko Kappel will be hoping old habits die hard when he lines up at the Berlin 2018 European Championships in three weeks' time. The 23-year-old has set a new personal best at all four of the last major competitions he has competed in – including two World Championships, the Rio 2016 Paralympic Games and the last European Championships.
After breaking the shot put F41 world record in June this year and becoming the first in his class to go beyond the 14-metre mark, Kappel is more confident than ever of a win in Berlin - but he still has to get past main rival Bartosz Tyszkowski.
"In the last years we saw that I can throw a personal best in the biggest competition of the year and now it's in Berlin, I have the fans in the stadium behind me," said Kappel, who won European silver behind Tyszkowski two years ago.
"I hope that can help me to get the shot a little bit further than Bartosz. It's different now because it's the first time I'm top of the world rankings and Bartosz is third. It's a new position for me, but to win the European Championships in my own country it's motivation enough."
Long-standing rivalry
Kappel and Tyszkowski first competed against each other back in 2010 at the IWAS Junior World Games. Kappel, a year younger than his rival, threw the 3kg shot 7.95m. Tyszkowski won with a massive 12.44m.
The Pole went on to win the world title 2013 and again in 2015, where he opened with a huge 13.43m throw, changed shoes and passed the next two attempts. That was all he needed.
But since then, Kappel has been clawing back the centimetres. He made significant progress in 2015, with a change in coach and a move to the Stuttgart Olympic training centre, working alongside Olympic shot putters such as Tobias Dahm and Lena Orbaniak and 2016 World Junior champion, Alina Kenzel.
Coach Peter Salzer changed Kappel's technique and the result at the 2015 Doha World Championships was an extra two metres on his personal best.
"Every year I got a bit closer, then in Rio it was the first time that I beat him," said Kappel, who clinched Paralympic gold at Rio 2016 just one centimetre ahead of his biggest rival.
Now, only four centimetres separates Kappel and Tyszkowski's personal bests – the Pole threw 13.98m in May last year. While Kappel knows that he has to be at his very best to win in Berlin, the fact he heads there as the current world record holder provides a vital extra boost.
"It was our aim to do it this season and to do it before Bartosz did it – that was really important for me to be the first short stature athlete to throw over 14 metres," he admitted.
"So in Berlin we will try to throw a little bit more. I think 14.02m will not be enough for the gold medal.
"Now the European Championships are in Germany so a lot of people from my family and my home town, my partners and sponsors will come to the competition.
"I want to go drink some beer with them after the competition and in Germany it is better if you drink beer with the gold medal! I hope I can win the competition, but Bartosz is a very good shot putter and I don't know what he can throw at the moment - so it will be close."