Berlin 2021: Zijderveld and Dadaon set standards with Tokyo around the corner
Dutch world champion Zijderveld sets untapered world record, while Israeli swimmer shines with two gold medals and another world record
19 Jun 2021
Imagen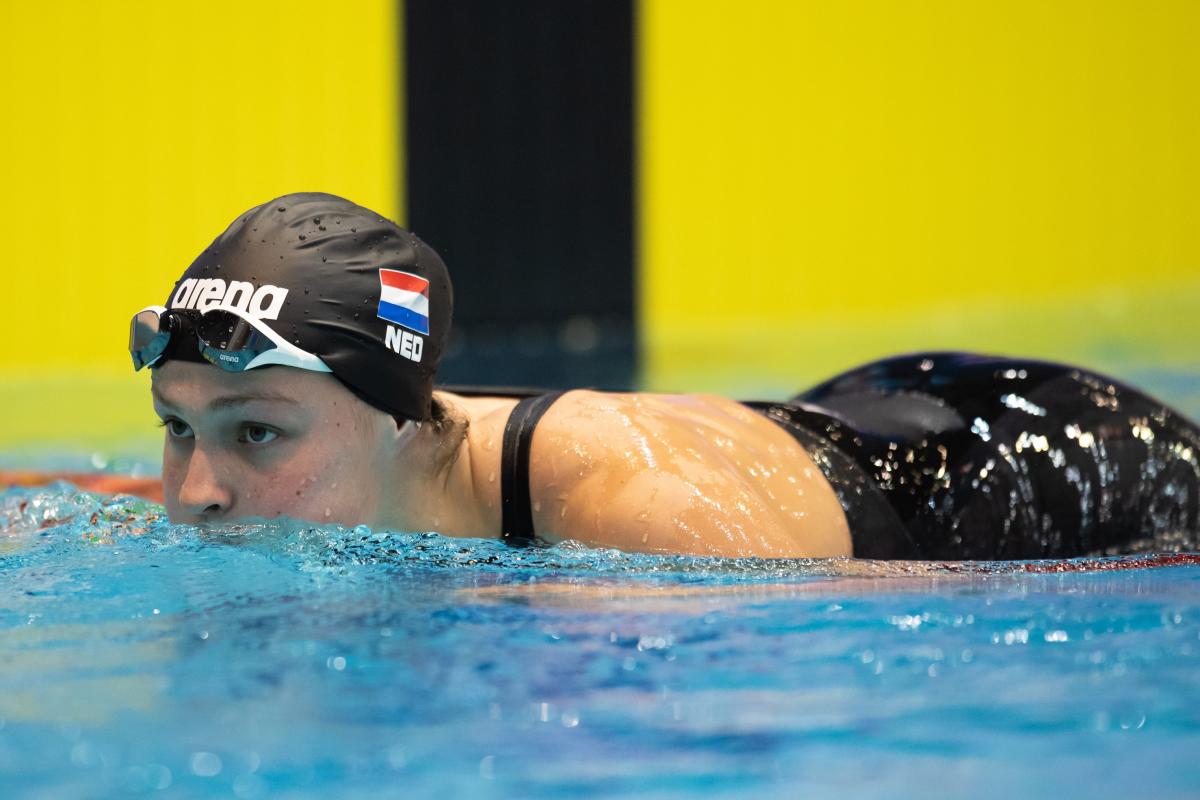 ⒸIDM Berlin
By AMP Media| For World Para Swimming
Days one and two of the Berlin 2021 World Series saw athletes from the Netherlands, Israel, China and Germany impress with world records and multiple titles 
Coming into the meet untapered, Dutch swimmer Chantalle Zijderveld set the standard of expectations of what is to come with the Tokyo 2020 Paralympic Games around the corner.  
The Rio 2016 bronze medallist and London 2019 world champion in the 100m breaststroke went beyond her own expectations and broke the SB9 world record in 1:11.95.  
"An untapered world record on the 100 breaststroke, the first ever sub 1:12," she wrote on Instagram Stories right after the event, celebrating her joy. 
After the Dutch team recently skipped the European Championships in Madeira, Portugal, the World Series in Berlin was the only chance to test form in the lead-up to Tokyo for the Dutch swimmers. And Zijderveld did just that. 
"I'm a bit overwhelmed to be honest," she said quickly after her gold medal winning race. "I knew that I could swim fast, because we are a little bit rested. But I was not as rested as I usually am. It's a bit of a surprise to swim a world record." 
Zijderveld defeated her teammate Lisa Kruger, the 2016 Paralympic champion in the 100m breaststroke, and showed a thrilling battle in Tokyo is yet to come. 
"It's really exciting to swim a world record right now. It means a lot. This is our last official competition before the Games and all we wanted was to swim fast here. I guess that's what happened," she said with a smile. 
In Berlin, the Dutch team doubled up on gold in the first two days of competition as Liesette Bruinsma, a five-time medallist from Rio 2016, clinched gold in the 100m freestyle S11. 
Dadaon shines with world record and two golds
On the men's side of the competition, Israel's Ami Dadaon showed top form with two gold medals (100 and 200m freestyle) and a stunning world record in the 200m freestyle S4 (2:50.92). 
Dadaon, a triple gold medallist from the 2021 European Championships, recently set a new world record in both the 100 and 200m freestyle and now bested his time on the latter event yet again. 
A sunny training camp in Cyprus helped him to step up his game in Berlin. "It made me better," he explained. 
Coming off the back of a successful European championships and having won another two titles in Berlin, Dadaon knows expectations for Tokyo 2020 will be high. 
"I try to start every day doing whatever I can to get the best version of myself. Now I should handle the pressure for Tokyo. It will be harder to do it in Japan, but I hope I can keep up the good work," he said. 
Double gold and world records for China and Germany
China and Germany were the other countries to take double gold, including world records, at the first two days of competition in Berlin. Dong Lu and Tao Zheng captured gold for China in the women's 50m backstroke S5 and men's 50m backstroke S5, respectively. 
While Dong Lu swam an Asian Record of 39.19, Tao Zheng broke the world record on the men's side in 32.48. 
"I spent one year and a half without competing internationally, so it feels great to achieve such a great performance. I was not expecting this," he said. 
Having won 100m backstroke gold at both the 2012 and 2016 Paralympic Games, Tao Zheng is certainly one to watch come the 2020 Paralympic Games. 
"I will keep working hard as I am very excited for Tokyo," the Berlin 2021 gold medallist added.
Gina Bottcher and Josia Topf secured gold medals for Germany, with Bottcher clinching the title in the 200m freestyle S4, whilst Topf broke the SM2 world record in the 150m Individual Medley. 
The German swimmer set up new marks as he twice broke the world record in both the heats and final at home soil. In the finals, he swam to a record time of 3:22.21 to easily better his time from the heats (3:23.00). 
"It's amazing. I wasn't sure if I could do it twice, but I did it and it was a real pleasure," Topf said. 
More action on Saturday and Sunday
For most swimmers, the Berlin 2021 World Series is the last best chance to test themselves against some of the world's top swimmers before the Tokyo 2020 Paralympic Games. Competition continues on Saturday and Sunday. 
The competition is being streamed live on World Para Swimming website. Full results of the Berlin 2021 World Series can be found here. 
 *World records subject to ratification by World Para Swimming