Berlin marathon: Hug and Schär win
The Swiss pair retain titles in a wet race in the German capital.
24 Sep 2017
Imagen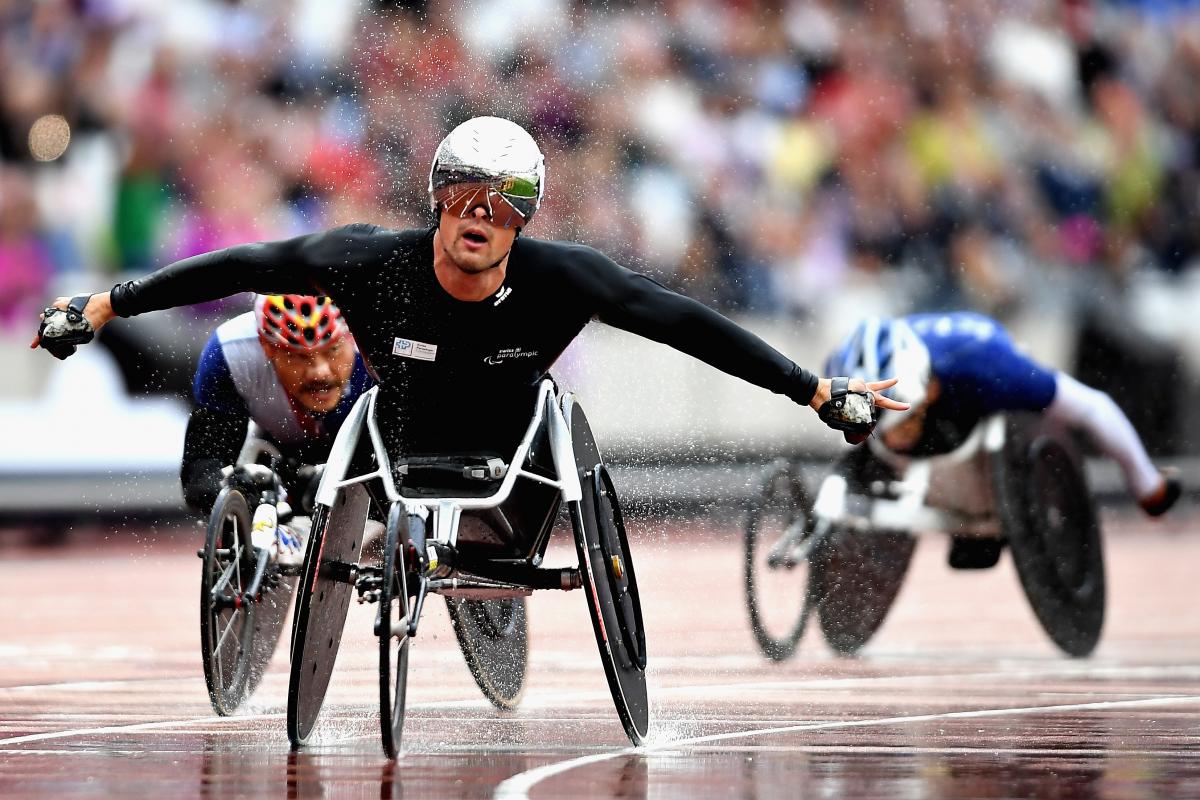 ⒸGetty Images
The Swiss were on a roll in Berlin as Marcel Hug and Manuela Schär took the men's and women's marathon titles for the second successive year in the German capital on Sunday (24 September).
Hug crossed the line in 1:29.03 in the damp conditions, nearly four minutes ahead of the chasing pack, with Japan's Kota Hokonuie (1:32:42) and Ryota Yoshida (1:32:43) claiming second and third respectively.
"I had a great race, I was well prepared and feeling well, I also prepared for the rain so from the start to the end, everything went well - I'm really happy," said Hug, who dominated the race from the off.
It was a convincing win for Schär in the women's race too – the 32-year-old finished in 1:40:05, with fellow Swiss Sandra Graf (1:45:24) - who finished second last year – the runner-up once again. Germany's Annika Zeyen (1:51:02) took an impressive third place on the podium in her first marathon.
Victory in Berlin meant a third consecutive marathon win for Schär this year, following first place finishes in Boston, USA, and London, Great Britain, in April.
"It was comfortable for me, especially knowing Boston and London went so well, but it was a shame Tatyana McFadden and Amanda McGrory couldn't fly in," said Schär, who missed out on a chance to race against the American duo after their AirBerlin flight to Europe was cancelled.
"I had to change my mind as I thought it would be a tactical race, and instead it was a race against myself.
"It's a shame it started raining in the second half of the race - I think I lost a lot of time in the last 10 kilometres due to rain," added Schär, who finished just over 30 seconds outside the course record set by Graf back in 2009.
Indeed, 'cold and wet' was how Brent Lakatos described his first ever marathon, but the Canadian was quick to point out just how much fun he found the experience.
"It was really exciting, I got to stay with the fast guys and that's what I wanted," explained the T53 wheelchair racer, who finished an impressive seventh on his debut over 26.2 miles, clocking 1:32:55.
"It's much more fun to do it with a pack of people than to do it by myself, so it was a great experience and I'm sure I'll do more in the future. It's a lot different from track racing – there's a lot more strategy. It was a really nice course, so I had lots of fun," he added.
Hug and Schär now sit top of the men's and women's leaderboards in the Abbott World Marathon Majors Series XI, which began in London this year.
Points are awarded to the top five finishers at each of the six major marathons – London, Berlin, Chicago, New York, Tokyo and Boston – with the series ending back in the British capital next year.
"I'm really happy that I can see I'm still improving and still going faster each season. That's giving me a lot of confidence," said Schär, who heads up the women's table with a maximum 50 points so far.
Series XI current standings:
1. Marcel Hug (SUI) – 41 points
2. David Weir (GB) – 25 points
3. Kota Hokonuie ((JPN) – 16 points
4. Kurt Fearnley (AUS) – 9 points
5. Ryota Yoshida (JPN) – 9 points
6. Ernst van Dyk (RSA) – 4 points
7. Heinz Frei (SUI) – 4 points
8. Rafael Botello Jimenez (ESP) – 1 point
9. Johnboy Smith (GBR) – 1 point
1. Manuela Schär (SUI) – 50 points
2. Amanda McGrory (USA) – 16 points
3. Sandra Graf (SUI) – 16 points
4. Susannah Scaroni (USA) – 9 points
5. Annika Zeyen (GER) – 9 points
6. Margriet van den Broek (NED) – 4 points
7. Patricia Keller (SUI) – 4 points
8. Jade Jones (GB) – 1 point
9. Mel Nicholls (GBR) – 1 point