Blade Boy Rio first to be fitted by Dorset Orthopaedic
Eight-year-old Rio Woolf is the first in Great Britain and Ireland to be fitted with the new 1E93 Runner junior, a running blade made by Ottobock.
11 Jul 2016
Imagen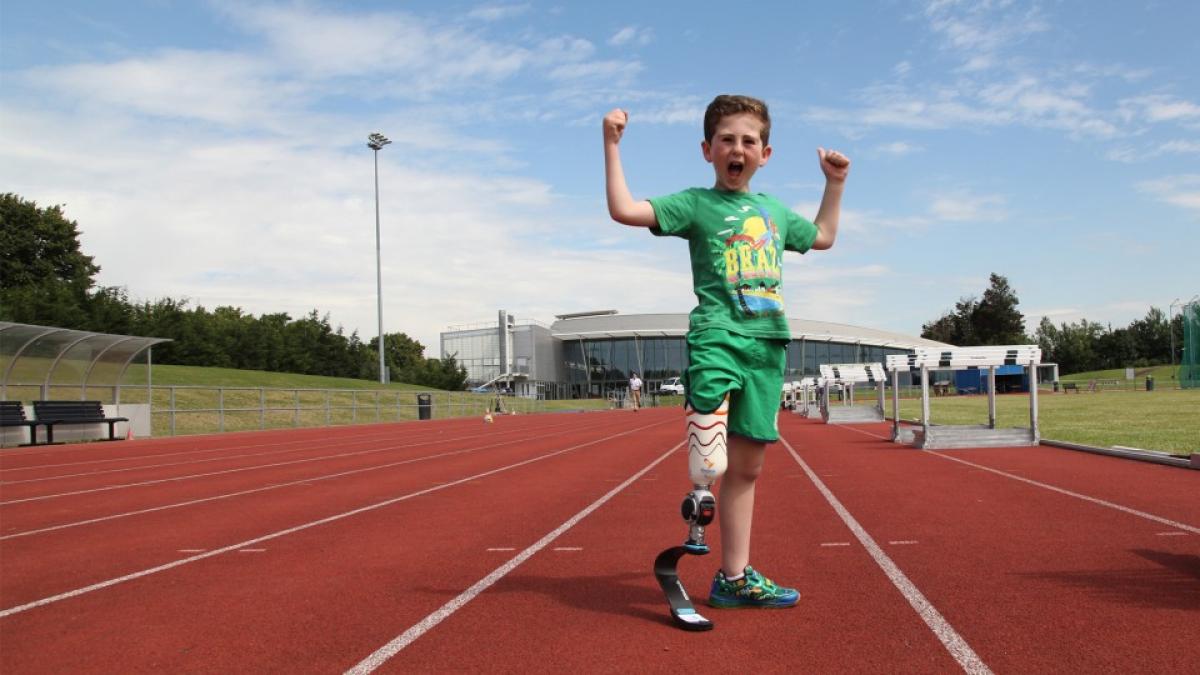 ⒸOttobock
By Ottobock
"It is absolutely fantastic to see him running with a 'Bendy Blade' for the very first time."
Ottobock and Dorset Orthopaedic ambassador Rio Woolf is keen to follow in the footsteps of his Paralympic heroes Jonnie Peacock, Richard Whitehead, Alan Fonteles Oliveira and Heinrich Popow, after being fitted with the new 1E93 Runner junior, a running blade made by Ottobock.
Eight-year-old Rio, also known as Blade Boy Rio, was born with a one-in-a-million bone deficiency in his lower right leg which meant his tibia, knee and ankle joint was missing.
"I am so excited to get my new running blade, it is going to be super amazing and will help me to run even faster on the track and in the playground," said Rio, who will be able now to perfect his running technique and work towards his dream.
"I will be even quicker on the tennis court and on the football pitch so I will be able to score more goals. It is super cool to have a bendy blade for the first time, which means I will be able to run better than I ever have before!"
Known for its pioneering mobility solutions, Ottobock has designed a carbon fibre running blade suitable for active children up to the age of approximately 13 years or a maximum weight of 45kg.
The blade is lightweight and robust, providing a powerful drive and a stable turning point. It has been coupled with an all-terrain, anti-skid sole that allows for running on different terrains, from grass fields to tartan running tracks.
Ottobock Managing Director Philip Yates said: "This is our first junior blade and we are really pleased that we will be able to offer children the opportunity to run with a blade.
"We want to see children lead full and active lives and hope that the Government's £500,000 funding, which was ring fenced for 'child sports prosthesis', will be taken advantage of.
"While the funding at this point will only ensure 500 children have the chance to run, it is a start, and we implore the Government to take note of the importance of getting children active and ensure future funding so all children are offered the chance to be able to run with their peers."
Rio received his first running blade from Dorset Orthopaedic for Christmas in 2012, giving him a better quality of life as he could join in with all the activities that a four-year-old enjoys.
Matthew Hughes, Clinical Services Development Director at Dorset Orthopaedic, said: "Rio did not have a knee joint before on his running leg as he was not big enough. This meant that when he ran he would swing his leg out to clear the ground.
"Now Rio has been fitted with a knee joint he runs with a more natural stride, improving his symmetry of movement and reducing stresses and strains on his body."
Rio's parents, Juliette and Trevor, were told that he would need a through-knee amputation. He underwent the operation at 14 months and was fitted with his first prosthetic leg at 17 months.
"We are so happy that Rio is finally tall enough to be fitted with a knee-jointed running blade. We have been waiting a long time for him to grow to the right height," said Juliette.
"It is absolutely fantastic to see him running with a 'Bendy Blade' (as he calls it) for the very first time. He has adapted so well and so quickly to this new more natural style of running."
Rio has been personally invited to the Rio 2016 Paralympic Games as a special guest by IPC Vice-president and Brazilian Paralympic Committee President Andrew Parsons.
More information can be found on Ottobock's website.