What makes the perfect...throw?
Great Britain's shot put and discus world record holder Aled Davies explains what it takes to deliver the best throw possible.
10 Jul 2016
Imagen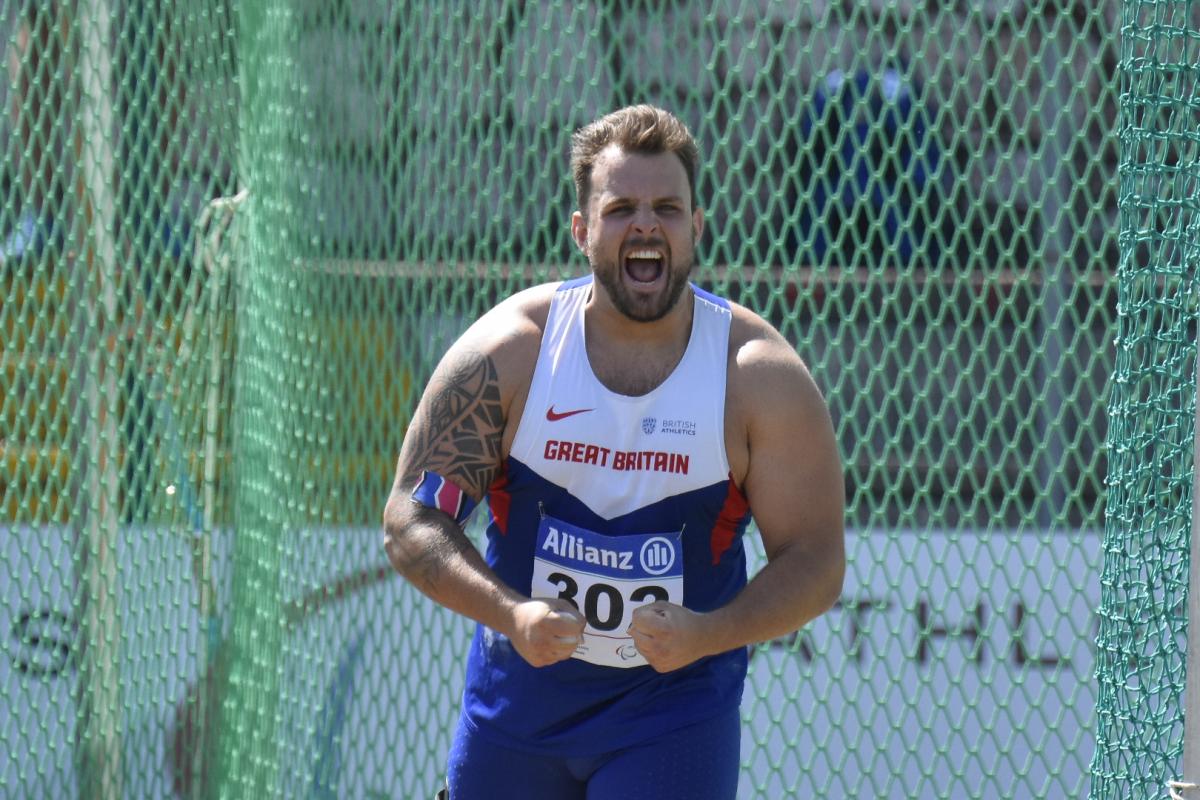 ⒸAgenzia Fotografica BF
By IPC
Great Britain's Aled Davies won Paralympic discus gold and shot put (F42) bronze at the London 2012 Paralympic Games, and currently tops the global rankings in both events.
The Welshman has positioned himself as the man to beat at Rio 2016, with multiple world and European titles to his name.
Davies won double gold at last October's World Championships and continues to improve this year too.
The 25-year-old smashed his previous shot put world record with a throw of 16.38m in Birmingham, Great Britain, in June – less than two weeks after securing double European gold in Grosseto, Italy, with a world record mark of 54.14m in the discus.
What does it take to make the perfect throw? We asked the man himself:
What makes the perfect throw?
It varies – Paralympic sport, in terms of throwing, is very adaptive. You have seated throwers, you have those who are affected in their arms or legs - and so on. Generally, it's all about the legs – moving across the circle and generating the power from the legs and transferring that up through the hips in to the upper body, then releasing the implement.
In Para sport that's where you see some incredible guys – seated athletes who are throwing 14, 15, 16 metres. I speak to able-bodied guys and they are astounded by that because they know how hard it is to throw when you can use your legs. So for someone who is isolated to their upper body it is incredible.
For me, the key is moving across the circle quickly, having separation between the lower and upper body and relaxing; if you try to throw far, it never happens.
What is the balance between power and technique?
I think technique is the most important part. I come up against some of the strongest guys in the world - it's all good being strong and powerful but if you can't transfer that over to the throw it's useless.
How important is it to be nimble and light footed?
There are two types of people in throwing – the big strong people, and the quick athletic ones. You sometimes have gifted athletes who are a bit of both, and you'll know that because they'll be ahead of everyone. I used to be about 22 or 23 stone (145kg) and I was really strong. Now, we've changed a lot of things – I've dropped six stone (38 kg), and gone for the more technical and athletic side of throwing. I feel that that works wonders for me. Most throwers these days are a lot more athletic, a lot more powerful, and very quick across the circle.
Can different throws complement each other?
All throwing events are very specialised – there are so many different techniques, the main ones are the rotational and linear throws, which are probably the most common techniques used by able-bodied athletes.
In Para athletics there are other techniques that individuals have adapted to work around their particular disability. I use the rotational technique, so I can use similar styles in both my disciplines – shot put and discus. For me, the only good thing about going from the shot put to the discus is that the discus ring is a lot bigger, so the only thing I change is to try and get a bigger orbit with my body. The shot put is a lot more compact.
What are the key elements a beginner should consider?
When I first started throwing I didn't pick up a shot put or discus for months. I drilled through the techniques to make sure I could do the movements through the circle correctly; there was a lot of analysis.
Do you have to focus your eyes somewhere to make sure you throw in the right direction?
One of the things that my coach and I took out of the recent European Championships is that I kept dropping my head and looking at the floor. At the end of the day that is not the right thing to do because I am losing vital centimetres on my throw. It's all about keeping your head up and looking forward - the ground isn't moving.
How often do you do full throws in training?
I throw three times a week – on Wednesdays we do specific drills working on one part of the throw. We do cross over training too – maybe a standing throw, then a medicine ball against the wall – we call it complex training. Thursdays are a very technical session where we work on the full throw. Depending on what time of year it is I could do anything between 20 to 40 throws. Then on Saturdays I have a slam session where I put everything I've been working on together and try to throw far. I'll probably do 20 throws, with six at the end that are as close to competition as possible.
How important is visualisation and mental strength?
This is probably one of the most important factors and certainly key for me. I've seen guys fall apart in competition when they've been the best athlete on the day. If you can't perform when it matters it's so disappointing, because that's what it's all about. I can only control myself and if I can do that then it's job done.
__
Sport fans from around the world can now buy their Paralympic tickets for Rio 2016 from authorised ticket resellers (ATRs)
The IPC's Global ATR is Jet Set Sports, and Rio 2016 tickets and packages can be purchased on the CoSport website.
Residents of Brazil can buy 2016 Paralympics tickets directly from the Rio 2016 website.
Visa International is the exclusive payment card and the official payment system for the Paralympic Games.