What makes the perfect….high jump?
Great Britain's world and European silver medallist talks us through exactly what it takes to master the high jump.
13 Mar 2016
Imagen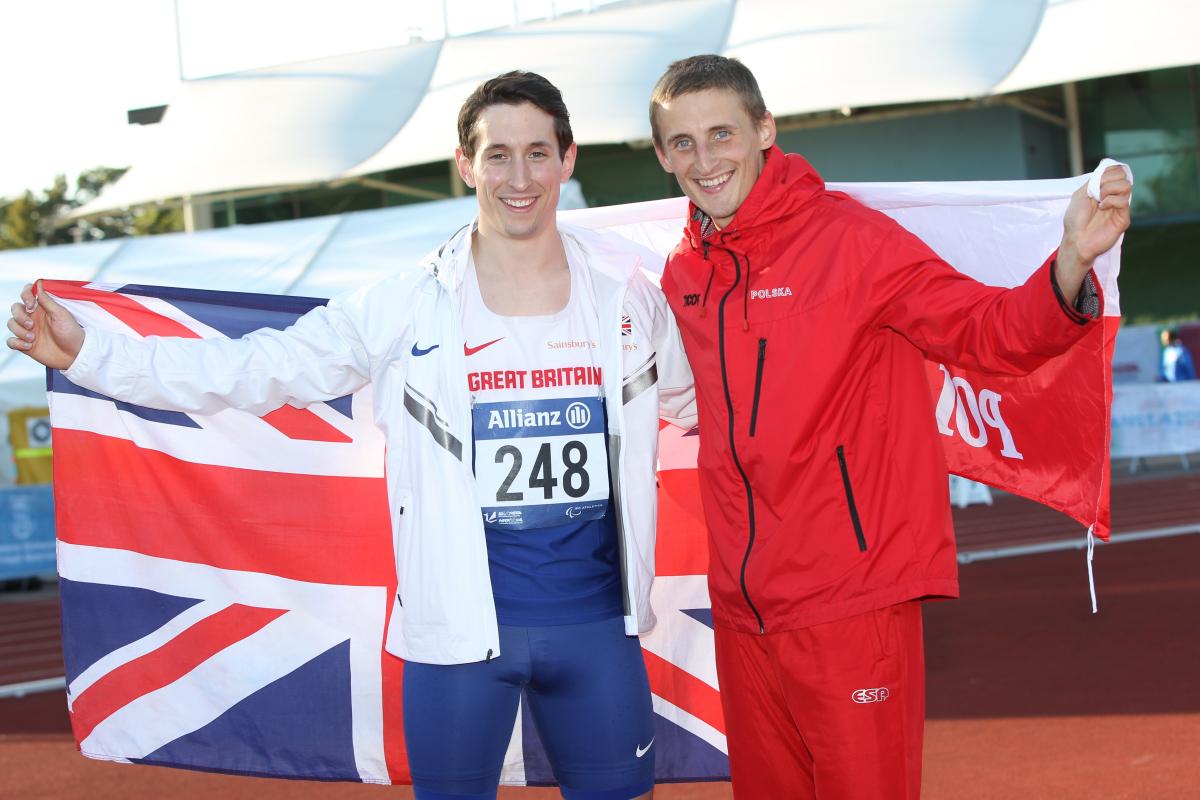 ⒸSporting Wales
By IPC
The best jumps I achieve are when I am fully committed, maintain perfect posture throughout the run-up, and free myself up from too many thoughts.
March's 'What makes a perfect…' focuses on the high jump, as Great Britain's world and European silver medallist Jonathan Broom-Edwards (T44) talks us through exactly what it takes to succeed on the world stage.
The 27-year-old only began competing internationally in 2013, and immediately went on to win high jump T42/44 silver at the 2013 IPC Athletics World Championships in Lyon, France, behind the world record holder Maciej Lepiato of Poland.
A year later the pair met at the 2014 IPC Athletics European Championships in Swansea, Great Britain, where Broom-Edwards had to make do with silver once again in an electrifying competition where he cleared 2.15m – a height that would have won gold at the 2012 Paralympics – as Lepiato cleared an extra two centimetres. The world record currently stands at 2.18m.
What Makes the Perfect…High Jump with Jonathan Broom-Edwards
What are the keys traits that you strive for to make the perfect high jump?
The best jumps I achieve are when I am fully committed, maintain perfect posture throughout the run-up, and free myself up from too many thoughts.
When you train, what is the balance between executing a full jump and breaking it down in to its constituent parts?
Training is where the discoveries are made. The jumping phase is broken up quite often but pieced together in the same week. We do 'U' bends to practice getting the correct posture running a high jump curve; 'J' bends help us practice getting the right take off position at the end of a curve.
Then there is short approach and 10 centimetre box work, which focuses on the take-off element, and the long approach where we piece it all together. We are also constantly practicing high jump drills to break down the running element of the discipline.
How important is it to pace out and mark your run up and start position?
The start of the run up is probably more important than the jump itself. It's what sets up the build of energy, postural positions, stride lengths - you name it. If the initial stride is two inches off, the high point of the jump itself will be significantly past or before the correct position, which can be the difference between clearance or failure. Marking out and practicing the start helps us to repeat the same rhythm, and hopefully helps us maintain consistency.
High jumpers typically talk to their coaches often during competition - why do you think this has become the norm and do you always find it an advantage?
The coach is often able to see the subtle mistakes that we as high jumpers can't feel. After years of building a relationship, the coach is quickly able to give assistance during the competition, to help us make the subtle changes to our run-up. The technical element of high jump always needs refining, so being able to reflect on the bad jumps with your coach or assistant coach ensures that you learn from the failures to reduce the bad jumps.
Talk us through the perfect run-up and take off.
It's simply a run up, acceleration around a curve, and a jump. My job is to keep it as simple as possible. I'm fortunate that I have a coach who can do the thinking for me and who can articulate it in a way I can quickly understand. That's not to say it's always like that, as often my brain comes too much into play, but becoming more professional is about reducing the bad jumps and keeping the extra thinking to a minimum.
How much of a part does mental focus and preparation play and how much are you on 'automatic'?
Ideally, for each jump I do I would be on auto pilot and perform the same brilliant jump over and over, as my physicality doesn't alter across the time of a competition, only my brain function does.
There are cues I say to myself that help me gather my focus and remind myself of how to run my curve, but the hardest part of a competition is recovering that focus following a failure.
What do you look at when you jump?
Usually as I come to take off I am trying to look over the bar into the empty space. As the bar goes up, it does start to fill that space which can lead to a psychological block. I am currently trying to keep my head in a more neutral position - following my sight around the curve rather than being too focused on the bar.
What part does achieving the right rhythm play, and how much do clapping crowds help?
The crowd clapping can give a great adrenaline surge, which can be just what is needed to get the extra centimetres over the bar. Rhythm is key for high jump, so losing that is detrimental for the jump. The clapping sometimes brings that rhythm back if you have temporarily lost it.
Sport fans from around the world can now buy their Paralympic tickets for Rio 2016 from authorised ticket resellers (ATRs).
The IPC's Global ATR is Jet Set Sports, and Rio 2016 tickets and packages can be purchased on the CoSport website.
Residents of Brazil can buy 2016 Paralympics tickets directly from the Rio 2016 website.