Boston marathon: McGrory targets top three finish
After winning in Tokyo, the US racer is hoping to make the podium in the final race of the Abbott World Marathon Majors Series X.
10 Apr 2017
Imagen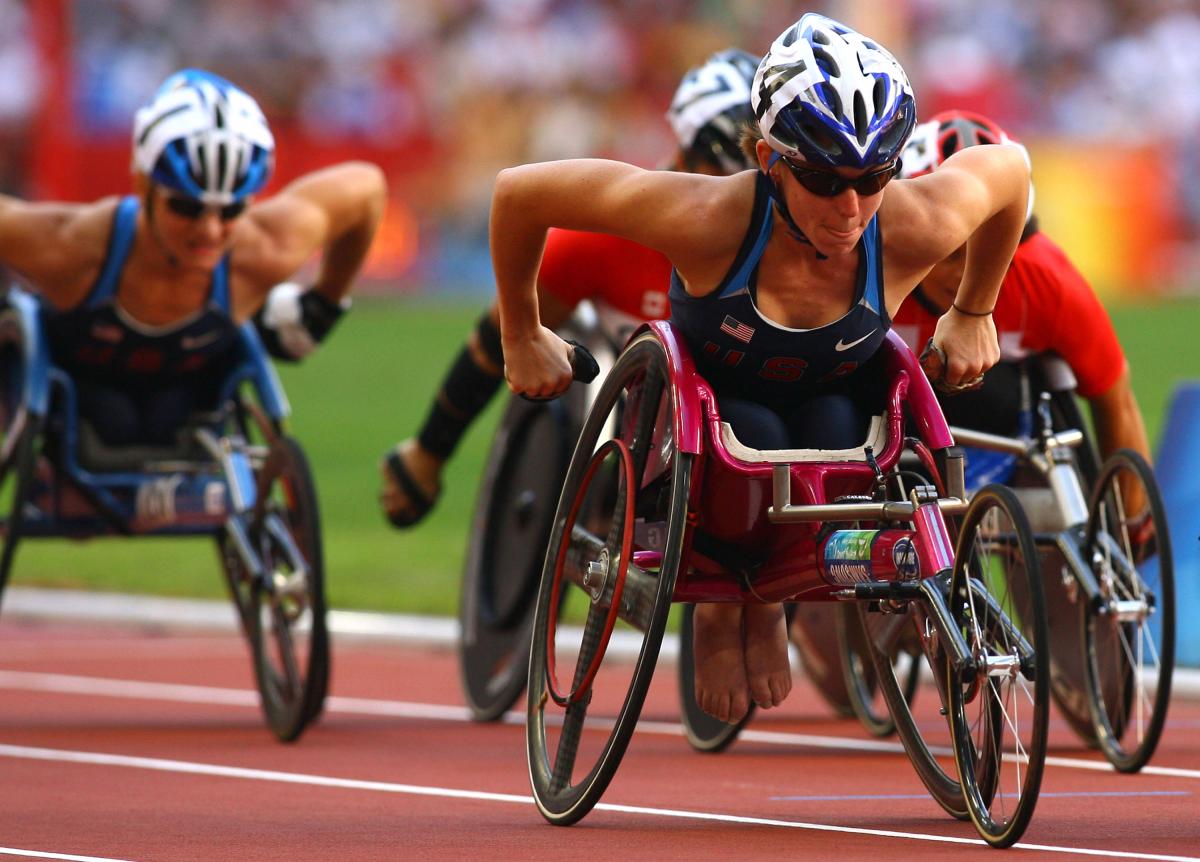 ⒸGetty Images
I'm definitely feeling confident with my performance this year and I'm really hoping for a top three finish, but I'm not going to count out a win."
US wheelchair racer Amanda McGrory will line up in Boston, USA next week (Monday 21 April) hoping to notch up her second major marathon win of the year.
McGrory won February's Tokyo marathon after a terrific sprint in the final 50m, taking the line ahead of Switzerland's Manuela Schär.
The victory provided a vital boost of confidence for the American as she prepares to take on Boston – a course that she admits does not play to her strengths.
"Tokyo was a big surprise for me, I didn't really feel like I was in marathon shape yet because it was so early in the season, then when it came down to just the three of us (McGrory, Schär and US racer Susannah Scaroni) at the finish I was like 'I've got to give it a go for the win here,'" she explained.
"Knowing that I'm able to hang in there, and able to sprint with those girls at the finish was hugely encouraging for me.
"The last few races of the current series have been really strong for me. Top three finishes in New York and Chicago and then the win in Tokyo. I really want to carry that momentum over."
The 30-year-old has yet to finish first in Boston – she has, since 2006, enjoyed a number of wins in London, Chicago and New York – but the Champaign-based wheelchair racer is determined to change all that this year.
"It's a net downhill course, and my coasting is definitely one of my weaker qualities in racing. But I'm definitely feeling confident with my performance this year and I'm really hoping for a top three finish, but I'm not going to count out a win," she added.
One notable absentee from the Tokyo race was McGrory's Illinois teammate Tatyana McFadden, who has won the Boston marathon for the last four years.
The multiple world and Paralympic champion has already secured an unassailable lead in the Abbott World Marathon Majors Series X which concludes in Boston; series XI begins just six days later in London.
McFadden may start the race as favourite – she also won in London, New York and Chicago last year – but lining up against such a talented and successful athlete does not dampen McGrory's hopes and expectations.
"As an elite athlete it's always nice to win, but the wins mean more when you are putting yourself against the best and still coming out on top," explained McGrory, who sits third in the Series X leaderboard, with Schär in second place.
"Tatyana's definitely a tough competitor but I think she brings out a whole different level of competition in the field and from the other competitors. She's very strong, but I never go in to any race expecting to lose or focusing on outcomes from the past. I just take every mile for itself and do what I can to make sure I am up there with her.
"As a training partner I get to push with her every day, which is also an excellent opportunity and I guess that she pushes me to work my hardest and to be my fastest."
It's not just McFadden that McGrory trains alongside – the group of talented Illinois-based racers also includes Scaroni and Chelsea McClammer.
At the Rio 2016 Paralympic Games the US trio of McFadden, McGrory and McClammer achieved two clean sweeps, filling the podium in the 1,500m and 5,000m T54.
There is no doubt that together, they work well as a team.
"We did a fantastic job working together for two sweeps in Rio which is something we've never been able to do before.
"It's great having someone as strong as Tatyana on your side knowing that you can work together with her, maybe to break away from the field, putting your strengths together," said McGrory.
If the Illinois quartet do work together as a team in Boston, the rest of the field had better watch out. But McGrory is well aware there is still only one winner.
"Like any individual sport it comes down to every man for himself at the end, but coming in to races with such a strong group of athletes that I train with every day - it's a pretty cool experience knowing you have a mini team in that lead pack.