Brad Bowden: My first time
Canadian forward speaks emotionally about how he became one of the world's best ice sledge hockey players.
16 Feb 2016
Imagen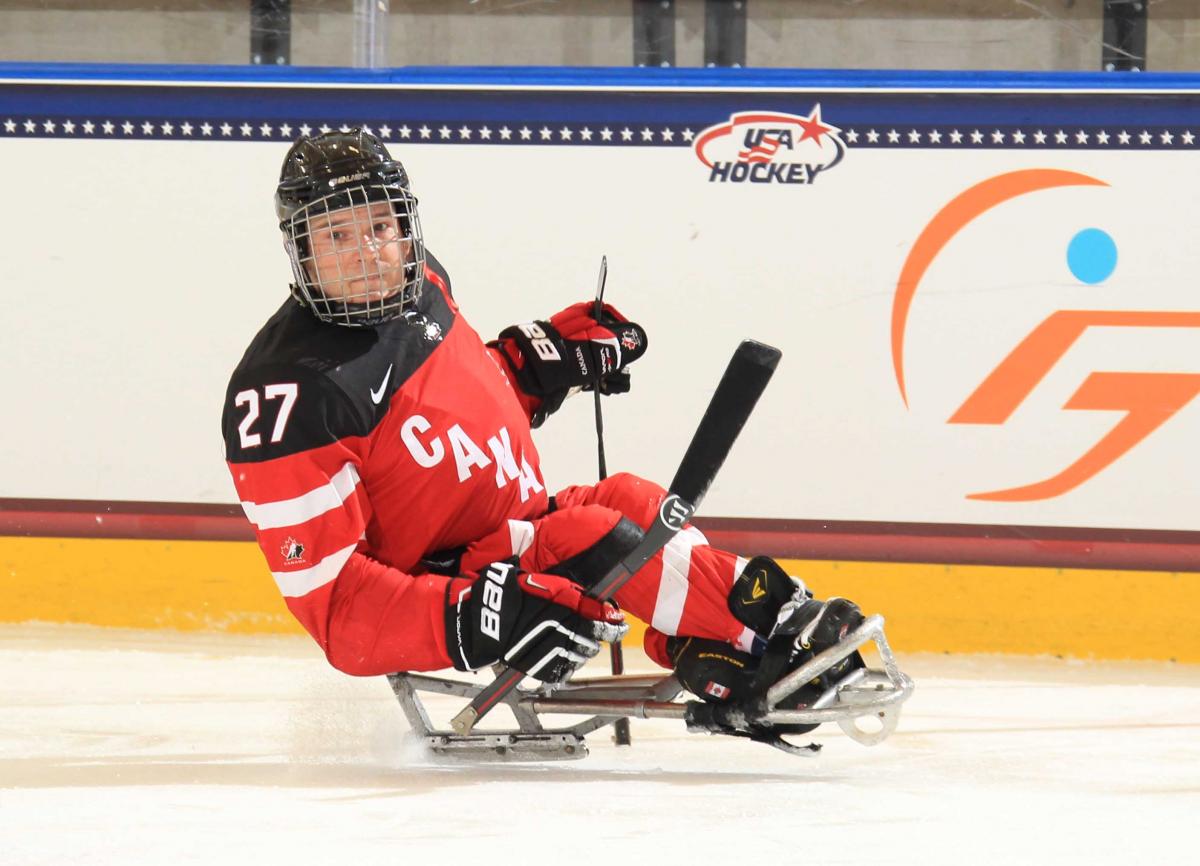 ⒸBill Wippert
By Kim McGreal | for the IPC
Canada's three time world champion and Paralympic gold medallist Brad Bowden knows exactly who to credit for making him the ice sledge hockey player he is today.
"When I think of my earliest [sledge hockey] memories I think of the long drives to practice that I used to have with my grandparents, I miss those drives to the rink," he said.
His beloved grandparents, who raised him from the age of two, were the ones who encouraged him to try sledge hockey, and they were the ones who drove him miles each week to the ice rink for training. And they have always been his biggest fans.
"My grandmother was very big on getting me out playing sports," he remembers. "At first I didn't want to play, to be honest, because I grew up in a small town where I was the only disabled kid. I was never treated any different, so I didn't see myself as someone who needed to play a "disabled" sport."
Bowden actually tried basketball first, alongside another local boy named Billy Bridges. The two of them played on a team under coach Jeff Penner, who suggested they might like to try sledge hockey – and neither of them looked back.
As a huge ice hockey fan, Bowden decided that he wanted to try playing in goal, like his hero Felix Potvin of the Toronto Maple Leafs. But his coaches quickly identified that he had a different skill set. "I was dragged out of the position and put on forward because I could really skate and handle the puck well, and our team needed some help up front."
Like many young team athletes, choosing a number to wear was quite a big decision for him – and one that he put a lot of thought into.
"When I was younger I really loved Michael Jordan, so I always wanted to have the number 23, but when I made the team 23 wasn't available," Bowden said. "They had 29 [Felix Potvin's number] but I didn't want that number unless I was going to be in net, so I decided that I would go with 27.
"I remember my grandfather telling stories about Eddie Shack and Darryl Sittler who did great things wearing that number, but I also remember thinking to myself 'I will take this number and make it mine.' My birthday is May 26, so I thought in a way it represents me, but with that plus 1, which always symbolised to me that I needed to be more.
"It is now one of the most important numbers in my life, and I am quite glad that I chose to go with it."
But while Bowden credits his family and friends with getting him to the place he is now, it is his own strength of mind that keeps him going, even on the darkest days.
"Every week I think 'What I'm doing all of this for? Sometimes it's when I get in my car in the morning and I'm on my way to the rink to train, but the one thing that always sets me straight is how I feel once my blades hit the ice, once the cold air enters my lungs and I get to feel a puck on my stick," Bowden said. "There's something about the whole experience of being out on the ice that really makes me feel like I'm alive. It feels right.
"I've been watching quite a few videos on Muhammed Ali, and he always asked people 'What's your life purpose?' and I started to really think about how powerful the thought of that was, how easy it makes life in the end.
"Find something you're passionate about, and pursue it, practice it and become the best you can be at it. I'm still trying to be the best I can be at sledge hockey, but I really feel at peace with how my life turned out, knowing that I have been living and doing what I was meant to do.
"And I would also like to thank every that helped me get to where I am now, you know who you are. Thank you."