Brazilian Paralympic Centre close to completion
Cutting-edge complex in Sao Paulo will train top athletes, youngsters with impairments and help people in rehabilitation.
27 Sep 2015
Imagen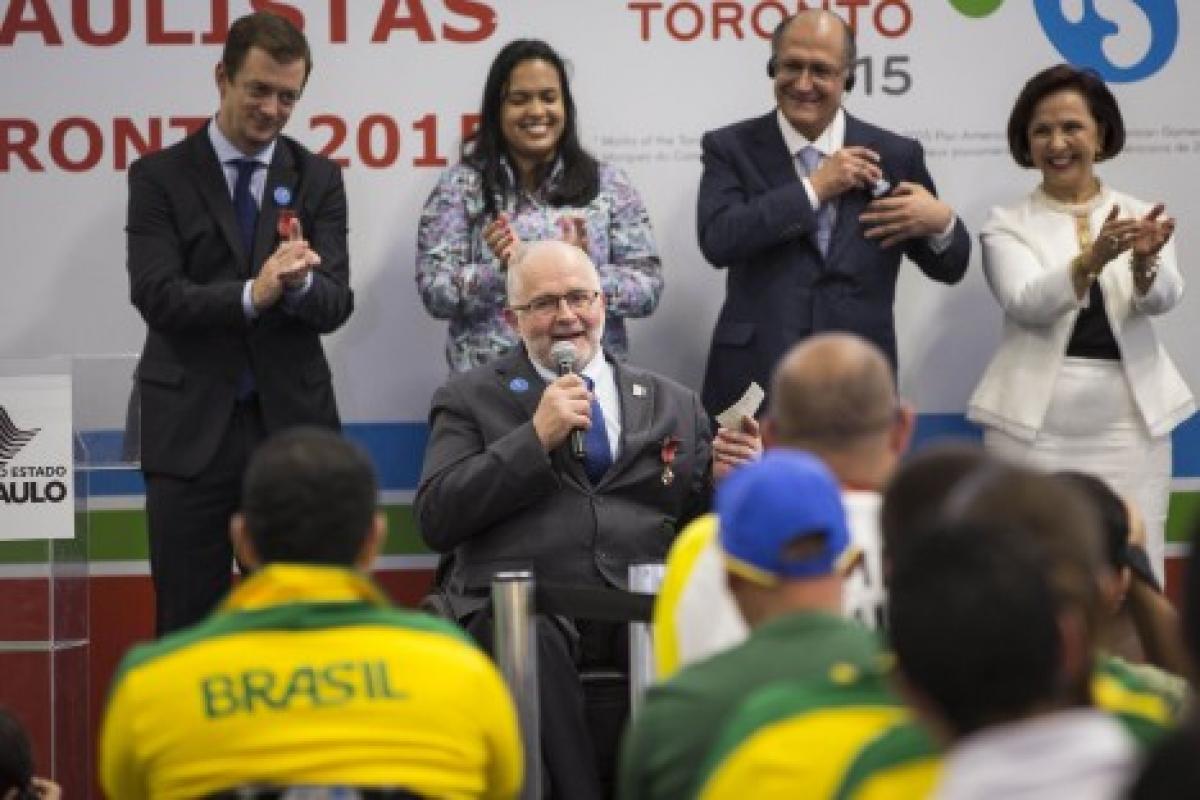 ⒸCPB
By Rio 2016
"The centre will host high-performance athletes alongside promising youngsters, who will be inspired to reach the top level."
One of the main legacies of the Rio 2016 Games is almost ready. With 97 per cent of construction now finished, the Brazilian Paralympic Centre in Sao Paulo will provide cutting-edge facilities for 15 Paralympic sports in one place. With space to accommodate up to 300 people, it promises to become a focal point for Paralympic sports not only in Brazil, but across the Americas.
"The centre will host high-performance athletes alongside promising youngsters, who will be inspired to reach the top level," said Andrew Parsons, President of the Brazilian Paralympic Committee (CPB) and Vice-President of the International Paralympic Committee (IPC). "There will also be activities for wider society. It is very important for children with some kind of disability to have time in their lives for active pastimes, to be inspired, to have options.
"There are 25 to 30 million people in Brazil with some type of impairment, depending on how you define impairment. Our aim is that those who can do some kind of organised physical activity, will be able to do so."
The centre was recently hailed by IPC president Sir Philip Craven as one of a string of legacies that would be left by the Rio 2016 Games. He also cited new social inclusion legislation (eliminating barriers in housing, education, transport, sport and citizenship) along with additional funding for the CPB through lottery funding. This increased revenue will help the CPB run the new centre in Sao Paulo, which was funded by the Brazilian federal and Sao Paulo state governments – with BRL 165 million (EUR 35 million) and BRL 124 million (EUR 27 million), respectively – to cover construction costs and the purchase of equipment.
It all points to a bright future for Brazilian Paralympic sport. Brazil topped the medals table at August's Toronto 2015 Parapan American Games and finished seventh at the London 2012 Paralympic Games. Now, Brazil have set themselves a target of a top-five finish at next year's Games.
"The final phase of the Brazilian team's preparation (for Rio 2016), the polishing, will take place at the Brazilian Paralympic Centre next year," Parsons said. "But for the Rio Games, it will not make a huge difference. The difference will be seen for the Tokyo 2020 Games, and at the 2024 Games. The centre is not for Rio 2016, it is for forever."
For swimmer Daniel Dias, Brazil's most successful Paralympian with 10 gold medals, the new centre is a game-changer for Brazilian athletes.
"This is the realisation of a dream," Dias said. "It will confirm and secure this golden era of Paralympic sport in Brazil."
While China, South Korea and Ukraine also have notable Paralympic training facilities, Brazil's will be the largest single-venue complex of its kind. As well as the accommodation (86 apartments), a medical centre and facilities for 15 sports – athletics, wheelchair basketball, swimming, wheelchair fencing, football 5-a-side, football 7-a-side, goalball, boccia, powerlifting, judo, wheelchair rugby, table tennis, wheelchair tennis, triathlon and sitting volleyball – the centre will also house sports science and research facilities.
"We are going to advance what we offer Paralympic athletes," said Parsons. "Formula One is a good comparison. We will apply cutting-edge technology to the production line. We will use research to benefit not only high-performance athletes, but also to help people in rehabilitation and day-to-day health matters."