British women dominate European Championship
Great Britain saw a 1-2-3 finish in the women's PT4, with 22-year-old Steadman highlighting the category.
13 Jul 2015
Imagen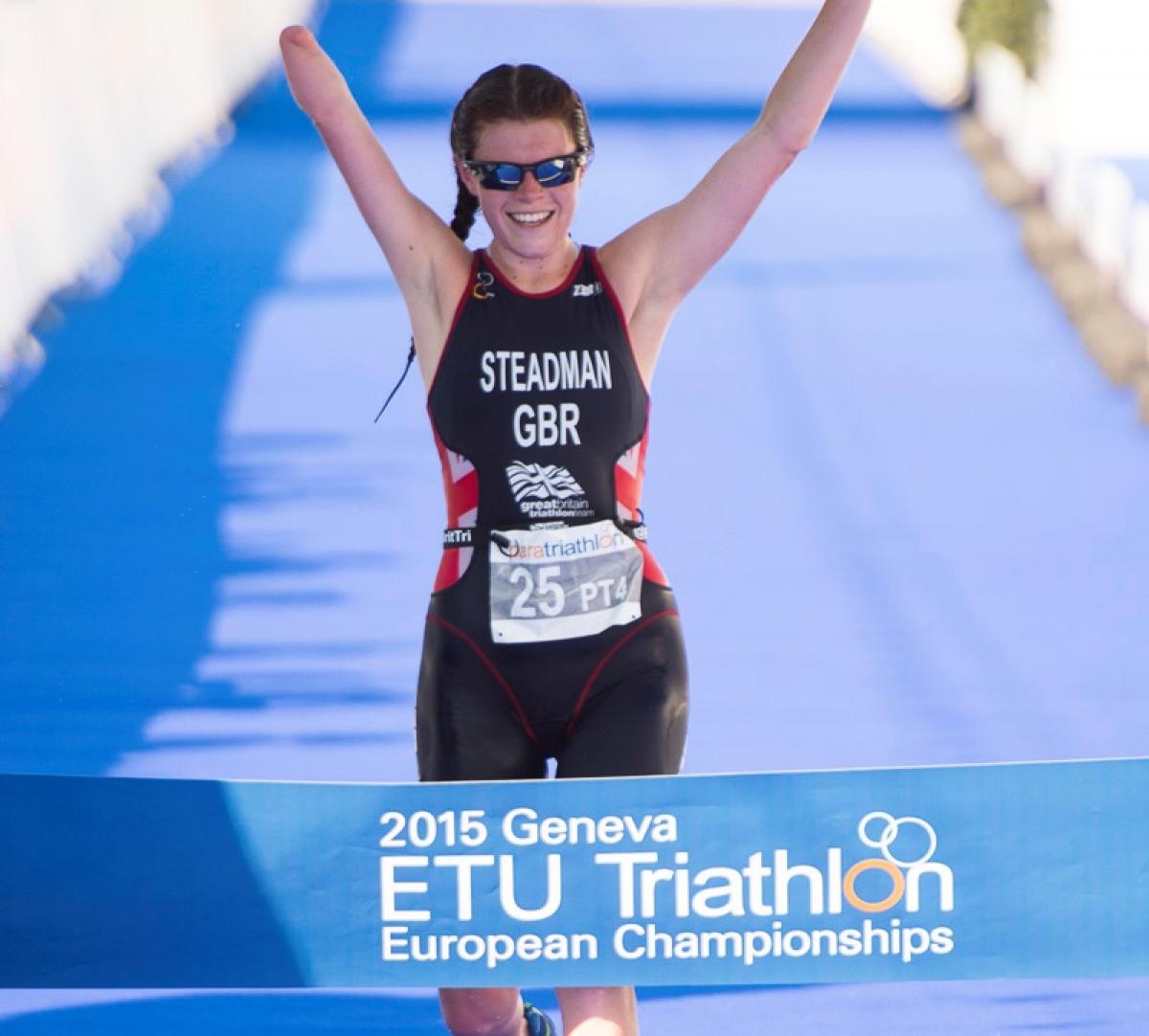 ⒸBritish Triathlon / David Pearce
By British Triathlon
"I am really happy to have all of the titles, but you are never certain about what is round the corner," Steadman said. "You can never settle for where you are."
Great Britain swept the women's PT4 category in the 2015 Geneva European Triathlon Union (ETU) Triathlon European Championship, with defending champion Lauren Steadman leading the way in Geneva, Switzerland, on Friday (10 July)
With strong times in the running and swimming portions, Steadman completed the course in 1:06.40, about three minutes ahead of second-place compatriot Faye McClelland. Clare Cunningham (1:11.09) rounded out an all British podium.
"My swim was good, I found a rhythm," said Steadman, a former Paralympic swimmer. "Overall it was really good, but I would like to improve on the bike a bit. I knew the other British girls would be hot on my heals."
Steadman, 22, has collected British, European and World Championship titles, and looks in strong form to add a Paralympic one to her resume come Rio 2016, where the sport will make its debut.
"I am really happy to have all of the titles, but you are never certain about what is round the corner," Steadman said. "You can never settle for where you are."
Thanks to a strong swimming performance, Alison Patrick captured the PT5 category with her guide Hazel Smith, finishing in 1:06.08. The Netherlands' Joleen Hakker finished about three minutes behind, followed by Melissa Reid to add to the British women's medal count.
"That (the swimming portion) is where I am making gains," Patrick said. "But we had the fastest bike split, which I was not getting last year, so that shows how well Hazel and I are working together."
The Netherlands' Saskia Van Den Ouden (1:21.04) came away with the European title in the women's PT2 category, holding a four-minute lead over second-place Lilsa Lilja from Finland. Spain's Rakel Uriarte took the bronze.
Italy's Rita Cuccuru took the PT1 title, and Germany's Nora Hansel was the lone competitor in the women's PT3 category.
On the men's side, Germany's Martin Schulz captured his fourth straight European championship, ousting second-place finish Alexander Yalchik of Russia and France's Yannick Bourseaux in a tight PT4 race.
Schulz completed the 750m swim, 20km bike, 5km run course in 00:57.27. Yalchik (00:58.14) edged Bourseaux (00:58.55) to the finish line by a split second.
The Netherlands' Jetz Plat was the fastest para-triathlete in Geneva, finishing in 00:54.08 to win the men's PT1 division. Great Britain's Phil Hogg followed up about six minutes later in 00:59.47, and Italy's Giovanni Achenza took third.
"It was an outstanding performance by the (British) squad," British Triathlon Performance Director, Brendan Purcell, said. "You can see from the performance levels that we are just a year away from Rio 2now; the standard was really impressive from a lot of athletes so it was tough, but we have come away with good results."
Russia's Vasily Egorov (1:06.14) defended his title in the PT2 category, just edging France's Stephane Bahier the silver; Italy's Michele Ferrarin won bronze.
Despite being slower in the running and biking portions, Spain's Alejandro Sanchez-Palomero (1:07.00) made that up in the water to beat out Austria's Oliver Dreier by 32 seconds for the PT3 win. Spain's Daniel Molina came in third.
The men's PT5 also featured a close race, with Ukraine's Vasyl Zakrevskyi ousting Slovenia's Alen Kobilica (00:59.20) by four seconds for the win. Poland's Lukasz Wietecki captured the bronze.
Full results of the Geneva ETU Triathlon European Championship can be found here.