Stockwell looks to represent USA in Rio 2016
The US Army veteran is training to put on a new uniform for when para-triathlon makes its Paralympic debut.
06 Jul 2015
Imagen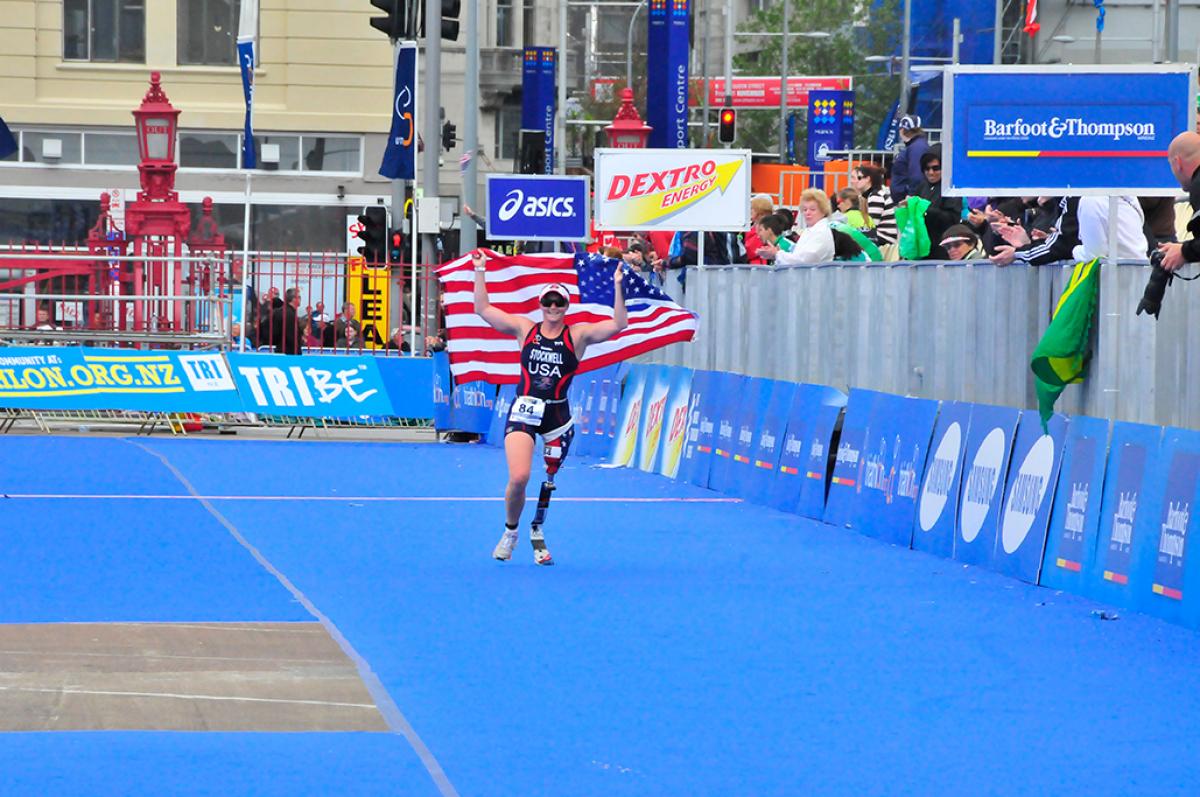 ⒸUSA Triathlon
By International Triathlon Union
"I get asked a lot why I joined the military and the answer is pretty short and sweet: I love our country, I love America, the red, white and blue and I wanted to give back."
While honourable, brave and very rewarding, there is no denying the risk that comes with serving one's country in the armed forces. But for USA para-triathlete Melissa Stockwell, that decision was the easiest one she ever made.
"I get asked a lot why I joined the military and the answer is pretty short and sweet: I love our country, I love America, the red, white and blue and I wanted to give back," Stockwell said. "So that was kind of always the plan."
Currently, Stockwell is training to represent her country at Rio 2016, when para-triathlon will make its Paralympic debut. But that was not on her radar several years back.
Her plan took a more serious turn on 11 September 2001 when the World Trade Center in New York City, USA, was attacked. Stockwell was in the Reserve Officers' Training Corps (ROTC) programme at the time, and while going to foreign soil was always a possibility, 9/11 turned it into a reality.
Stockwell was deployed into war and was stationed in Baghdad, Iraq, as a convoy commander, where she was in charge of multiple vehicles. It was there that she suffered an injury that would forever change her life.
On 13 April 2004, three weeks into her tour, she was on a Humvee leaving her camp when a huge explosion occurred that caused the vehicle to swerve into a guardrail before crashing into a local house. While training had prepared Stockwell for this type of situation, nothing had prepared her for what she was about to discover.
She attempted to exit the vehicle when she noticed a great deal of blood by her feet. Calling for help, she motioned over a medic who recovered her from the truck and gave her aid. It was then that Stockwell realised that she had lost a limb from the collision.
Losing a leg is devastating, and while most would consider themselves tragic, the opposite was true for Stockwell. In fact, the word she used to describe her situation is "lucky."
"I was really thankful to have my life," Stockwell said. "When I got to Walter Reed National Military Medical Center, that really helped me put it into perspective because I was surrounded by other soldiers who were a lot worse off than I was — missing multiple limbs or having brain issues. So I really could not say 'poor me' anymore because I had three limbs, I had my eyesight, I had my mind and my heart. I really was one of the lucky ones because I had my life."
Her loss also became the start of something she could have only dreamed of. It was not long after her injury that she discovered the Paralympics. Growing up, wishing she could represent her country in the Olympics as a gymnast, the Paralympics was an avenue that allowed her to represent the USA in a different way.
In 2008, Stockwell competed in the Beijing OIympic Games as a swimmer. And while she did not win a medal, she was however given the opportunity to be the flag bearer at the Closing Ceremony.
After Beijing, Stockwell was invited to compete in a triathlon. Apprehensive of a sport where you swim, bike and run in one race, she decided to try it. It was at the moment when she crossed the finish line where she knew she was hooked. The rest is history.
Now, the three-time para-triathlon World Champion (2010, 2011, 2012) is currently in training on a quest to compete in the upcoming Rio 2016 Paralympic Games. She is the founder of Dare2Tri, a para-triathlon club in Chicago aimed at helping athletes with an impairment compete in triathlons and also works in the field of prosthetics, helping others with similar situations as herself.
Putting on a uniform and serving her country has always been important in Stockwell's life. And when life took a turn that caused her to make a physical sacrifice, she found sport, found triathlon, and has found a new uniform to put on to represent the red, white and blue.