Ten US para-athletes nominated for 2015 ESPY Awards
Paralympians and Paralympic hopefuls fill Best Male and Best Female Athlete with a Disability categories for prestigious US awards.
25 Jun 2015
Imagen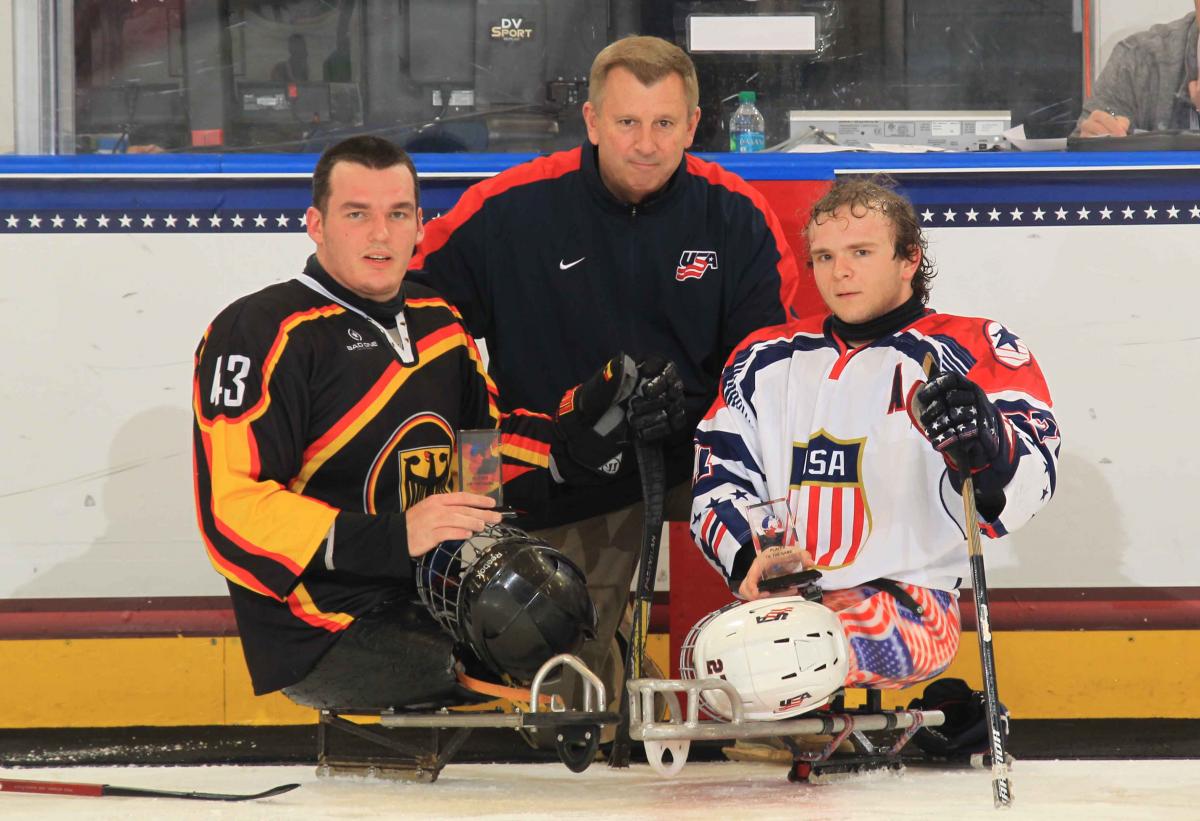 ⒸBill Wippert
By US Paralympics
The nominees for the 23rd annual ESPY Awards in the USA were announced on Wednesday (24 June), including categories for Best Male and Female Athlete with a Disability. All ten of the nominees are Paralympians or Paralympic hopefuls.
The athletes nominated in the Best Female Athlete with a Disability category are:
Kendall Gretsch (Triathlon/Madison, Wisconsin)
Gretsch earned the title of world champion in the women's PT1 at the 2014 Worlds in August 2014. Not only is she world champion, but she is undefeated in every event she has competed in, both domestic and international since May 2014.
Oksana Masters (Nordic skiing/Louisville, Kentucky)
Masters was honoured with the IPC Cross-Country World Cup overall title after her dominating performances this season in women's competition. Masters won two World Championship medals and also earned 12 total medals during the 2014-2015 World Cup season with a total of eight wins.
Tatyana McFadden (Athletics/Clarksville, Maryland)
In Switzerland in June 2015, McFadden set three new world records in the women's 400m, 800m and 1,500m T54 events. She also set the 5,000m world record late in the 2014 season. She won the women's wheelchair division of the 2015 Boston Marathon for her third consecutive title. One week after Boston, she won the London Marathon, which served as the IPC Athletics Marathon World Championships, crowning her the world champion in the event and making it her third-straight London Marathon win. London marked McFadden's tenth straight marathon victory.
Becca Meyers (Swimming/Timonium, Maryland)
Meyers set two world records in the 400m freestyle S13 and 200m individual medley SM13 at the Pan Pacs in August 2014. She also earned six medals at the meet – four gold and two silver. She also holds four world records in non-Paralympic events (200m freestyle, 800m freestyle, 1,500m freestyle and 50m butterfly), all of which she had set in the 2014-2015 season.
Greta Neimanas (Cycling/Chicago, Illinois)
Neimanas earned her first world champion title at the 2015 UCI Para-Cycling Track World Championships in the women's C4-5 scratch event. She also had a third place finish in pursuit.
The athletes nominated in the Best Male Athlete with a Disability category are:
Joe Berenyi (Cycling/Oswego, Illinois)
Berenyi earned two world titles at the 2015 UCI Para-Cycling Track World Championships in Apeldoorn, Netherlands in March. Berenyi won gold in the men's C3 3km individual pursuit and the 1km time trial. He also won silver in the scratch race. At the 2015 road nationals, he also won titles in the time trial and road race in the men's C3 class.
Josh Pauls (Ice sledge hockey/Green Brook, New Jersey)
Pauls was named Best Defensemen of the Tournament at the 2015 IPC Ice Sledge Hockey World Championship in Buffalo, New York. Pauls tallied seven points in five games to help the US National Sled Hockey Team win its third gold medal in the last four World Championships. Pauls finished the season with 13 points in 13 games, including an overtime goal in the Championships game of the 2015 World Sled Hockey Challenge, to lead Team USA to an undefeated season for the second time in team history. On the club level, Pauls tallied 25 points, including 22 goals, to help the Disabled Athletes Sports Association St. Louis Blues sledge hockey team claim the 2015 Midwest Sled Hockey League title and reach the semi-finals of the 2015 Toyota-USA Hockey Sled Hockey National Championship.
Krige Schabort (Triathlon/Cedartown, Georgia)
In the men's PT1 class, Schabort won three major events, including the 2015 Yokohama ITU World Paratriathlon event, the 2015 Monterrey CAMTRI Triathlon American Championships, and the ITU World Triathlon Grand Final Edmonton event last autumn.
Mike Shea (Snowboarding/ Castaic, California)
Shea dominated the snowboarding circuit during the 2014-2015 season, earning the overall World Cup title in snowboard-cross. Shea won gold in the banked slalom event at the 2015 IPC Para-Snowboard World Championships. And in 2014-2015 World Cup action, Shea won five gold medals and one silver medal. He also finished out his season as the US National Champion in snowboard-cross. He is currently ranked No.1 in the world in all para-snowboard disciplines.
Andy Soule (Nordic Skiing/ Pearland, Texas)
Soule earned the IPC Cross-Country World Cup overall title after winning five World Championship medals. He not only had the best season of his career, but he made history with the most medals of any US Nordic skier during a World Championships. During the 2014-2015 World Cup season, he collected 10 total medals and had four wins.
The 2015 ESPYS will be televised live on July 15 at 8.00pm (ET) on ABC from Los Angeles, California.
You can vote online at espn.go.com/espys/.
Voting ends on 15 July at 8.00 pm ET.