Browne and Peacock to reignite rivalry on Sunday
The pair will clash once more at the IPC Athletics Grand Prix final in Birmingham, Great Britain, with Browne determined for success.
22 Aug 2014
Imagen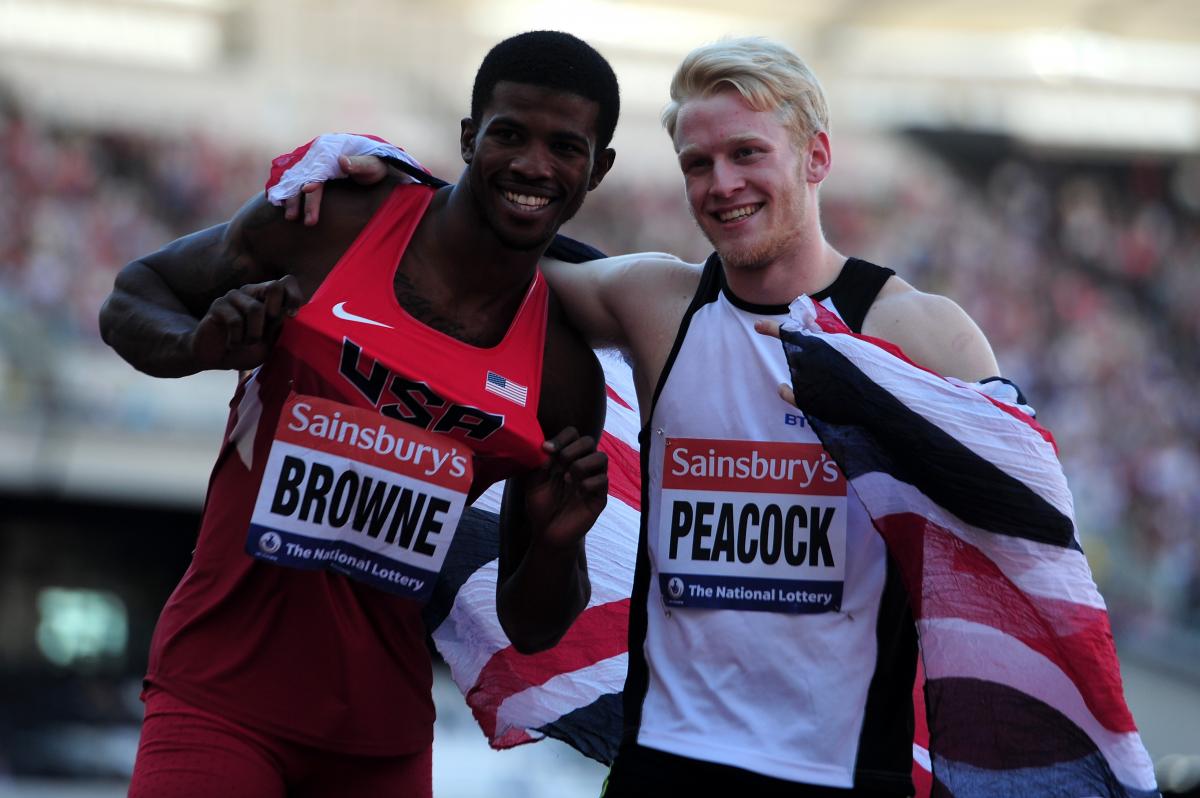 ⒸGetty Images
By IPC
"We have taken on that role in progressing our sport, because nobody wants to see the same person win over and over again by huge differences. We provide the sport with excitement."
The USA's 100m T44 world record holder Richard Browne is set to reignite his rivalry with Great Britain's Jonnie Peacock at Sunday's (24 August) IPC Athletics Grand Prix Final in Birmingham, Great Britain.
The pair have regularly traded blows over recent years, with Peacock edging out Browne at the London 2012 Paralympic Games and last year's World Championships in Lyon, France.
Browne however has beaten European champion Peacock in three of the last four races and now believes that his rivalry with the Paralympic gold medallist is pushing para-sport into a golden era.
"Most sports are built on rivalries," said Browne who set his world record of 10.75 seconds at the 2013 Anniversary Games in London. "Look at the golden age of track and field with Carl Lewis and Ben Johnson, and a few years ago Tyson Gay and Usain Bolt," he said.
"We have taken on that role in progressing our sport, because nobody wants to see the same person win over and over again by huge differences. We provide the sport with excitement."
The Browne Peacock rivalry is such that one newspaper recently described it as "one of sport's most intense and occasionally fractious rivalries in recent times," and despite the fact that the two are clearly not best friends, the respect between the two is huge.
Now Browne, who admits he has no clue where his 100m world silver medal is from last year – such was his disappointment, has said the secret to his form this year with his new coach has been enjoying himself.
"Last year, coming off the silver in 2012 and breaking the world record, I was too built up on myself and not out there having fun," said the Paralympic silver medallist.
"When I started my career, I was just having fun and wanting to run fast and that was it. I have gone back to that; changing coaches really did that for me.
"It has helped me a lot on the track, because like in Glasgow, I was able to relax. Usually in a race like that, I would tense up, and that is how Jonnie beat me in Lyon.
"This year, I am a lot more relaxed, I have come into my own as a sprinter and I am focused on what is happening in my lane rather than the other six or seven lanes."
Browne also feels that the switch in coaching has allowed him to focus on different segments of his racing that will enable him to reach the very top of his game.
Despite his impressive raw attributes, there is one element of his race that Browne knew he needed to work on.
"Technique," he said.
"I am a lot stronger than any other athlete, that was my claim to fame in 2012 and 2013, just being stronger than everybody else, but that only gets you so far, as we saw with me coming in second place.
"The speed and the strength are always there, I wake up with that, but the technique is the next step that I need to go to the next level."
Sunday's Grand Prix final will bring together the best names in the sport, and Browne is relishing the challenge.
"It will kind of be our championships because the USA athletes don't have anything major this year. It is fast track, and I feel like some fast times will be run at this meet, so it will be a good preview to the World Championships next year."
Other athletes set to line-up against Browne and Peacock include Germany's European silver medallist Felix Streng, the USA's 200m world champion Jarryd Wallace and South Africa's London 2012 bronze medallist Arnu Fourie.
Aside from the men's 100m T44, there will be 19 other events which will feature Paralympic, world and newly crowned European champions.
For more information on the IPC Athletics Grand Prix in Birmingham, visit the Athletics homepage.