Buffalo welcomes world's top eight sledge hockey teams
Here's your complete guide to the upcoming IPC Ice Sledge Hockey World Championships A-Pool.
24 Apr 2015
Imagen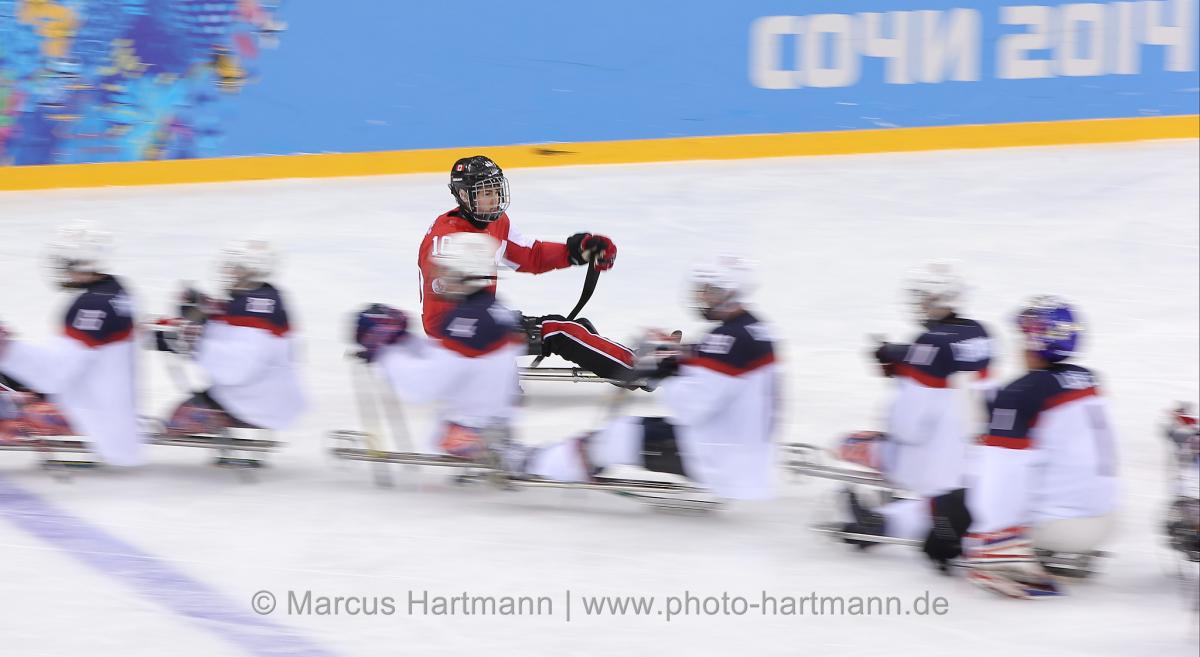 Ⓒwww.photo-hartmann.de
By Stuart Lieberman | For the IPC
"We've been preparing for this event since Sochi ended. We didn't want to disappoint our home base."
The top eight teams from around the globe have arrived in Buffalo, New York, USA for the 2015 IPC Ice Sledge Hockey World Championships A-Pool, which run from 26 April – 3 May.
Building on the global success of the sport from the Sochi 2014 Paralympic Winter Games, these Championships are expected to draw international attention to Buffalo's HARBORCENTER, where three days of preliminary round games will be played, followed by a playoff round that culminates with the bronze and gold-medal games on 3 May.
Reigning world champions Canada lead Group A, and will compete with the Czech Republic, Norway and Japan. The USA, hosting the World Championships for the third time, are in Group B with Sochi 2014 silver medallists Russia, European champions Italy and Germany.
The bottom two finishers from the World Championships will be relegated to the B-Pool for the 2017 edition of the event. The top two finishers from this year's B-Pool event – South Korea and Sweden – will make their way up to the A-Pool for 2017.
Group A outlook
Despite having won the 2013 World Championships in Goyang, South Korea, the Canadians enter the competition in a rare underdog position because of their bronze-medal finishes at both Sochi 2014 and this year's World Sledge Hockey Challenge.
The Canadians are playing under first-year head coach Ken Babey and will be led by forward captain Greg Westlake, known as a "chipper" on the ice for his competitive spirit.
"Receiving the bronze fuels our drive to move forward, and with the new coach we are learning new systems," said Canadian goaltender Corbin Watson. "It is difficult to start fresh, but it is nice to have a new perspective on the game and a different point of view."
But there should never be a reason to underestimate a Canadian sledge hockey programme that, in seven Championship appearances, has won three gold medals (2000, 2008, 2013) and three bronze medals (1996, 2009, 2012).
Look for Norway – the 2004 world champions – to be a dark horse in Group A, as high-scoring forward Thomas Jacobsen returns to the ice for the first time since being seriously injured in 2011.
Challenging Norway in the tournament's opening game on Sunday (26 April) at 9:30 (ET) will be a Czech team that is dependent on defender Pavel Kubes and goaltender Michal Vapenka. The Czech Republic have finished fourth at the last two World Championships and are still in search of their first medal on the world stage.
Rounding out Group A are Japan, with only forward Kazuhiro Takahashi and goaltender Mitsuru Nagase remaining from their Vancouver 2010 silver-medal winning squad.
Group B outlook
The Americans, being touted as tournament favourites, became the first country to win back-to-back Paralympic golds at Sochi 2014 and took the World Sledge Hockey Challenge title earlier this season.
Young-gun forwards Brody Roybal, 16, and Declan Farmer, 17, paired with captain Josh Sweeney and veteran goaltender Steve Cash, are hoping to help teammate and Buffalo native Adam Page snatch gold in his hometown.
"We've been preparing for this event since Sochi ended. We didn't want to disappoint our home base," Sweeney said. "We have a lot of different life experiences – veterans and young kids – but I think the best part of our team and what makes us so strong is that we're all here for one reason, and that's to win that gold medal."
But in their first game, the Americans face a Russian squad that roared to silver at Sochi 2014, just five years after starting up their national programme. Behind hard-hitting forward Dmitry Lisov and wise veteran Vadim Selyukin, Russia has the potential to finish the tournament undefeated and win their first world title.
Italy, which finished sixth at both Sochi 2014 and the last World Championships, will go as far as Florian Planker's hot shooting hand and Gianluigi Rosa's feisty defence take them.
Germany, meanwhile, are newcomers to the A-Pool, and experienced defender Frank Rennhack and up-and-coming attacker Felix Schrader hope to help them stay there.
Championships coverage
Live coverage of all the games at the World Championships, along with results, statistics and ticket information can be found at www.Buffalo2015.com.
Up to date details of where games can be watched live nationally can be found at Buffalo2015.com.
IPC Ice Sledge Hockey will tweet live updates from on site in Buffalo from @IPCISH and is encouraging all fans to use the #Buffalo2015 hashtag when tweeting about the tournament.