Caironi wants Beijing Grand Prix to be a learning experience
Italian champion is studying Mandarin and will be using the visit to test her language skills and lay down a marker ahead of August's Euros.
11 Apr 2014
Imagen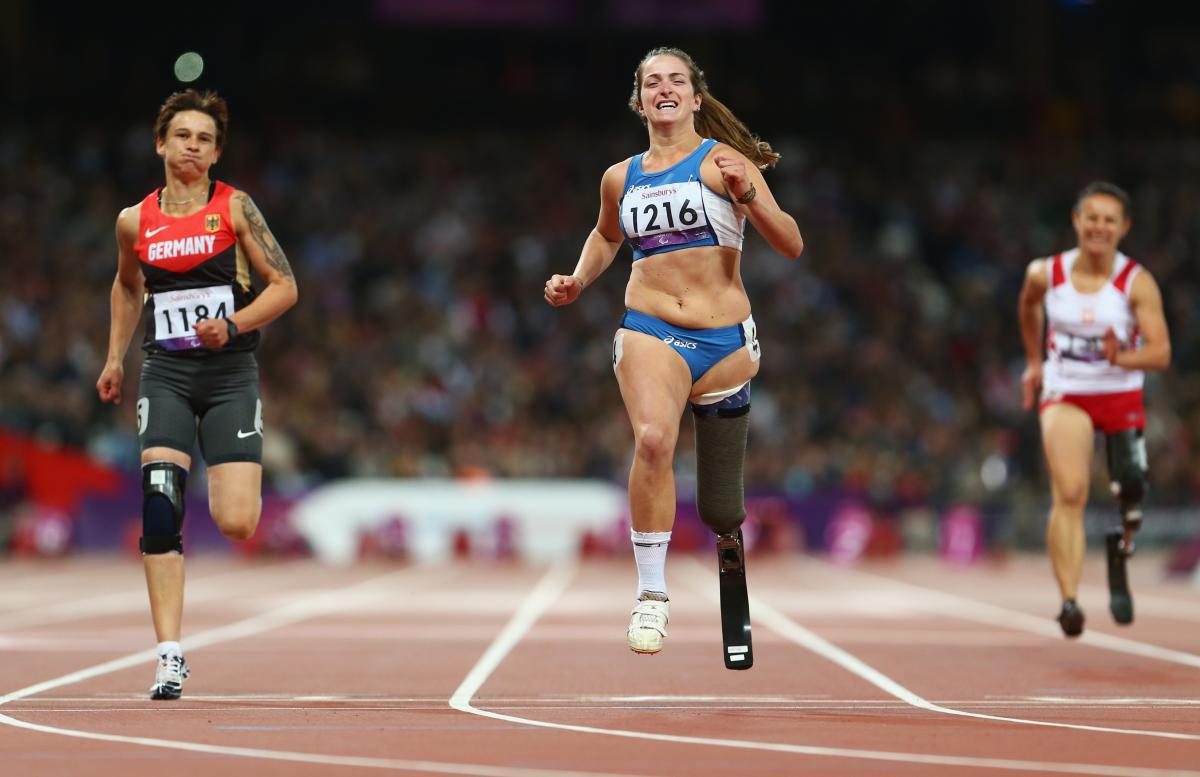 ⒸGetty Images
By Kate Williams | For the IPC
"I join my passion for sport with my passion for language. Because I study Chinese and have never been to China, I decided to go there and compete and then to stay and travel a little bit,"
Italy's Paralympic and world champion Martina Caironi is not just looking forward to competition at the IPC Athletics Grand Prix in Beijing starting on Monday (14 April) but to using her first visit to China to brush up on her studies too.
A linguistic student at the University of Milan for the past four years, the 24-year-old has been learning Mandarin whilst at the same time establishing herself as world's best over 100m and long jump in the T42 class.
"I join my passion for sport with my passion for language. Because I study Chinese and have never been to China, I decided to go there and compete and then to stay and travel a little bit," she explained.
"I think it will be a great experience to go there alone, without Italian people and to see how I can get on by myself."
After competing in her first outdoor meet of the season, Caironi will spend another week exploring the city and taking every opportunity to practice her Mandarin.
"This is a great opportunity to go there and to be totally immersed," she said. "I hope to try to speak with people there. In Milan I try to speak with Chinese people, but if you are in the country of the language you speak it is different – you have to try each day. This is the real reason that I want to go."
But for Caironi, the 100m T42 world record holder, there is also a job to do on the track and in the long jump pit.
The Italian will take on the 100m, 200m and long jump in Beijing, and with a new kind of lining in her prosthesis, she is hoping any improvement this can give her will be reflected in her speed on the track.
"Winning races is also important – I feel okay, I feel ready – I wouldn't go there to compete if I wasn't ready, but it's trying to have a great result like a world record – I don't know if that would be possible in this moment. But sometimes things happen when you don't expect them. I just try to be fast," she added.
Just one year before the 2008 Paralympic Games in Beijing, Caironi was involved in a motorcycle accident which meant she lost her left leg above the knee.
"In this period I didn't really know much about the Paralympic Movement," she said. "But by 2010 I found out more about the Games, and I started to wonder what it would be like to compete in the Paralympic Games. Now that I'm going there, I am very excited about this."
Caironi bettered her own world record when she clinched 100m T42 gold at the IPC Athletics World Championships in Lyon, France, last year, stopping the clock at 15.26 seconds, almost one second clear of the field.
But her main rival, the 2011 world champion Kelly Cartwright, missed out on Lyon due to injury – and Caironi misses the Australian.
"Last year I would prefer to meet her because she is my best competitor. If you have someone who is near to you in the competition you find a strength to run better and to run faster.
"If you are quite alone maybe you don't run as fast as possible. I would like to compete against her, also she is still the best in long jump, so each time that I compete with her I feel ready to improve and also to look at her way of jumping and to try to learn from her."
But this summer, Caironi is focused on defending the European sprint title she won two years ago in the Netherlands, as well as improving on her European long jump F42 bronze. And winning two world titles has given her added confidence ahead of the event in Swansea, Great Britain this August.
"The European Championships are the most important event of this year so I am preparing for that," she explained. "I don't know if there will be other athletes, new athletes, but it's okay, I prepare myself for now to improve and to be prepared in case other athletes from my category come and run faster than me. I will be prepared for that moment."
Over 170 para-athletes will descend on Beijing from 14-16 April for the second in the series of nine Grand Prix in the 2014 calendar, the 2nd China Open Athletics Championships. The programme includes 100m, 200m, 400m, 800m, 1500m and 5000m on the track as well as shot put, discus, javelin, club, long jump, triple jump and high jump.
China's world medallists from last year's World Championships in Lyon, France are out in force, with all 17 in action.
Double Paralympic and world gold medallists Hongzhuan Zhou (400m and 800m T53) Fuilang Liu (triple and long jump F46) and Na Mi (discus and shot F37) are just part of an impressive line-up which also includes world medallists from five other nations.
The IPC Grand Prix series continues with the third of nine events taking place in Sao Paulo, Brazil from 24-26 April.