Can Roybal, McKee power Blackhawks to Sled Classic win?
Chicago will be one of 20 NHL-affiliated teams taking part in the USA Hockey Sled Classic.
15 Nov 2015
Imagen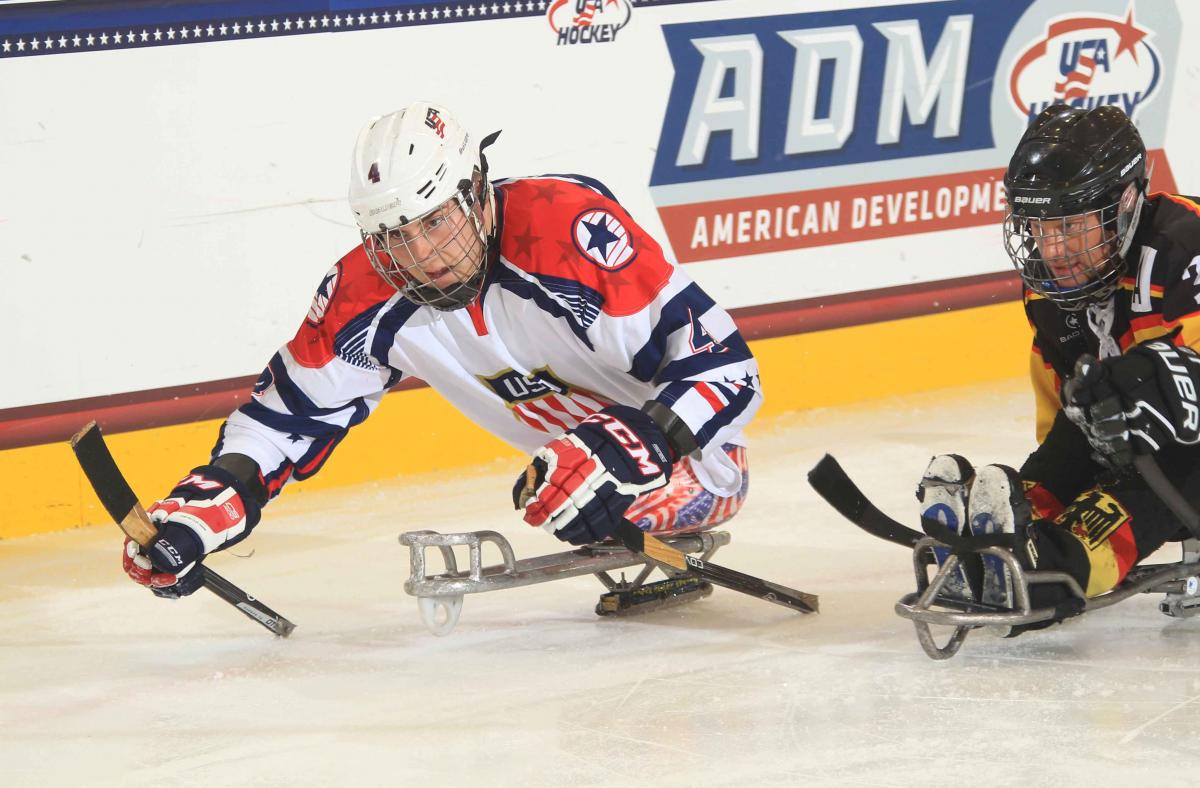 ⒸBill Wippert
By Stuart Lieberman | For the IPC
"Because of the Blackhawks, I learned how to grow up and be mature at such a young age, which was really helpful for when I joined the national team."
When the USA Hockey Sled Classic takes place from 19-22 November, Brody Roybal and Kevin McKee will have the rare chance to try to score on their US teammate and one of the world's greatest goaltenders, Steve Cash.
Roybal and McKee are the leading players on the Chicago Blackhawks sledge hockey team, one of the record 20 NHL-affiliated squads that will take part in the sixth edition of the tournament and the defending Tier I Division champions in the event.
"I would like to think we're the team to beat," Roybal said. "But we recently had a tournament in Colorado where we didn't do as well as we wanted to. We went 2-2, losing to [Steve Cash's] St. Louis Blues twice, but I think we've been working harder since then."
The Sled Classic will take place at the Florida Panthers IceDen in Coral Springs, Florida, which is the official practice facility of the NHL's Florida Panthers, and with no Paralympics or World Championships this winter, it will be one of the top events for most US national team players.
Twenty current or former members of the US national sledge hockey team are among the 250 skaters competing, including 13 athletes who helped the US win gold at the IPC Ice Sledge Hockey World Championships last May in Buffalo, New York.
The defending champion Blackhawks squad, run by the Rehabilitation Institute of Chicago, is composed of athletes ages 17 to 42, and includes national team skaters Roybal and McKee, as well as US national development team member Travis Dodson and US women's national team member Erica Mitchell.
McKee, originally from Quad Cities, Iowa, has been a staple of the Blackhawks' front line for more than five seasons now, having moved to Chicago in order to train on a regular basis with the team. He started out as a goaltender in his early days, but quickly switched to forward, which better fits his size and speed.
With three World Championship and one Paralympic Winter Games experience now under his belt, McKee has quickly become one of the most recognisable players in the US domestic league, which he insists has grown "leaps and bounds" since he first took up the sport.
"We're really pushing this season to win every tournament we go to now," said McKee, who's also eagerly anticipating the opportunity to "haggle" his national teammates when he faces them on the ice.
Roybal, who started playing with the Blackhawks at age 12 after outgrowing his youth squad, used his club team experience to rapidly develop into a US national team star at the Sochi 2014 Paralympic Winter Games at just 15 years old.
The Chicago native believes the club teams are where future talent is being nurtured.
"It's really important for the club teams to keep growing so that there's more awareness of sledge hockey and people hear about it and come out to try it," Roybal said.
"There's so many disabled people that still haven't heard of sledge hockey yet or haven't even tried it once. They don't even know if they're going to be good at it until they try it.
"Because of the Blackhawks, I learned how to grow up and be mature at such a young age, which was really helpful for when I joined the national team."
Roybal collected two goals in five games in his Paralympic debut with the national team, and at last year's Sled Classic finished second to Declan Farmer among all scorers with 18 points (14 goals, four assists). At the 2015 IPC Ice Sledge Hockey World Championships, Roybal helped the US claim gold, finishing second on the team with nine points in five games.
Because Roybal is also a member of his high school's wrestling team, he does not really have an offseason and sleeps just five or six hours per night.
Three or four times each week, during the small hours of the morning, Roybal can be found with McKee, just the two of them, practicing at the Edge Ice Arena in Chicago's suburbs before they head off to high school and work, respectively.
While, whether for the Blackhawks or US national team they are always skating the same ice, Roybal and McKee have opposite styles of play.
One is a patient playmaker; the other is a physical presence.
"Kevin plays a lot smarter hockey than I do," Roybal said. "I like to play very aggressive and fast. He plays a lot smarter, always knowing where to be, and he's a lot better shooter than I am."
Fans can easily watch Roybal and McKee's contrasting styles of play at the Sled Classic, as all games from the event will be streamed live.