First ice sledge hockey youth camp a success
Players and coaches agree that the inaugural IPC Ice Sledge Hockey Youth Development Camp provided useful activities and techniques.
03 Nov 2015
Imagen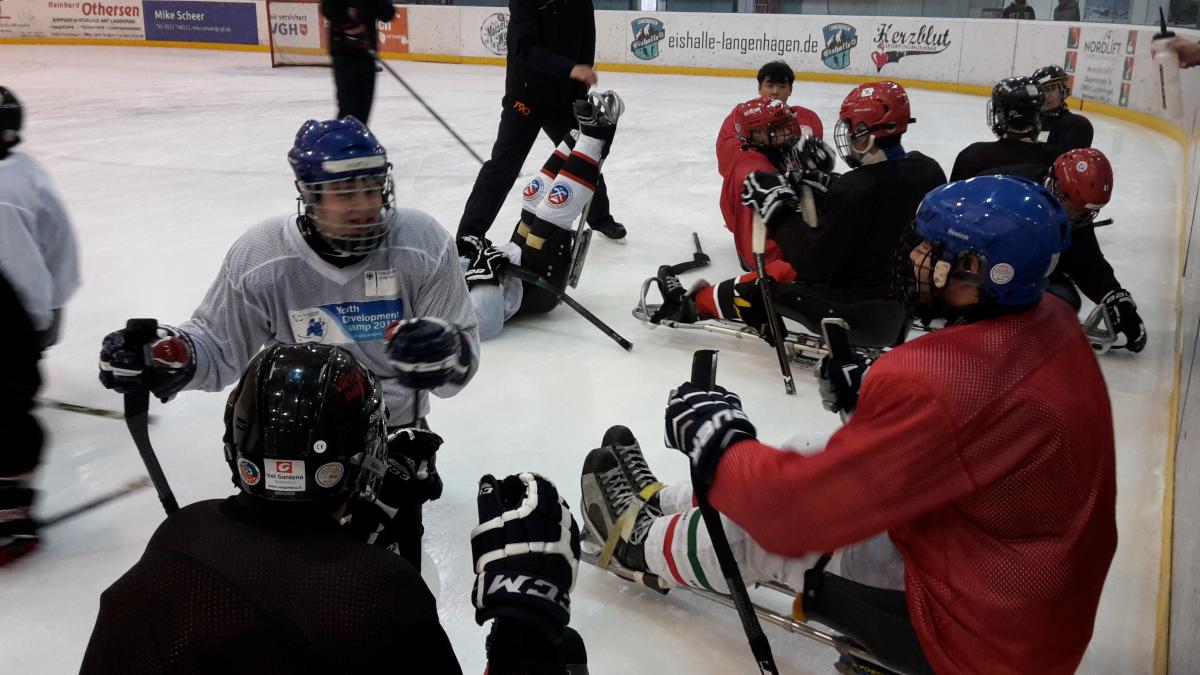 ⒸIPC
By IPC
The first IPC Ice Sledge Hockey Youth Development Camp has been praised by participants following its conclusion in Langenhagen, Germany, on Sunday (1 November).
The camp, supported by the German Federal Ministry of the Interior, gathered 23 players from eight countries at the Eishalle Langenhagen for on and off-ice training and education activities over four days from 29 October.
Nineteen-year-old aspiring goaltender Jaewoong Lee from South Korea believes what he learnt will help him towards his goal of gaining a place on the national team in time for the PyeongChang 2018 Paralympic Winter Games.
"It was fun. I enjoyed the ice-time the most and I got better going back and forth in goal. I will try to get on the national team because I would like to play at home in 2018," Lee said.
Karel Wagner, 17, from the Czech Republic, will play in his first national team game in a few weeks: "I really enjoyed the camp even though it was physically demanding. I definitely learnt something. I learnt new game situations and tactics. I definitely learnt that I need to go ahead with top speed and then I learnt how to support players and how to position myself properly.
"I also improved in skating especially my speed, and in shooting and passing as well."
Sixteen-year-old Canadian Geneva Coulter was one of the female participants.
"I really enjoyed the camp, it was an incredible experience," Coulter said. "I really liked getting to meet so many people from around the world that I wouldn't have met in any normal scenario.
"I realised how important turning with the puck was, especially on the outside, and how important even simple drills can be for skill development and how difficult they are compared to the complex drills that you think would be harder."
US youngster Brendan Meyers, 18, showed the potential reach of the activities beyond the camp's end:
"I really enjoyed the camp. This is the first time I've been outside of the United States for playing sled hockey. I mostly liked the different drills and stations we did each day and meeting new people from different countries.
"I've definitely gotten better at using my left hand. I usually use my right hand so trying to learn how to use both hands in protecting the puck is something I've learnt and hope to get better at.
"I'm going to bring some of the drills that I learnt back to my team and continue to build my strength."
A number of national team and club coaches also took part in the activities as observers, to see if they could utilise any of the training techniques. Four highly experienced coaches from Norway, Canada and the USA conducted sessions on stick-handling, shooting, goaltending, skating and strength training. There were also classroom sessions on the Paralympic Movement and presentations on anti-doping and classification given by Peter Van de Vliet, the International Paralympic Committee's Medical and Scientific Director.
Marko Kocijan, Head Coach of the Croatian national team and one of the observers said: "From my perspective, the camp is extremely useful because it provides a useful exchange of experiences, and also provides an opportunity for us less experienced coaches to learn from the best.
"I have learnt a lot of new exercises that are important as a basis, without which it is impossible to make progress especially in this sport."
IPC Ice Sledge Hockey will now review the feedback received from the coaches and players and look at how youth development can be continued into future seasons.