Thomas Jacobsen to help Norway scratch out sour taste
Fourth place is never an ideal finish. So how will Norway's sledge hockey team rebound in the 2015-16 season?
24 Oct 2015
Imagen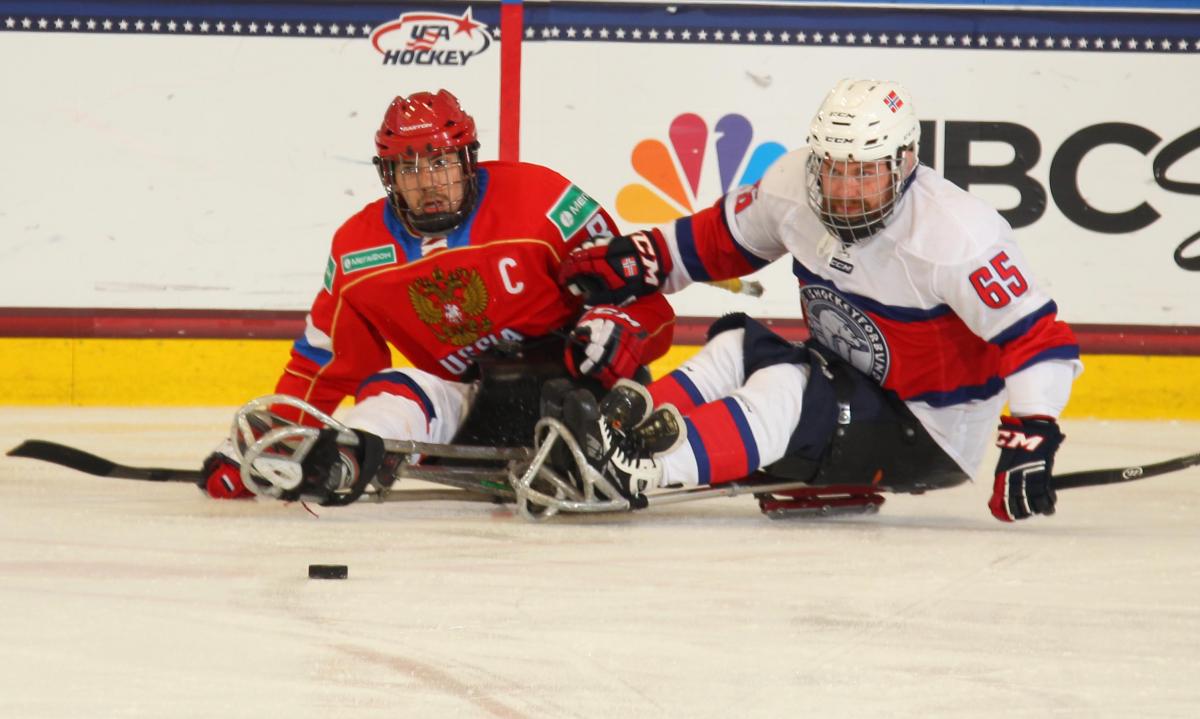 ⒸBill Wippert
By Stuart Lieberman | For the IPC
"... losing the way we did, to Russia in overtime, that was a hard pill to swallow."
Other than perhaps world silver medallists Canada, no ice sledge hockey team finished last season with a more sour taste in its mouth than Norway.
After missing out on a Paralympic medal for the first time ever at the Sochi 2014 Games the season prior, Norway tapped assistant Espen Hegde as its new head coach and recruited a slew of new skaters. It also welcomed the return of star player Thomas Jacobsen, who had put sledge hockey aside since being seriously injured in 2011, choosing to compete in alpine skiing at Sochi 2014 instead.
The Norwegian team adjusted well enough to Hegde's leadership that it made the medal round at the 2015 IPC Ice Sledge Hockey World Championships A-Pool in Buffalo, New York, USA.
However, after three periods of hanging neck-and-neck with Paralympic silver medallists Russia in the bronze-medal contest, the Norwegians' hearts sank when Ilia Volkov found the net in overtime to lead Russia to a 2-1 victory and the final spot on the podium.
"Fourth place was above my expectations for sure," said Jacobsen, whose impressive passing skills were showcased in the third-place game.
"But losing the way we did, to Russia in overtime, that was a hard pill to swallow.
"It was a learning experience for basically the whole team, but I'm happy with the new coach. His coaching style is similar to [former coach Morten Haglund's], but he's more of a listener, listening more to what the players have to say and putting it into his game plan."
Moving forward, Norway's 2015-16 season is expected to revolve around preparations for the next IPC Ice Sledge Hockey European Championships – for which dates and locations have yet to be announced.
But prior to that, the Norwegians will partake in a new four-team tournament organised by Sportdipiu from 7-12 December in Torino, Italy. The event will also include world silver medallists Canada, reigning European champions Italy, and the next Paralympic Winter Games host nation, South Korea. It will be held at the same venue as the 2013 IPC Ice Sledge Hockey Qualification Tournament and is expected to attract sponsorship and broadcast interest, according to organisers.
Jacobsen said everyone knows Canada, led by hot-striking forwards Greg Westlake and Brad Bowden, will enter the event as the heavy favourites, hungry to reach the No. 1 spot in the world before the PyeongChang 2018 Paralympics.
Speaking of PyeongChang 2018, it will be the first time Jacobsen faces the next Winter Games' host nation, as he was injured the only other time Norway played South Korea – at the 2012 World Championships.
"As far as I know, they're a fast-paced team, which suits me perfectly," Jacobsen said. "I'm always eager to play against fast-paced players. Not that I'm so fast, but it allows me to lead our team a little bit differently."
The Italians, who recorded a best-ever fifth place finish at the World Championships last season, will be no push over, either.
"We've always struggled with them since my first Paralympics in Vancouver," Jacobsen said of Italy. "It seems like every game we've played against them since then, we need one or two periods to get the wheels going, and then if we're still having bad luck, we have to play catch up. They play a tighter game that we're not used to."
Unlike many other nations, though, Norway's national team was able to practice together for most of the summer, and no one retired after last season, keeping the team chemistry intact.
If Jacobsen, who turns 28 years old on 4 November, can advance his defensive skills just a little bit more and four-time Paralympic team member Rolf Pedersen can keep pace with the game's rising stars, the Norwegians surely have the chance the finish the 2015 calendar year on top.