Greg Leperdi calls on Europe to 'freshen up' sledge hockey
The legendary Italian ice sledge hockey forward insists the 2015-16 season should be about development.
05 Oct 2015
Imagen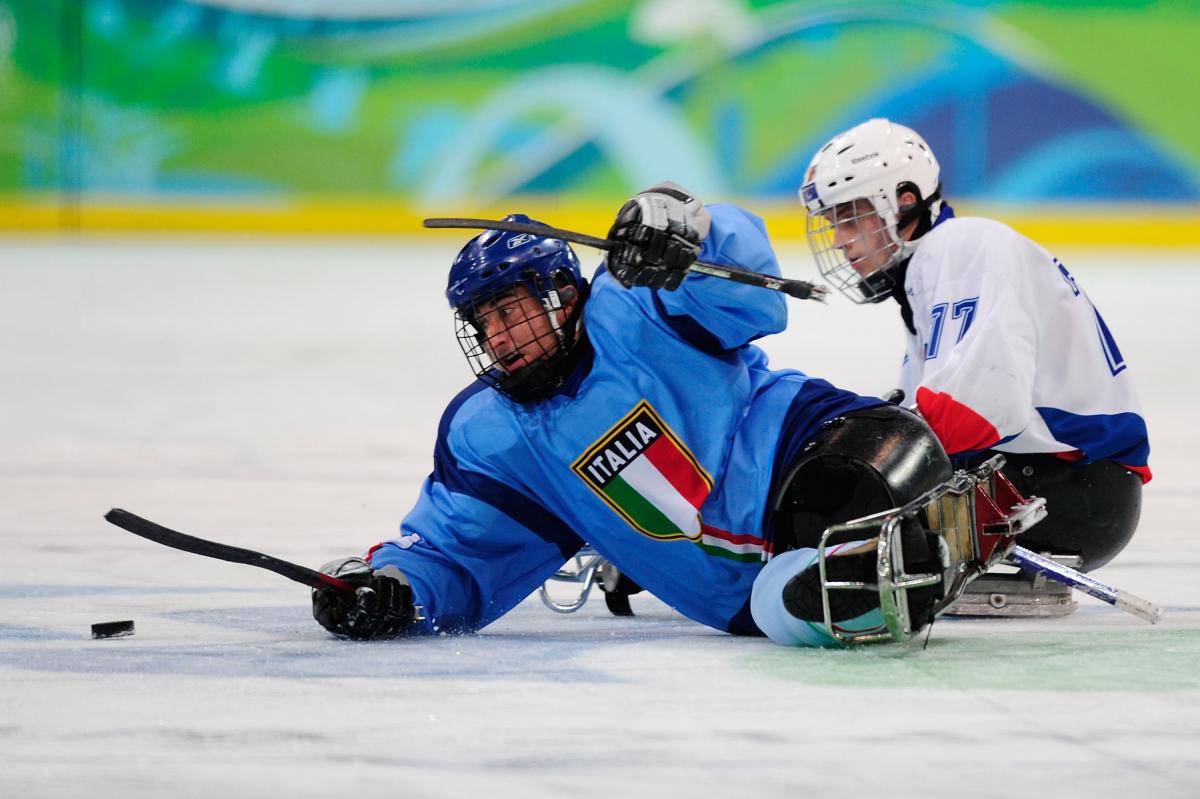 ⒸGetty Images
By Stuart Lieberman | For the IPC
Following Italy's best season in history, vocal forward Greg Leperdi has started urging both Italy and Europe's other sledge hockey teams to focus more on developing young athletes.
The Italian team achieved a best-ever fifth-place finish at the IPC Ice Sledge Hockey World Championships A-Pool in Buffalo, New York, USA, last season.
With sharp shooter Florian Planker, stingy defenceman Gianluigi Rosa and veteran captain and voice of reason Andrea Chiarotti, the Italians have the ingredients to hang with Europe's top teams.
However, Italy have been facing a constant battle, similar to that of many of their European opponents. This is a battle that has recently taken a front seat on the radar of Leperdi, the 42-year-old forward who has been with the team for three Paralympics and also serves as the athlete liaison on the IPC Ice Sledge Hockey Sport Technical Committee.
"The average age of European teams is pretty high, so we definitely need to try to include more young athletes and freshen up our programmes," Leperdi said.
"It's good that this next season we won't have a World Championships because now we can focus more on our development with the younger players who need more experience. We now can have two years to work more on development. Of course, we want to defend our European title, but for sure we will look toward ensuring our younger players have the chance to grow."
Leperdi wants to see Italy and other European teams find and develop players similar to Canada's Ben Delaney and Tyler McGregor – two skaters he was massively impressed with at the last World Championships.
"They are both very young but have no fear and are very confident and skilled technically on the ice," Leperdi said.
Finding new talent is often a greater challenge for European squads than Canada or USA, as most European nations do not have their own development teams or as widespread of club leagues like their North American counterparts. But Leperdi knows it takes patience, and coaches are constantly scouting sports clinics, hospitals and associations for amputees and those with spina bifida in order to find the next generation of players.
Italy currently have three teams in their club sledge hockey league and are hoping to add more in the near future, with national team coach Massimo Da Rin advising those teams from time to time.
The Italians are hoping to turn forwards Christoph Depaoli, 17, and Nils Larch, 18, into their faces of the future. Both players, who have spina bifida, have both made great strides since competing in their first Paralympic Winter Games in Sochi. Add 24-year-old Andrea Macri – a European champion in both sledge hockey and wheelchair fencing – into the mix and the Italian core of the next few Paralympic cycles is starting to come together.
On the logistical side of things this season, some of the Italian players will be supporting Sportdipiu, the organising committee for a new international ice sledge hockey tournament that will take place in Torino, Italy, from 7-12 December.
In addition to Italy, the event will also feature Canada, South Korea and Norway. It will be held at the same venue as the 2013 IPC Ice Sledge Hockey Qualification Tournament and is expected to attract sponsorship and broadcast interest.
And with Beijing being awarded the 2022 Winter Games, players are aware that outside of Europe, China could be developing a team quite quickly, too.
"I'm sure they will be growing fast now that they're hosting the Games, just like Russia did for Sochi 2014, so we need to grow faster," Leperdi said.