Canada capture sledge hockey bronze against Norway
After finishing fourth at Vancouver 2010, Canada's ice sledge hockey team took bronze at Sochi 2014.
15 Mar 2014
Imagen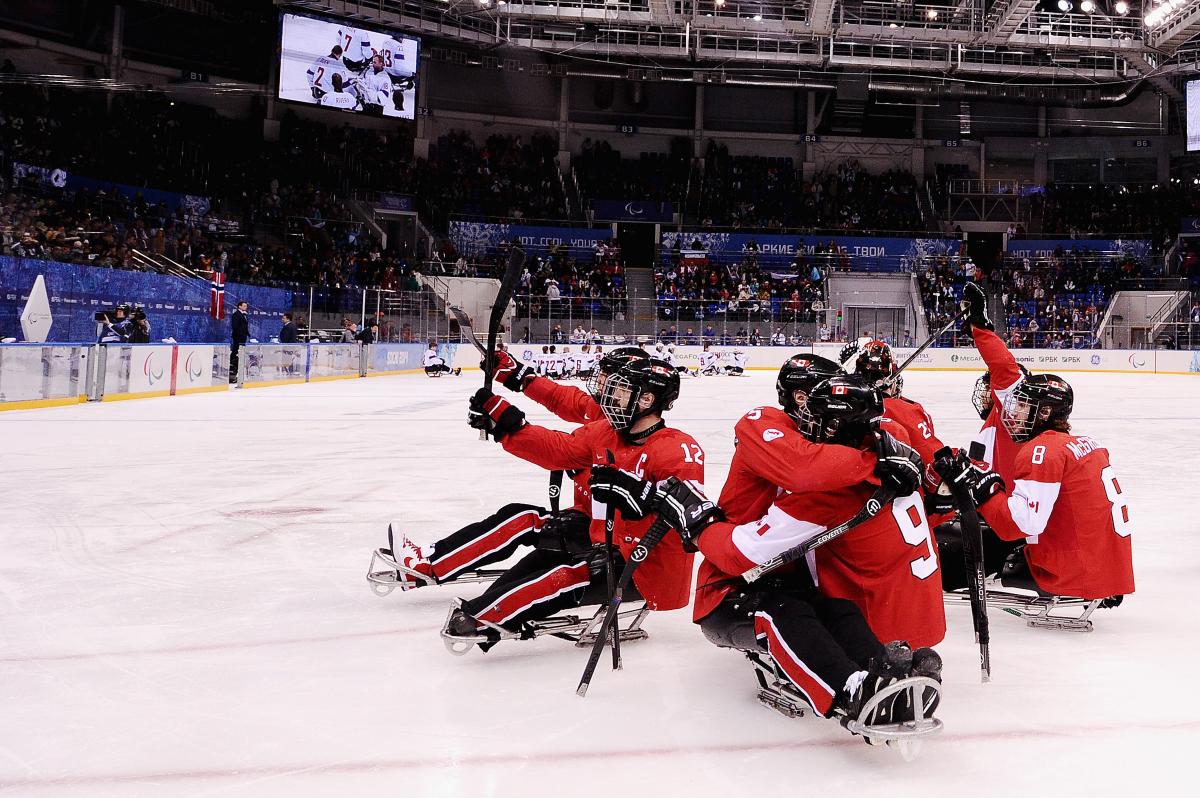 ⒸGetty Images
By Ryan McKenna | For the IPC
"I'm going to remember that big hunking medal that we're going to get on our necks in a couple hours and what it means to bring a medal home for Canada."
Three second period goals were the difference on Saturday afternoon (15 March), as Canada defeated Norway 3-0 in the ice sledge hockey bronze-medal game at the Sochi 2014 Paralympic Winter Games.
With the win, Canada avenged their bronze-medal loss from Vancouver 2010 when Norway beat them 2-1.
"Obviously, at the end of the day, it's not what we came here for but for the rest of my life, I'm never going to remember (Vancouver)," Canadian forward Billy Bridges said. "I'm going to remember that big hunking medal that we're going to get on our necks in a couple hours and what it means to bring a medal home for Canada.
"Sure we would love something better, but we got a medal for Canada and that makes me so proud."
After a scoreless first period in the match, veteran forward Brad Bowden, competing in his fourth Paralympics in sledge hockey, got the Canadians on the board just 30 seconds into the second period.
A couple minutes later, it would be another veteran presence in Bridges notching his second goal of the tournament off a nice passing play with linemates Greg Westlake and Bowden.
Another nice passing play at 21:42 would result in Bridges scoring his second of the game on the power-play. The play would need to be reviewed but the goal would stand with Bowden and Adam Dixon receiving assists. Dixon, an offensive defenceman finished the tournament with seven points and leads all skaters in points at Sochi 2014 heading into the gold-medal game.
"I mean we've been a hard working line," Bowden said. "It was never about work ethic or anything like that or focus. I think there were times where we were trying a little bit too hard when really we just needed to remember what it's like to have fun out there and just play hockey and that we're skilled players and we just need to go out there and have fun and good things will happen."
For Norway, it was their first time left off the podium since ice sledge hockey made its debut back at the Lillehammer 1994 Games.
Veteran defenceman Rolf Pedersen said the loss comes as a disappointment.
"It's of course sad that we can't manage to get the win, but the big nations like USA, Canada and Russia are improving a lot and they have many new players so we just have to keep up the good work and see what the future brings," Pedersen said.
Pedersen, a veteran on the blue line since winning silver at Salt Lake 2002, is not sure if these Games were his last Paralympics.
"You know I have a family, two kids; it's just taking a lot of time. I'll see what happens, but it could be (my last)," Pedersen said.
Corbin Watson got the win in net for Canada, making 10 saves for his third shutout of the Paralympics while Kristian Buen made 15 saves in the loss.
"I didn't know what to expect coming in here," Watson said. "I know I've been to a couple Worlds (Championships) and everything but just to have the experience of being the starter and actually playing so many games and having so many shut outs was a dream come true."