Canada, USA go 2-0 at World Sledge Hockey Challenge
Canada blanks South Korea, the US edge Russia on day two of tournament play. Preliminary rounds wrap up 20 January for first-place slot.
19 Jan 2016
Imagen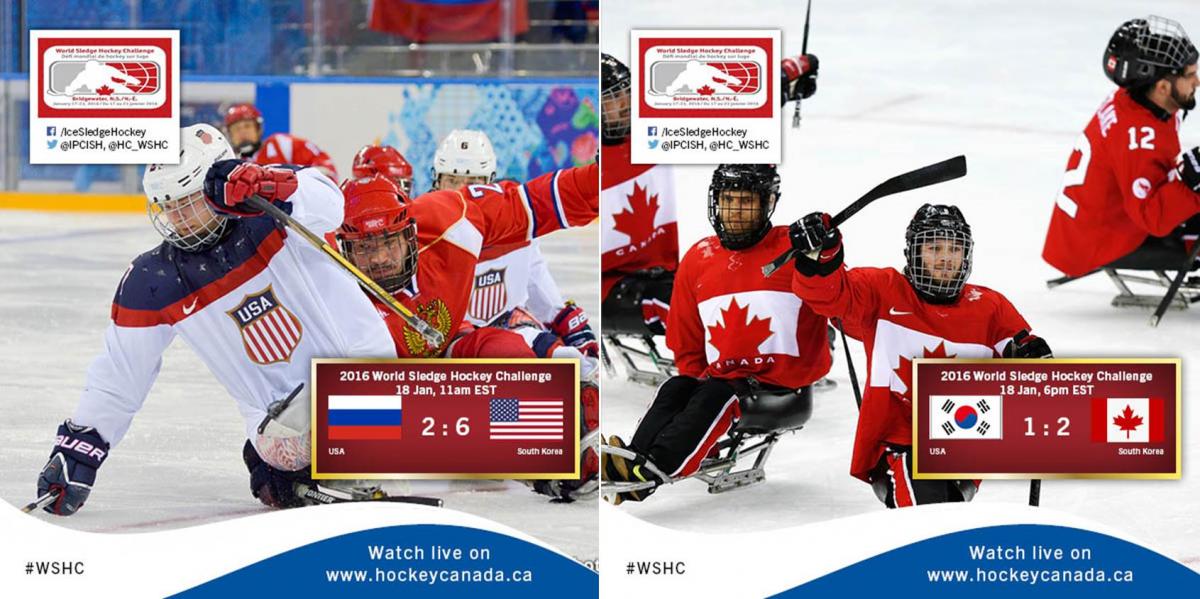 ⒸHockey Canada, USA Hockey
By USA Hockey and Hockey Canada
Defending ice sledge hockey World Champions the USA will face Worlds runner-up Canada on Wednesday (20 January) at 7 pm AT to finish preliminary round-play at the 2016 World Sledge Hockey Challenge in Bridgewater, Nova Scotia, Canada.
Canada 2 South Korea 1
Canada's Tyler McGregor had a goal and an assist in the final 5:04, helping Canada's National Sledge Team blank Korea 2-0, on Monday (18 January).
McGregor set up Ben Delaney late in the third period to finally open the scoring, and added a goal of his own into an empty net in the final minute to keep Canada's perfect record intact, and set up a first-place showdown against the United States on Wednesday.
Canadian goaltender Dominic Larocque made eight saves for the shutout, but it was Korean counterpart Man-Gyun Yu who stole the show with a 21-save performance.
Canada outshot South Korea 12-4 through the first two scoreless periods, which included four Canadian power plays and a 52-second 5-on-3 advantage late in the second. But Yu kept the game 0-0 through 30 minutes.
The offensive onslaught continued in the third period, with Canada racking up 11 shots in the final frame. McGregor finally found Delaney alone in front for a shot that made its way under Yu to give the Canadians the lead.
Benefitting from an offensive zone face-off in the dying seconds, South Korea pulled Yu in favour of an extra skater. But a blocked shot from McGregor sent him in on a breakaway that clinched the Canadian victory.
Canada finished goalless on five power-play opportunities, while the Koreans failed on their lone attempt.
South Korea will look to get their first win Wednesday afternoon against winless Russia in the round-robin finale for both.
USA 6 Russia 2
The USA's Declan Farmer scored twice, and teammate Steve Cash made nine saves as the US National Sled Hockey Team defeated Russia, 6-2, on Monday.
"It was a slow start but we reacted well and earned a couple hard-working goals," said Jeff Sauer, head coach of the US National Sled Hockey Team. "Now, we can get ready for Canada on Wednesday."
The US opened the scoring 6:02 into the first period when Kevin McKee collected the puck along the right boards and fired a shot that beat Russia goaltender Mikhail Ivanov high glove-side. Josh Pauls was credited with the assist.
Russia evened the score, 1-1, with 2:26 to play in the period when Nikolai Terntev's shot beat Cash from alone in front.
Dan McCoy regained Team USA's lead 3:39 into the middle frame when he collected a pass from Adam Page at centre ice, skated in alone, and beat Ivanov blocker side.
Brody Roybal gave the US a two-goal lead two minutes later when he finished a passing sequence that started in Team USA's own zone. After receiving a breakout pass from Farmer, Roybal skated into Russia's zone and dropped the puck back to McKee, who sent the puck back to Roybal on the right side where he lifted the puck over Ivanov. Farmer made it 4-1 at the 8:50 mark.
Russia's Maksim Kuzminykh cut Team USA's lead to two 2:23 into the final stanza when he pushed in a rebound attempt. Farmer made it 5-2 five minutes later by finishing a pass from Roybal for his second goal of the game. Page scored with one minute remaining to account for the 6-2 final. Cash finished with nine saves.