Winning start for Canada, US at Sledge Hockey Challenge
Hosts Canada open their account with a 5-1 victory over Russia, whilst the US beat South Korea 8-1 in Bridgewater, Nova Scotia.
18 Jan 2016
Imagen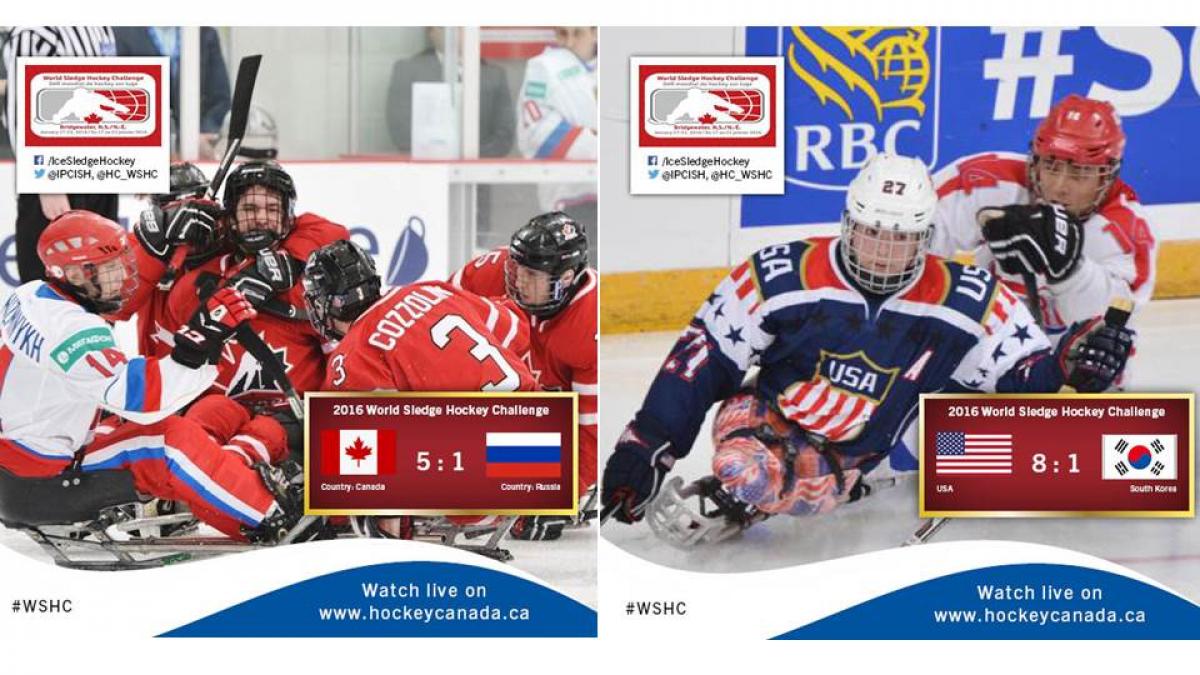 By USA Hockey and Hockey Canada
World Championships silver medallists and hosts Canada made an excellent start to the 2016 World Sledge Hockey Challenge in Bridgewater, Nova Scotia on Sunday (17 January), alongside World and Paralympic champions the USA.
Canada 5 Russia 1
Rob Armstrong, Tyler McGregor and Greg Westlake had a goal and an assist each to lead Canada's National Sledge Team past Russia 5-1 in the opening game.
Canada's special teams highlighted the game, going a perfect 3-for-3 on the power play and adding a goal while shorthanded, while killing off all five of Russia's power-play opportunities.
The Canadians directed just four shots at the Russian goal in the first period, but found the back of the net on three of them, starting with Westlake's power-play goal just 41 seconds in.
Armstrong doubled the lead, again with the man advantage, at 3:57, and McGregor went under the sled of Ivanov while the Canadians were a man down at 7:42, making it 3-0 and chasing starting goaltender Mikhail Ivanov, who was replaced by Evgenii Plotnikov after allowing three goals on four shots. The power play struck again with 3:22 gone in the second period; McGregor carried the puck into the Russian zone and circled the net before finding Billy Bridges, who snapped a shot past Plotnikov. Both teams picked up the offence in the middle frame, with more than half of the game's shots (13 of 25) coming in the period.
The Russians finally beat Corbin Watson at 7:59 of the third period when Nikolai Terentev got his shot through traffic and past the Canadian netminder, but Adam Dixon got that one back for Canada just 44 seconds later, beating Plotnikov under the cross-bar.
Canada finished with a 17-8 advantage in shots on goal, getting a small measure of revenge for their upset loss to the Russians in last year's semifinal in Leduc, Alta.
USA 8 South Korea 1
Declan Farmer had a hat trick, Josh Pauls recorded four points, and four other players had multi-point games as the US National Sled Hockey Team defeated Korea, 8-1.
"It was a good first effort," said Jeff Sauer, head coach of the US National Sled Hockey Team.
"We've got a lot of things we can work on, but it's good to be back together for the start of a new season and I think the guys had fun today."
Pauls opened the scoring 5:17 in the opening period by collecting a pass from Brody Roybal and sliding the puck past South Korea's goaltender, Man-Gyun Yu doubled Team USA's lead with a power-play goal at 13:26 but South Korea tallied just 0.20 seconds later to make it 2-1.
Farmer regained Team USA's two-goal lead 1:58 into the second stanza when he collected the puck at the point from Landeros, skated to the hashmarks and fired a shot low left side. Farmer connected again seven minutes later to make it 4-1 when he finished off a passing play from Pauls and Billy Hanning. Roybal scored with two minutes left in the period to give the US a 5-1 lead.
Just 0.37 seconds into the final frame, Farmer received a pass from Kevin McKee and skated in alone before tucking the puck under the crossbar to complete his hat trick. Pauls tallied his second of the game four minutes later and Tyler Carron fired a shot from the point 40 seconds to account for the 8-1 final.
Steve Cash, who started the game, made three saves on four shots through 30 minutes. Bo Reichenbach, in his first action with the US National Sled Hockey Team, stopped all four shots he faced in the final 15 minutes of play.
The Canadians will look to keep their record intact when they face South Korea on Monday (18 January) night (7 pm AT), while the Russians are right back to action in a Monday matinee, taking on the US (noon AT).
A live stream, full results and statistics are available at Hockey Canada's website.