Cheongju 2018: Matured McKenna Dahl ready for Worlds
US shooter aiming for first medal at second Championships
04 Apr 2018
Imagen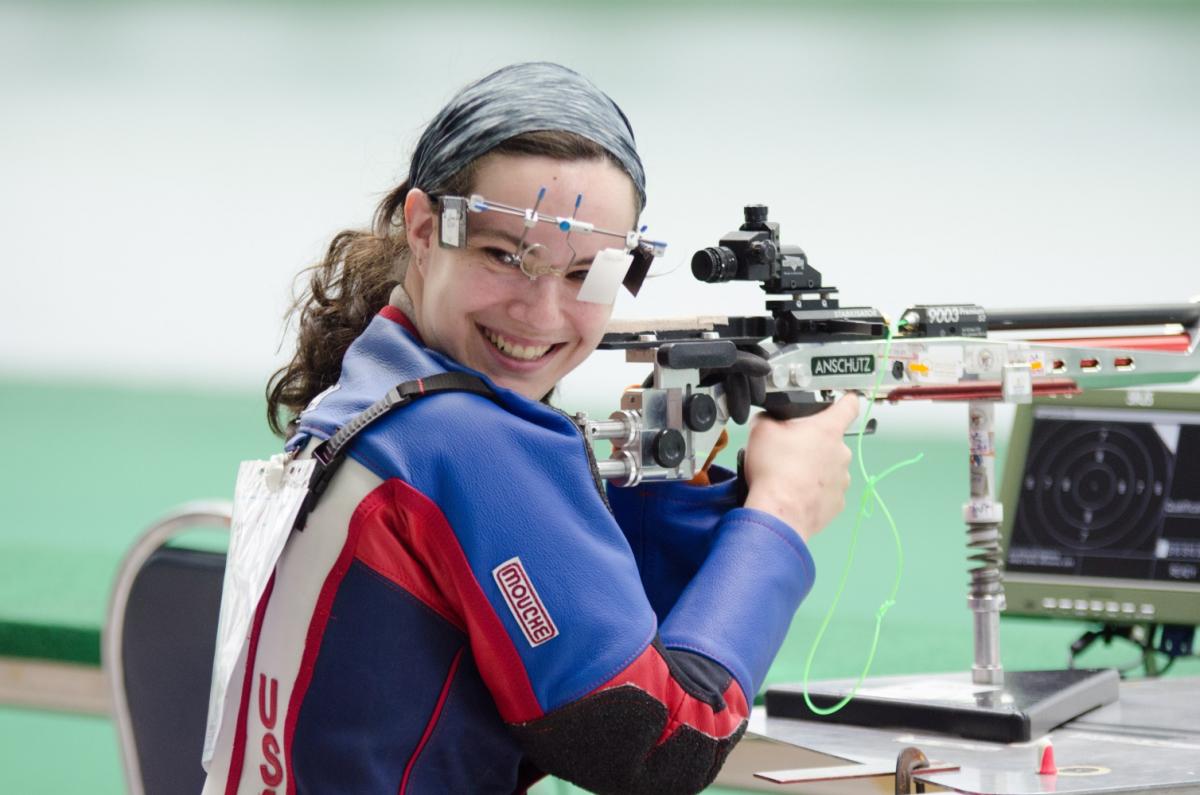 ⒸSADT
By IPC
"Having gone to a Paralympic Games, being a medallist, we had some coaching changes within the Paralympic shooting team that I think has really helped all of the athletes, I really think that my maturity level between the two competitions has been really huge."
McKenna Dahl was 18 years old at her first World Championships. Not only was she experiencing the biggest moment of her athletic career, but also a life transition.
Fast forward four years, with one month to go until her second World Championships, the US shooter has grown a great deal, both athletically and personally.
"When I went to [the] World Championships in 2014, I had just graduated high school, just moved out of my parents' house, was on my own for the first time," Dahl said. "Just really starting to experience the world and everything it had to offer.
"So I think four years later, having gone to a Paralympic Games, being a medallist, we had some coaching changes within the Paralympic shooting team that I think has really helped all of the athletes, I really think that my maturity level between the two competitions has been really huge."
The 2018 World Shooting Para Sport Championships start on 4 May in Cheongju, South Korea.
Dahl, 21, is entering these Worlds having begun the first year of her masters degree in business and is living as a resident athlete at the US Olympic Training Centre in Colorado Springs.
Having already secured her first Paralympic medal at Rio 2016, Dahl could now add a first World Championship medal to her resume.
She will compete in three events: R4 (mixed 10m air rifle standing SH2), R5 (mixed 10m air rifle prone SH2) and R9 (mixed 50m rifle prone SH2).
The rifle specialist is strongest in R5, in which she became the first US woman to win a Paralympic shooting medal when she took bronze in Rio.
"I think it's the mental game in R5 because the scores are so high that once you have the technical skill you're not going to lose it," Dahl said about why she likes R5. "It's just what you do mentally during the match that makes or breaks your performance."
As for R4, Dahl has been working on new positions for standing and prone after changing her wheelchair post-Rio.
Tokyo target
In September, the International Paralympic Committee (IPC) announced that R9 would be included in the programme for Tokyo 2020, which sparked interest Dahl's interest in the discipline.
She gave it a try in March's World Cup in Al Ain, United Arab Emirates, which was the last opportunity for shooters to earn MQS (minimum qualifying scores) for 20m and 50m events. Although she did not reach the R9 elimination stage, it was a start for Tokyo 2020.
"I would like to see myself be more competitive in it and understand more the logistics behind small bore because it's a lot more involved than air gun," Dahl said. "Really, I'm just excited to learn more about it and become more competitive in the event."
The Al Ain World Cup was her first competition of the year, and her last before Cheongju 2018.
She did not reach the elimination stage for R4, R5 and R9 in Al Ain. But Dahl is unconcerned as her experience means she knows what to focus her training on in the next four weeks.
"I'm actually really excited to go now that I know what needs to be worked out with each event and planning on spending a lot of time this month getting that figured out," Dalhl said. "Really my biggest goal in Korea is to earn the [qualification] slot for the United States. And then addition I would like to see some podium finishes, especially in R5."
The 2018 World Shooting Para Sport Championships runs from 4-11 May and is the first opportunity for athletes to secure quota places for the Tokyo 2020 Paralympic Games. More information can be found on the event website.