China's Liu looking for revenge over Mohsin
Having relinquished his world record at October's Asian Para Games, China's Paralympic powerlifting champion Lei Liu longs to return to the top of the podium at July's Asian Open Championships.
08 May 2015
Imagen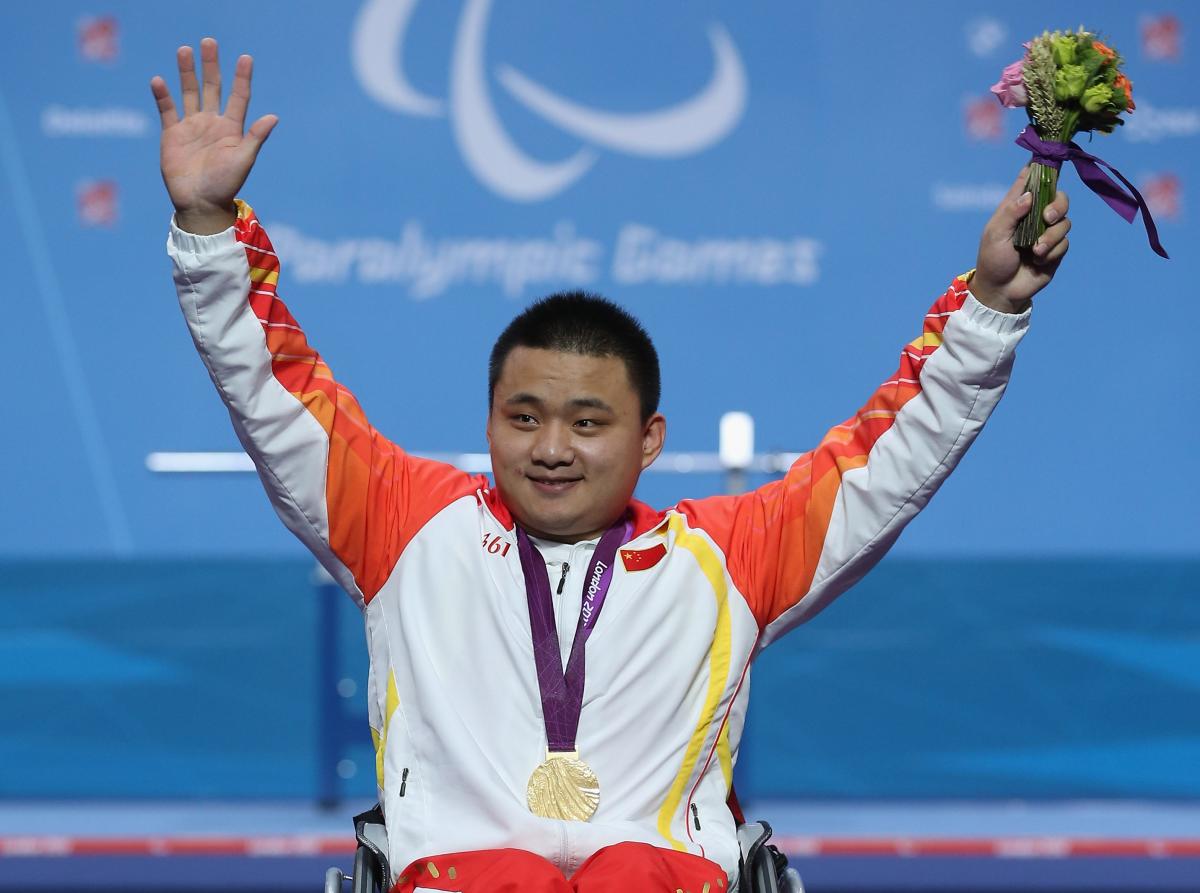 Ⓒgetty images
By Caryn Maconi | For the IPC
China's Lei Liu, a double powerlifting gold medallist at the Beijing 2008 and London 2012 Paralympic Games, has revealed that he is eager for revenge after losing his world record to Iraq's Rasool Mohsin at the Incheon 2014 Asian Para Games.
Liu has been back-and-forth with Mohsin in competition over the past two years, with Mohsin now posing a threat to Liu's goal of three straight Paralympic gold medals come Rio 2016.
The Iraqi standout currently holds the men's up to 65kg world record, a mark he originally set at the 2013 IPC Powerlifting Asian Open Championships in Kuala Lumpur, Malaysia, and to which he added 3kg in Incheon to reach 217kg. Liu, however, owns the most recent world title from the 2014 IPC Powerlifting World Championships in Dubai, UAE.
Opportunity in Almaty
Liu had been hoping to reclaim his world record in Incheon, but ultimately could not compete with Mohsin's powerful lift.
By July's IPC Powerlifting Asian Open Championships in Almaty, Kazakhstan, Liu believes he will have gained enough strength to make a run for the world record once again. The Championships are set for 26-30 July, with over 200 athletes from nearly 30 countries expected to compete.
"I am absolutely looking forward to competing with Mohsin in July," Liu said. "In recent competitions, the two of us have beaten each other from time to time. He has become the motivation that drives me to work harder and fight for the better. He is one of the top athletes in recent years, and he has my respect. I wish that the both of us can bring our best in Almaty."
Though Liu took some time off of competing to focus on college studies following London 2012, he has steadily ramped up his training over the past two seasons and is confident in his fitness going into the summer months.
"It is always difficult to win, especially with strong opponents, but I will try my best," Liu said. "My recent training focuses on old injury rehab and technique improvement."
Top priority towards Rio 2016
While Liu would like to leave Almaty 2015 with a gold medal, his bigger priority is to earn qualification points towards Rio 2016.
Results from all the 2015 IPC Powerlifting regional Championships in the Americas, Asia and Europe help athletes secure their places in the world rankings – and ultimately earn their respective spots at Rio 2016.
"My goal [in Almaty] is simple: to lift my best training weights," Liu said. "This Championship is related closely to the qualification for Rio. The better ranking a lifter has got, the more likely he is to go to Rio."
In the long run, Liu knows that Almaty 2015 is just one of several important stops on the road to the 2016 Paralympic Games.
"I will treat this competition like a rehearsal," Liu explained, "which helps me to get into a competitive status."
More information about the 2015 IPC Powerlifting Asian Open Championships can be found at Almaty 2015.com.
The 2015 IPC Powerlifting European Open Championships take place in Eger, Hungary, from 24-28 November.