Clark still savours gold as Olympian mother recalls moment
The USA's Breanna Clark won the 400m T20, and Olympic silver medallist mother looks to help train her toward Tokyo 2020.
02 Apr 2017
Imagen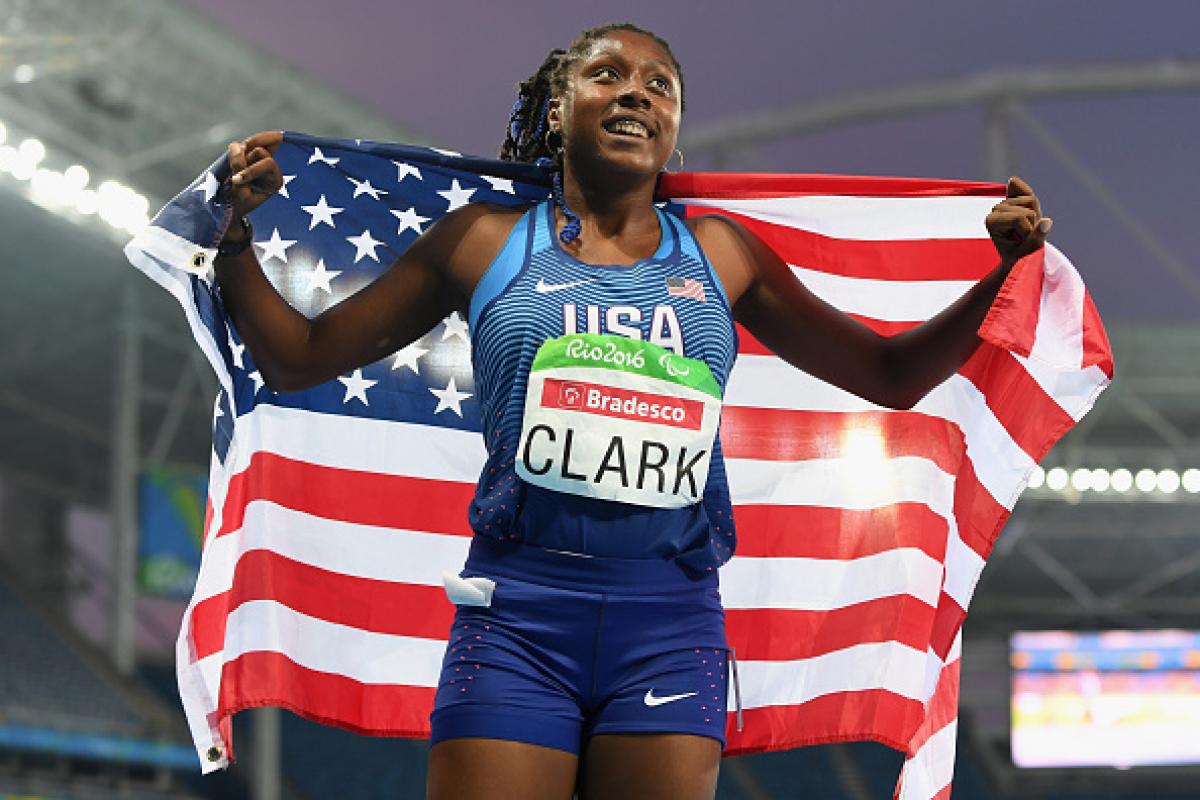 ⒸGetty Images
By US Paralympics
The USA's Breanna Clark blew kisses to the crowd again and again after winning the 400m T20 at Rio 2016. She even blew a kiss to the medal presenter. Her mother and coach, Rosalyn Clark, was incredibly proud at that moment, but also laughs about it now.
"She was so hyped up," said Rosalyn Clark, an Olympian who won a silver medal in the 4x400m as Rosalyn Bryant at the 1976 Games in Montreal. "I was a little embarrassed. I said, 'I hope nobody thinks that I told her to do that, because I didn't.' She did it all on her own. But I just think she was thrilled."
More than seven months to savour what she accomplished in Rio, the 22-year-old younger Clark's voice still carries the excitement she felt at those Games. It was about new adventures, staying apart from her family for the first time in her life and achieving her goal.
"What I remember most is staying at the [Paralympic] Village and meeting a lot of new people from different countries and heading out to the Opening Ceremony in a sweet uniform," said Breanna. "But most important was winning the gold medal and standing on that pedestal."
Rosalyn travelled to Rio but was not allowed inside the village or to take part in her daughter's training sessions with the national team coach. But she talked with her daughter each day by phone, and discussed the training with her coach.
"All she said was, 'I'm going to win that gold medal. I'm going to win that gold medal,'" said Rosalyn.
Breanna won her heat to reach the final, then streaked to a commanding lead in the 400m final. A pair of runners started to close in at the end, but Breanna held them off for the victory in a time of 57.79, just off the world record for her class of 57.78.
Now, with the 2017 World Para Athletics Championships coming up in July at London, Great Britain, Breanna said her next goal is to make the US team, win the gold and break the record.
Her best in the 400m is 55.3, set when she ran track at Pasadena City College (CC), mostly as a 100m and 200m specialist. She also had excelled as a sprinter at Dorsey High School in Los Angeles.
But by the time she finished her second season at Pasadena CC in 2014, she and her mother believed her track days were over. Breanna had received multiple offers to run for four-year programmes, but could not qualify academically.
"She just wasn't able to comprehend and go that next step. It just started to get too complicated, so we did not pursue the four-year colleges," said Rosalyn.
Breanna stopped training and eventually fell out of condition. But one day a track coach at California State University, Los Angeles, called Rosalyn to ask if she heard of the Paralympic Games.
She had, but thought the Paralympics was a competition for athletes with physical impairments. When the coach told her there also are classifications for athletes with intellectual impairments, Rosalyn looked into it. After a lengthy process, Breanna was cleared to compete in 2016, just in time to qualify for the Games.
"I have to give mom the credit," Breanna said. "She followed through and made all the contacts."
By the time she was four years old, Breanna — who was born with a twin brother, Rashard — had been diagnosed with autism. About the same time, she and her brother also were showing their parents they were athletic. Rosalyn said her daughter did not fare well in most team sports because situations were often too confusing to her. But in individual sports she fared well.
Just before she entered high school, Breanna started training with her mom on the track and did well, which launched her into some solid years at Dorsey.
"I like running because it makes me feel free," she said. "I also like it because I'm good at it, which helps build my confidence. Also it lets me travel all over the world, meet new people and try new foods."
Rosalyn will continue to coach Breanna, who would like to train toward Tokyo 2020. She believes Breanna must work to regain the conditioning she had at Pasadena CC and make big improvements in her 400m time.
"I'm telling you it was amazing," she said of watching her daughter race to a gold medal. "It was an amazing experience. The reason is, for me, because having a daughter that has autism, finding out her diagnosis at four and basically given negative information about what her life is going to be like. For me to see how high she had come and how far she had come and to see that my daughter was out on the field at Rio de Janeiro and just won a gold medal, it brought tears to my whole being. It was a fantastic feeling and so fulfilling as a mother and a coach."
Breanna, too, is enjoying chasing new goals.
Said Breanna: "Yes, I have autism, but autism doesn't have me. I was born this way, which is my theme song, by Lady Gaga."