Cockroft says first defeat was a wake-up call
The British multi world and Paralympic champion suffered her first defeat in the T34 class for seven years last weekend.
30 Sep 2015
Imagen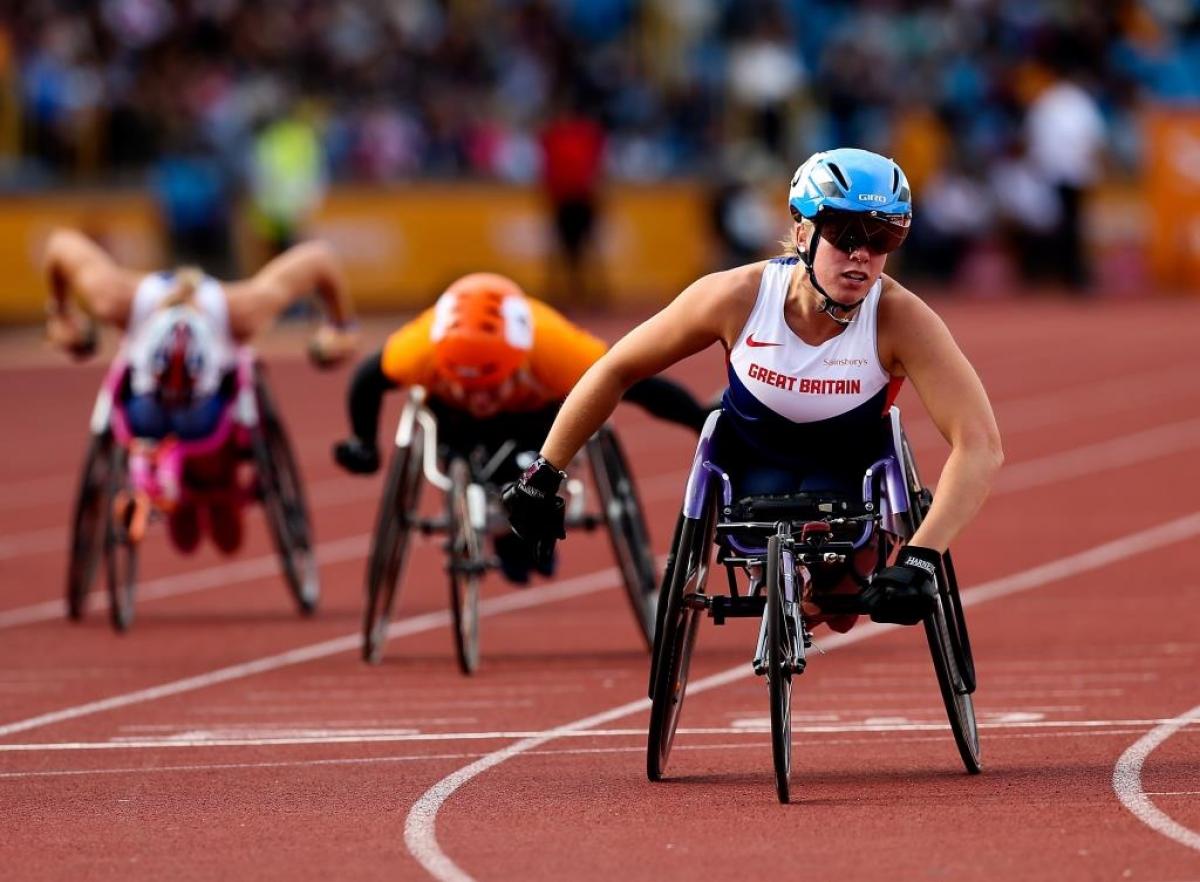 ⒸGetty Images
By IPC
"This is something that we've been waiting to happen for seven years now. If anything it's exciting, it's motivation. We're getting to that stage in the season where I'm like 'Another training session, I'm just so bored now' – there's no boredom now. "
Great Britain's multiple world and Paralympic champion Hannah Cockroft suffered her first defeat in seven years on Saturday (26 September), but the 23-year-old believes it was just the wake-up call she needed.
Racing in her final competition ahead of October's IPC Athletics World Championships in Doha, Qatar, Cockroft lined up in the 400m in Newham, London, expecting the usual outcome: T53 racer Sammy Kinghorn would come first, Cockroft would finish second, and her fellow T34 racer Kare Adenegan would take third.
But with less than 200m to go Cockroft realised that was not going to happen.
"I went in to the race way too relaxed, way too confident, completely switched off in the second hundred, and by the time Kare had passed me it was too late, there wasn't enough of the race to catch her back up," Cockroft explained.
At first, the defeat hit her hard. Remaining unbeaten for over 300 races was an achievement Cockroft had carried with pride. But it didn't take long for her to bounce back.
"As soon as it happened I cried, I was angry, I was thinking 'Kare must be doing this, Kare must be doing that'. But then once I'd slept on it and thought about it, there's nothing but positives from this.
"This is something that we've been waiting to happen for seven years now. If anything it's exciting, it's motivation. We're getting to that stage in the season where I'm like 'Another training session, I'm just so bored now' – there's no boredom now.
"I have to come and train or else I'm not going to win in Doha, it's as simple as that."
In fact, for Cockroft, not only is there a sense of relief, there is renewed vigour only true rivalry and competition can bring.
"It's amazing to have that pressure of the unbeaten title off my back," she explained. "It's been one thing that I've been so scared of losing, and now that it's happened it was a shock on Saturday, but suddenly it's not that big a deal.
"It's nice to feel like I'm training for a reason. It's nice to feel like I'm a proper athlete, I'm not just a show horse who goes out and does what everyone expects them to do. Everyone loves a rivalry, that's what people want to see. Now we've got Hannah and Kare, so bring it on."
Cockroft is the first to admit that times have changed since she won double world gold in 2011. Then, the multiple world record holder finished well clear of the field – in the 100m T34, over three seconds separated her from her rivals; in the 200m, she was nearly 10 seconds ahead.
Now, as Cockroft found out five days ago, there's no room for complacency. At just 14-years-old, Adenegan has a bright future ahead of her – the talented teenager was in winning form at the Grosseto Grand Prix earlier this year, and sits second in the world rankings in both the 100m and 800m T34.
"I needed to wake up and realise the rest of the world is catching up," Cockroft admitted. "The T34 women's class has grown so much. It's not just Kare - we've got Alexa Halko from the USA; Desiree Vranken has come through so quickly.
"It was a nice wake up call. I'm happy it happened now instead of at the Worlds. I've never had to experience that, and it has made me grow up a little bit and mature a bit. It was upsetting at the time, but it's just going to make our races more exciting."
Cockroft will line up in the 100m, 400m and 800m T34 in Doha next month, and has always made it clear that she favours the sprints. But Saturday's defeat only served to underline how much she wants to keep winning.
With Doha three weeks away, how does she feel?
"Scared! Terrified. I've never had this feeling, it's new. Suddenly there's this possibility that I'm going to be sat on the podium with a different colour medal round my neck. To me, if that happens I honestly don't know how I'd react to it.
"But we have to get here to see if that happens, and at the moment that's the motivation. I don't want to get on that podium and accept anything but gold. That's my mind set and that's what's driving me.
"That kind of fear does drive you, it keeps me awake at night sometimes, but it's a good fear because I'm going to sit on that start line and I'm going to work as hard as I can. I'm going to go out there and put the best performance that I can in, and hope that it's enough."
Maybe you can't win them all – but it's clear Cockroft isn't planning on losing again anytime soon.
The 2015 IPC Athletics World Championships will take place between 21-31 October and feature more than 1,300 athletes from 100 countries. Tickets are on sale now.