Cool runner Evan O'Hanlon is back
Australian returns to athletics with an eye on Olympic bobsleigh
22 May 2019
Imagen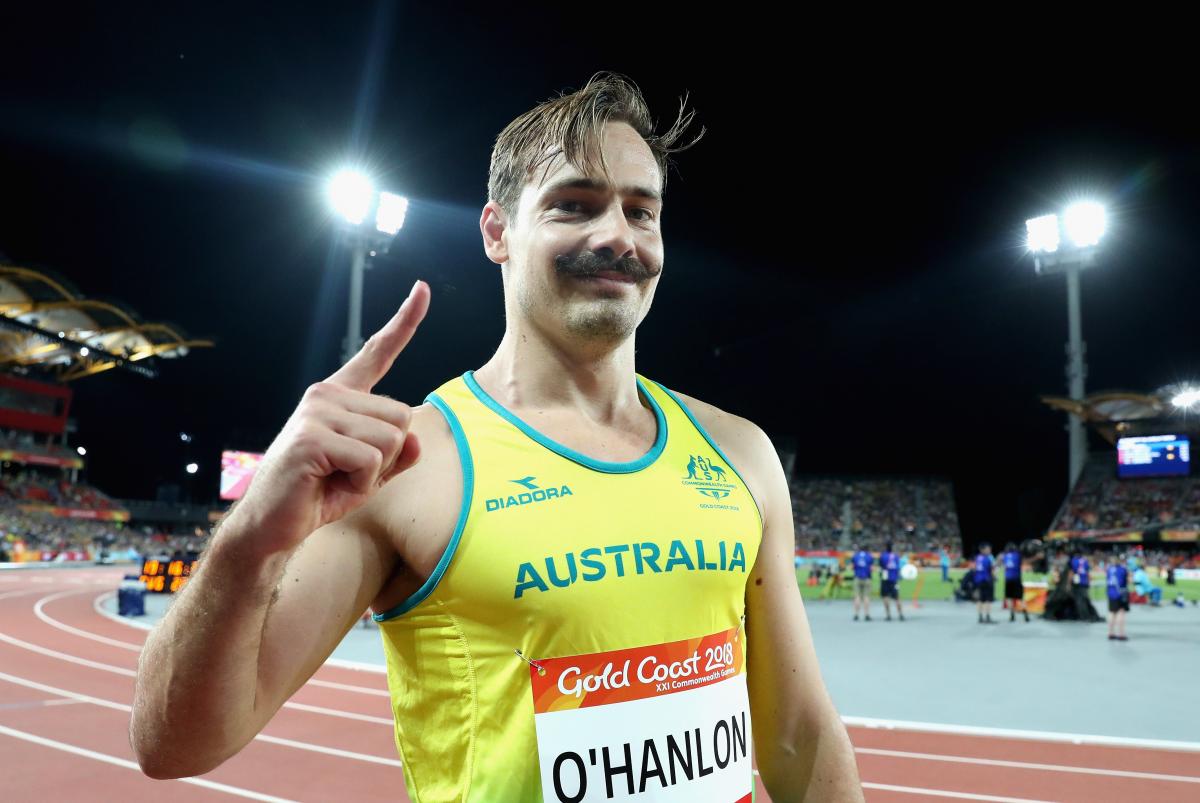 ⒸGetty Images
By World Para Athletics
"I'm realistic –because I'm old, I've got some physical problems that will never go away. ... But I really want to win."
How did Evan O'Hanlon spend the winter? The answer may come as a surprise.
The Australian, who retired from the track after Rio 2016, came back for London 2017, then retired again after the 2018 Commonwealth Games, has been hurtling down an icy track, steering a bobsleigh at 120 kilometres an hour.
The 31-year-old has ambitions to make the Australian bobsleigh team for the 2022 Winter Olympics in Beijing – which he admits will be no easy feat.
But in a further twist, O'Hanlon is also back running, with the 2019 World Championships and Tokyo 2020 Paralympic Games now a key focus.
"I'm realistic –because I'm old, I've got some physical problems that will never go away. And I'm not fresh, so anything could happen.
"But I really want to win. I wouldn't run if I wasn't going to try and win," said the T38 sprinter and 14-time major gold medallist, who decided to return to the track during his rehabilitation following hernia surgery that he underwent shortly after the Commonwealth Games.
"Doing my rehab work in the gym I started to think about whether I wanted to keep going. I could feel myself thinking, okay, what can I do next week that would be better?"
First, he needs to achieve the necessary qualification standards required to secure a place in the Australian team – and so O'Hanlon will race at this weekend's World Para Athletics Grand Prix in Nottwil, Switzerland.
"I just need to get some solid times in," admitted O'Hanlon, who came out of retirement the first time after the Rio Paralympic Games to win his eighth world title at London 2017.
"If I'd won in Rio then you wouldn't be talking to me; I probably wouldn't do bobsleigh either," acknowledged the Australian, who suffered his first major defeat in Rio, finishing second in the 100m T38 behind China's Jianwen Hu.
"But because I got beaten, the worst thing that could possibly happen has happened."
The alternative – a career in an office, away from a life of sport – also lacked the appeal he had hoped for. Before the Commonwealth Games, O'Hanlon had worked with his architect parents, fitting training around office life.
"But I really just didn't enjoy having a job that wasn't sport."
Bobsleigh passion
O'Hanlon and his young family relocated to the Czech Republic – wife Zuzi's country of birth – last October.
"I knew if I was going to do it I couldn't stay in Sydney, as I would have to do athletics full-time and I wouldn't be able to have a job or afford to live in Sydney," explained O'Hanlon, who now trains by himself, but still works with coach Iryna Dvoskina, sending videos of his sessions and speaking regularly on the phone.
Then there's bobsleigh – an idea that came to him during a gym session in the run up to Gold Coast 2018, as he watched the Winter Olympics on the television.
"One of the trainers [at the gym] used to compete for Hungary. I said to him, if I trained full time would I be able to keep up with those guys?
"He thought about it for a second and said 'yeah probably, you're fast enough and you can lift the same weights as them. So unless there's something that your disability doesn't let you do, you probably could.'
"Right when he said it I was like, you should have just said no. Because when he gave me that 'you could' I was like, I'm going to have to try now."
O'Hanlon admits that learning a new sport "that you're not good at is tough" but also finds it "really good, really fun." He has the added responsibility of piloting the sled.
"It's not just reacting to what's in front of you. I have to memorise the track because when you're going at 120 kilometres an hour there's no way you can react, you have to know what's coming."
Crashes are not uncommon. One day O'Hanlon crashed four times in a row, at the same corner. "I was just on the side of the track crying, thinking I couldn't do it, I was going to have to give up.
"But once you've crashed you kind of get over it a little bit, it's not that bad. It's more the frustration when I crash because I'm responsible for somebody else as well in the back of the sled."
But first, the athletics season, and Switzerland this weekend where he is joined by fellow Australian Para athletes as well as his coach.
"It's good to be back. It's good to see Iryna too as I've been with her since I was 15. But also being able to compete is nice because I do miss racing," added O'Hanlon.
"I'm coming back and I'm old and it's not easy for me anymore. I want to win, that's my personality. But I'm realistic in the fact it's going to be really hard work."