Cuban Durand set to shine at Rio 2016
The visually impaired sprinter explains how she became the fastest female Paralympian in the world in the latest video in the road to Rio 2016 film series.
03 Sep 2016
Imagen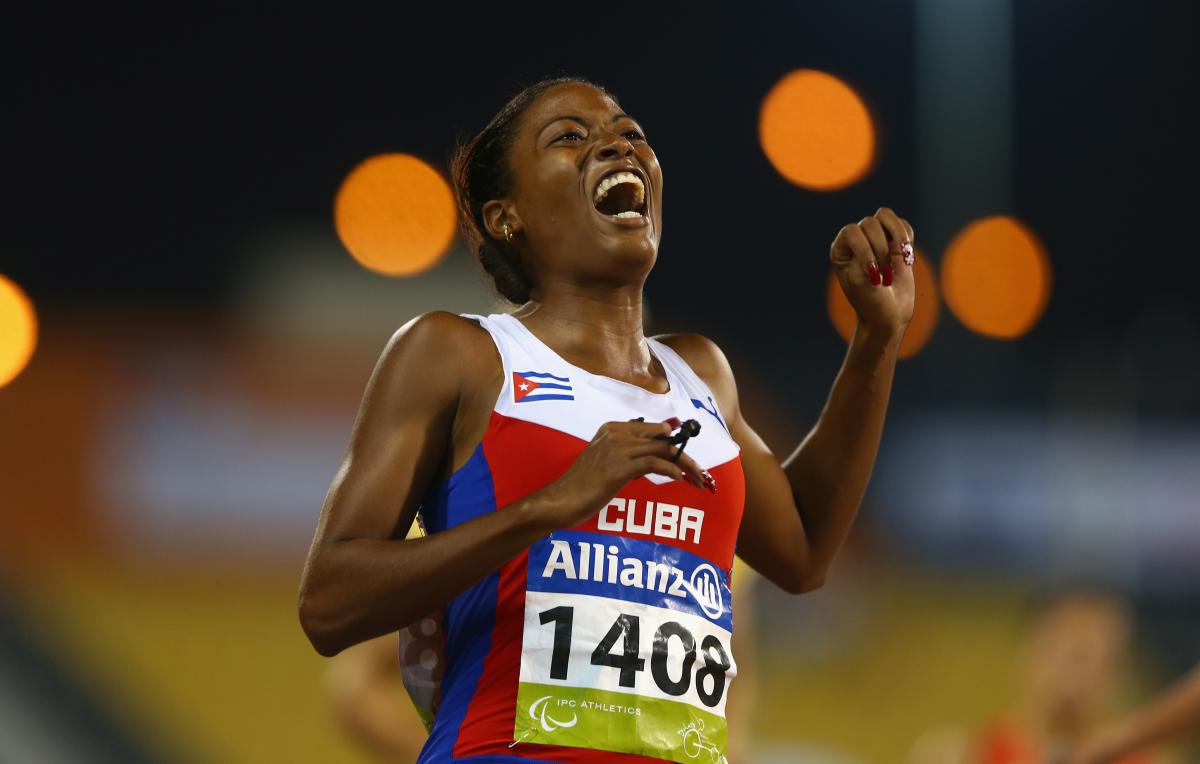 ⒸGetty Images
By IPC
[Por favor, encuentre debajo la gacetilla de prensa en español]
More than a decade ago, coach Reinaldo Cascaret was teaching a physical education lesson at a school for blind and visually impaired people in Cuba and a young girl called Omara Durand caught his attention for her tremendous speed.
Although far from imagining he had a future Paralympic and world champion in front of him, Cascaret recognised her huge potential and suggested Durand take up Para athletics.
Since then, she has won multiple titles and has become the world's fastest female Paralympian and one of Cuba's most well-known athletes.
"I was born with a visual impairment and, when being a kid, I had my limitations. But as I grew up, I got used to it," said Durand, who this year will compete at her third successive Paralympic Games in Rio de Janeiro, Brazil.
She also stressed how important it was to have supportive family and friends "I have never been bullied and have always had a huge support from everyone," she said.
At only 19 years old, Durand fought her way to the top proving Cascaret's instincts right, winning gold in the 200m T13 in world record time and in the 400m T13 at the 2011 IPC Athletics World Championships in Christchurch, New Zealand.
Durand's winning streak continued, claiming double Paralympic gold in the 100m and 400m T13 at London 2012.
Following the 2012 Paralympics, the 25-year-old gave birth to her daughter Erika and decided to commit herself fully to her new role as a mother, taking a three-year sabbatical from the track.
But hungry for more glory, Durand started training again ahead of the Toronto 2015 Parapan American Games and the 2015 World Championships. It was then that she was invited to take part in an Agitos Foundation training camp in Sao Paulo, Brazil.
Durand is one of eight athletes from Latin America whose remarkable stories are being told in a series of powerful short road to Rio 2016 films produced by the Agitos Foundation.
Over the last 18 months, a total of 155 athletes, coaches and classifiers from 23 countries, including Durand, have benefitted from expert training provided during the Road to Rio 2016: Agitos Foundation Sessions. Organised in partnership with the Rio 2016 Organising Committee and Brazilian Paralympic Committee, the sessions aimed to improve coaching and Para sport standards as part of the legacy of Latin America's first Paralympic Games.
"Being part of the Agitos Foundation Road to the Games programme was a very nice and enriching experience for me. It is thanks to the Agitos Foundation that the world started to know more about me," said Durand.
Following her re-classification to the T12 class, as a result of her vision suffering further after the birth of her daughter, she later enjoyed increased popularity showing great form and completing two clean sweeps at both Toronto 2015 and the 2015 World Championships by topping the podium in the 100m, 200m and 400m T12.
After this extraordinary comeback, Durand reflects on her third Paralympics.
"I had the opportunity to travel to Rio many times and I like it very much, it is such a welcoming city. I believe this year's Games will be spectacular," she said.
Talking about her expectations on her races, Durand remains humble.
"My main objective is to be fully focused on giving my best on the track. And obviously, my biggest dream is to reach the Paralympic podium again," she concluded.
Clean, broadcast quality versions of Durand's videos are available free of charge to all media. Requests should be submitted to footage@paralympic.org. The Agitos Foundation must be credited for all use of footage.
The Agitos Foundation road to Rio 2016 videos is featuring a series of athletes, to show the compelling stories that exist in Para sport development as part of #TeamAgitos.
Anyone can use #TeamAgitos on social media to show they are part of the team for developing Para sport, whether they are fans, athletes, coaches, part of the Paralympic Movement or a partner organisation.
Durand lista para brillar en Río 2016
Hace más de una década, el entrenador cubano Reinaldo Cascaret estaba dando una clase de educación física en una escuela para personas ciegas y con discapacidad visual cuando le llamó la atención la velocidad de una joven chica llamada Omara Durand.
Si bien estaba lejos de imaginarse que tenía una futura campeona Paralímpica y mundial delante de sus ojos, Cascaret reconoció su gran potencial y le sugirió a Durand comenzar a entrenar atletismo.
Desde entonces, Durand ha ganado múltiples títulos y se ha convertido en la atleta femenina Paralímpica más rápida del mundo y una de las más conocidas en Cuba.
"Nací con una discapacidad visual y, cuando era chica, tenía mis limitaciones. Pero conforme fui creciendo, me acostumbré", dijo Durand, quien este año competirá en sus terceros Juegos Paralímpicos consecutivos en Río de Janeiro, Brasil.
También destacó cuán importante fue para ella contar con el apoyo de su familia y amigos. "Nunca fui acosada en la escuela y siempre tuve un gran apoyo de parte de todos", dijo.
A los 19 años, Durand llegó a la cima al ganar oro y establecer récord mundial en los 200m T13 y en los 400m T13 en el Campeonato Mundial de Atletismo IPC, en Christchurch, Nueva Zelanda, demostrando que los instintos de Cascaret eran correctos.
La racha ganadora de Durand continuó, obteniendo un doble oro Paralímpico en los 100m y en los 400m T13 en Londres 2012.
Luego de los Juegos Paralímpicos de aquel año, la atleta de 25 años dio luz a su hija Erika y decidió dedicarse de lleno a su crianza y su rol como madre, tomándose tres años sabáticos de las pistas.
Hambrienta de mayor gloria, Durand empezó a entrenar nuevamente con miras a los Juegos Parapanamericanos Toronto 2015 y el Campeonato Mundial 2015. Fue entonces que recibió una invitación para concurrir a un campo de entrenamiento de la Fundación Agitos en Sao Paulo, Brasil.
Durand es una de ocho atletas de América Latina cuyas destacadas historias están siendo contadas en una serie de videos cortos ´Road to Rio 2016´, producidos por la Fundación Agitos.
Durante los últimos 18 meses, 155 atletas, entrenadores y clasificadores de 23 países, entre ellos Durand, se han capacitado en las sesiones 'Road to Rio 2016': Agitos Foundation´. Este proyecto, organizado en colaboración con el Comité Organizador de Río 2016 y el Comité Paralímpico Brasileño, tuvo el propósito de mejorar los estándares de entrenamiento y deportivos como parte del legado de los primeros Juegos Paralímpicos en América Latina.
"Ser parte del programa ´Camino a los Juegos´ de la Fundación Agitos fue una experiencia muy enriquecedora para mí. Es gracias a la Fundación Agitos que el mundo comenzó a saber más sobre mí", dijo Durand.
Durand disfrutó de un incremento en su popularidad y demostró un alto nivel ganando tres oros en los 100m, 200m y 400m T12, en Toronto 2015 y Doha 2015.
Después de este extraordinario retorno a la actividad, Durand ya se imagina cómo serán sus terceros Juegos Paralímpicos.
"Tuve la oportunidad de viajar a Río muchas veces y me gusta mucho, es una ciudad muy acogedora. Creo que los Juegos de este año serán espectaculares", dijo.
Hablando acerca de sus expectativas, Durand mantiene la humildad.
"Mi mayor objetivo es estar focalizada en dar lo mejor en la pista. Y obviamente, mi mayor sueño es alcanzar el podio Paralímpico una vez más", concluyó.
La versión final del video de Durand está disponible libre de costo para todos los medios. Las solicitudes deben ser remitidas a footage@paralympic.org. La Fundación Agitos debe ser citada para cualquier uso del material.
La serie de videos ´Road to Rio 2016´de la Fundación Agitos presentan una serie de atletas, mostrando las atractivas historias que existen en el desarrollo del Para deporte como parte del #TeamAgitos.
Cualquiera puede utilizar #TeamAgitos en las redes sociales para mostrar que son parte del equipo, ya sean fans, atletas, entrenadores, parte del Movimiento Paralímpico o de una organización asociada.
Related Videos