Dancing with the Stars champion Oney Tapia prepares for Grand Prix
The Italian Paralympic discuss thrower will swap the dancefloor for this weekend's event in Rieti.
03 May 2017
Imagen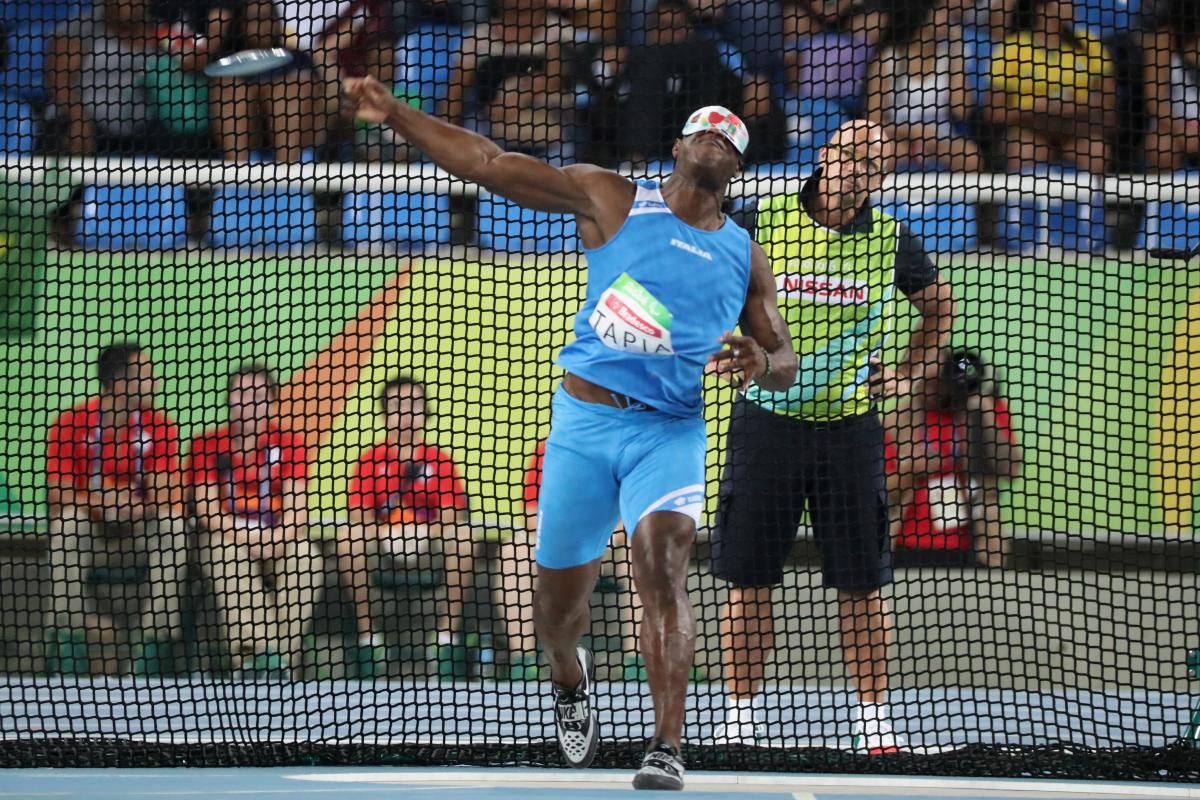 ⒸGetty Images
Italy's Paralympic discus thrower Oney Tapia has spent the last 10 weeks training intensively – but it's not how you might think.
The 41-year-old was recently crowned champion on Rai television's 'Dancing with the Stars', capturing the hearts of the judges and the legions of supporters that tuned in to watch him pull on his dancing shoes every week.
Thanks to his captivating on-screen performances Tapia has become a household name in Italy - his home for over a decade, having left Cuba, the country of his birth, in 2002.
But now he's ready to return his focus to Para athletics - and that means starting his season at this week's World Para Athletics Grand Prix, which takes place in Rieti, Italy, from 5-6 May.
"This is my debut for the season so I want to produce a good performance to cement my place on the Italian team for the World Championships," explained Tapia, who won discus F11 silver at the Rio 2016 Paralympic Games as well as European discus F11 gold in 2016.
"Now my focus is straight back to Para athletics because I want to improve my performances. I am increasing the intensity of my training because the focus is of course the World Championships in London."
Tapia and his dance partner Veera Kinnunen won over the judges right from the beginning of the show. Their top-scoring performances may have looked effortless, but for Tapia, who lost his sight six years ago working as an arborist when he was hit by a falling branch, even learning the routines posed a challenge.
He explained: "I really didn't expect to get so far because it was a very difficult experience for me – I had to learn a lot of things. My dancer told me verbally what to do, and I had to transform it in a practical way.
"She would explain each step of the choreography and I would feel the movements with my hands – I would feel the feet, legs, upper body, shoulders and then I would visualise the movement and transform it in to my body.
"It was a long and difficult process – I still feel the fatigue, especially mentally because I had to memorise every single step."
Fortunately Tapia, who began throwing the discus and shot put in 2013, believes all his hard work on the dancefloor has helped his performances in track and field too – despite the gruelling schedule.
"I had to find the time for training, so they would give me the times for dancing and rehearsing, then I would adapt my athletics schedule round that. I would train in the morning then in the afternoon I would go to dance – every day," said Tapia, who began his career in Italy as a professional baseball player 15 years ago.
"Dancing helped my athletics a lot because I worked my whole body, and now I feel much more dynamic and much more balanced."
The Bergamo-based thrower recognises the impact he has had in the public consciousness and says it has increased the public's sensitivity to impaired people.
Now it is a matter of balancing his new-found stardom and all the trappings that come with that, such as media requests and public recognition, with his desire to improve out in the field too.
"I will try my best not to be affected by this fame and I have to re-focus on the event and the competitions ahead. At the moment it is too soon to know if I am fit enough and if I have a better condition," he admitted.
"If tomorrow anything happens or other experiences are open I will consider them, but of course now my focus is just throwing the discus and the shot put."
Improving his personal best of 42.56m – his winning throw at last year's Grosseto European Championships - is now a key target: "After I achieve that we will see and put another goal ahead."
Despite his recent success, it's unlikely his next goal will involve the quickstep or the samba. Good news for Para athletics, even if his rivals think differently.