Hayes ready to put injury woes behind her
The South African sprinter will line-up at the World Para Athletics Grand Prix in Italy this week.
02 May 2017
Imagen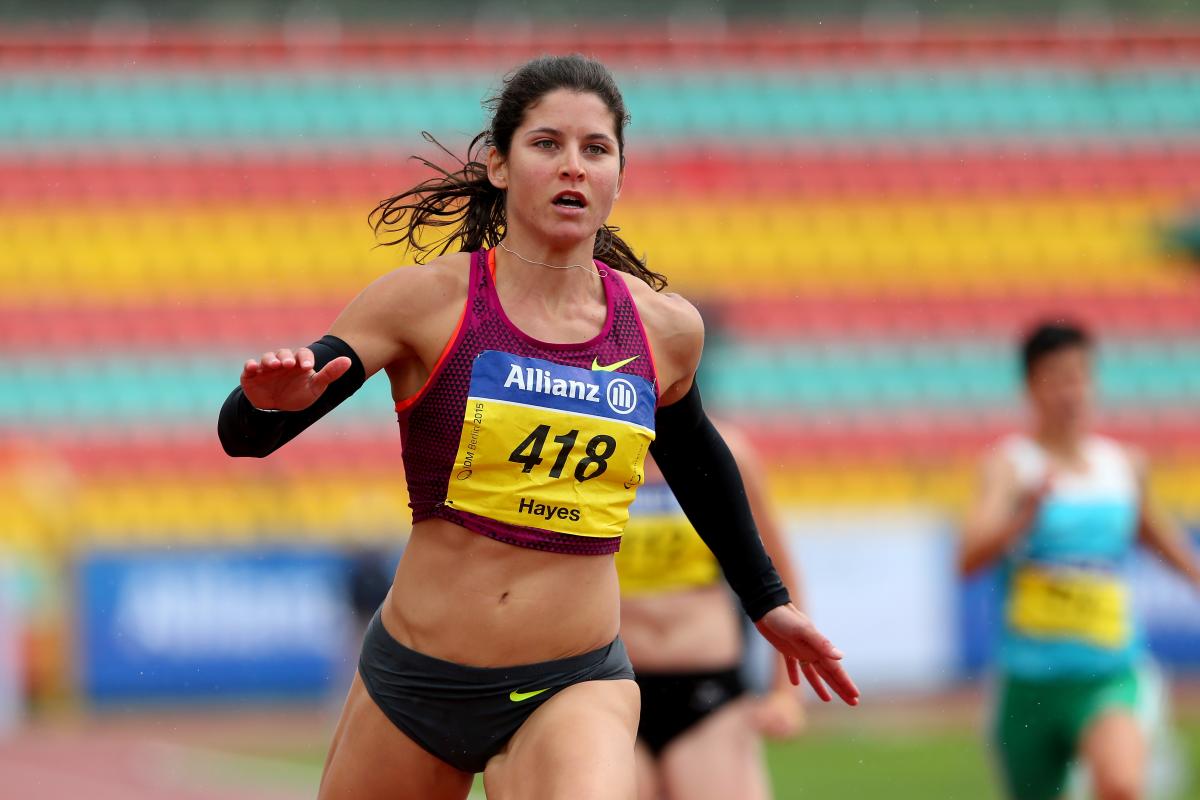 ⒸGetty Images
"For me the most important thing about competing at this moment is the fact that this is my last year, and the end of my career."
South African sprinter Ilse Hayes is ready to put her injury woes behind her as she takes to the track at the fourth World Para Athletics Grand Prix of 2017, which takes place in Reiti, Italy from 5-6 May.
Hayes suffered a frustrating start to the year with Achilles problems which began in January, hindering her training and competition schedule.
The injury was all the more devastating for the six-time world champion, who plans to retire from track and field after this summer's World Para Athletics Championships; there was now the possibility of a premature end to her career.
"I'm not even going to lie about it, there was a thought of 'Why didn't I just end off in Rio,' because that would have been the end of a four-year cycle, ending on a high," admitted Hayes, who won double silver in Brazil.
"There were definitely moments when I thought 'I can't do this anymore, how long is it going to take?' But standing on the other side looking back I know it was character building."
After getting the all-clear to return to the track in late March, Hayes is now determined to line up in Italy ready to make the most of her final few competitions.
"For me the most important thing about competing at this moment is the fact that this is my last year, and the end of my career," explained the 31-year-old, who competes in the T13 class for visually impaired athletes.
"It's just important to go out there and enjoy it, and embrace these last moments doing what you love, because that's all going to end soon. I'm just grateful to be on the track - you realise how privileged you are if you are not injured."
Hayes, who has won seven medals – including two gold – across four Paralympic Games, was able to race at the South African Nationals a month ago, and now with a few more weeks' training under her belt the Grand Prix in Reiti will provide valuable insight in to her form.
She explained: "It's important to see where I am at the moment in both my 100m and 200m – to see if I need more work on the max speed, or on the start. It's not about running personal bests, but to focus on the things that need help before the World Championships in July.
"What I realise now is my times are actually okay, so my experience over the years is helping me at this stage just to get back into things quicker. I've been through injuries and got through it before. It just makes you mentally tougher."
Still, with fewer races under her belt than she might have hoped for at the beginning of the year, the Reiti Grand Prix is also a vital chance for Hayes to experience the unique environment of competition as the World Championships draw nearer.
"That's why we train – to go and compete – but I'm not at the stage I want to put pressure on myself. For now it's about evaluating where I am against the competition. It's no good if you train for hours and hours if you can't apply it in a competitive environment," she said.
"For me technique is going to be most important in the races I do, as opposed to the outcome. From there I still have two months to work on whatever needs help. Two months is not a long time but there is still a lot that you can do."
It will also be Hayes' last ever World Para Athletics Grand Prix – but she is keeping her emotions in check, for now.
"Everything is the 'last' – last sessions in the gym, last session on the track. For me it's just important to just stay healthy now and train smart. That will be the challenge for the next two or three months - and just enjoy it. I'm excited for the Worlds and for the life after."