My toughest opponent by South Africa's Ilse Hayes
In a new series, top Para athletes talk about their toughest opponent.
18 Mar 2017
Imagen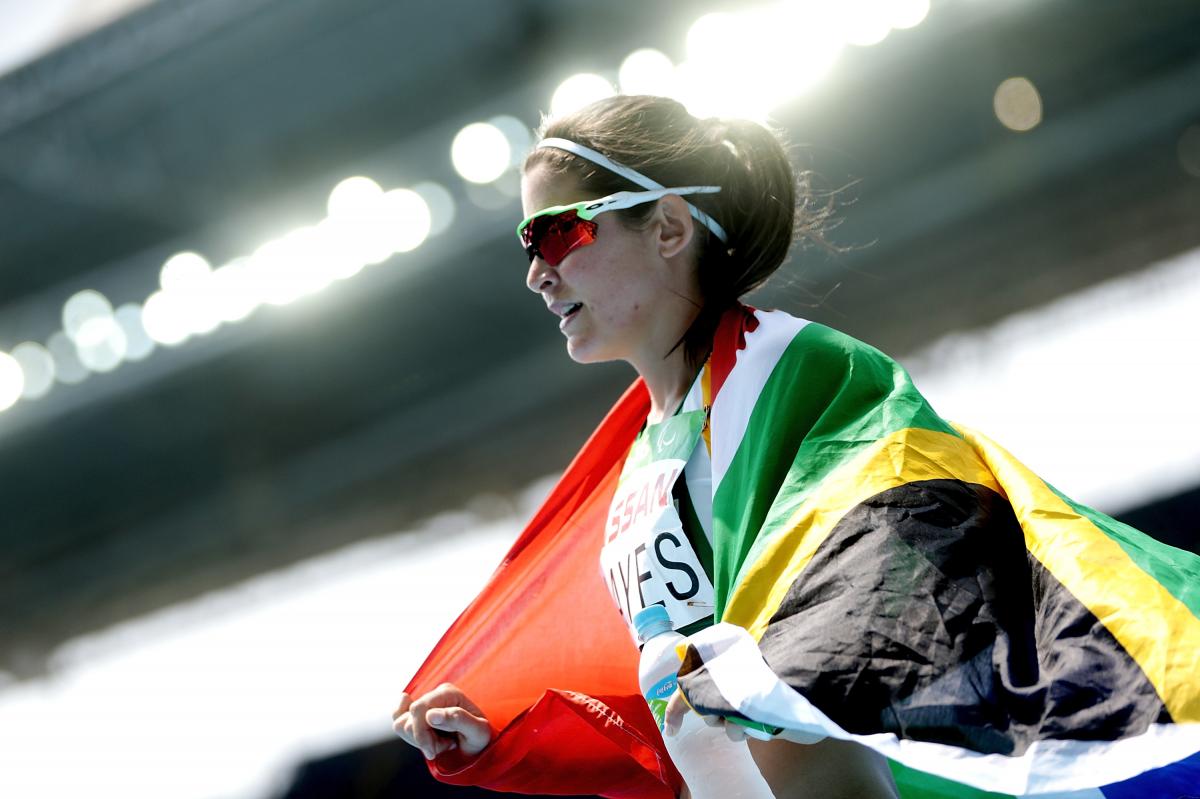 ⒸGetty Images
"She's an amazing athlete and obviously works really hard. So it's nice to have someone challenging me."
Scanning the start list at the Nottwil Grand Prix in Switzerland last May, visually impaired sprinter Ilse Hayes spotted a name she did not recognise.
But by the end of the day, Ukrainian Leilia Adzhametova had not only beaten reigning world champion Hayes over 100m, she had broken the South African's T13 world record.
With less than four months to go before the Rio 2016 Paralympic Games, Hayes suddenly had a new major rival to contend with.
"I saw a new name that morning and I was like 'Whatever, I've never heard about her,' but I didn't expect her to break my world record in Nottwil," explained Hayes.
Adzhametova clocked 11.82 seconds, knocking 0.07 off the previous best set by Hayes a year earlier.
"That day that I saw her in the call room you could tell she was an athlete, she looked the part. So I definitely knew it was going to be a tough race come Rio," admitted Hayes.
Hayes, 31, had won the 100m T13 world title in 2011, then 100m and 200m T13 gold in 2015 – she was used to being the favourite on the track; now all that was about to change.
But the Stellenbosch-based sprinter did not let the presence of a new rival get to her; instead she set about her final preparations for Rio 2016 with renewed vigour.
Hayes explained: "It was an exciting feeling. Omara Durand (Paralympic champion at London 2012) was in my class in 2012, then she had a baby and was reclassified in a different class.
"Ever since then I didn't really have someone (to challenge) and so it was definitely more of an exciting feeling than 'Oh shucks, I'm not winning anymore,' because you want to win against the best in the world.
"It was more like, 'Listen, we will meet again, the challenge is up.' I was really excited about it. It's not just going to motivate me, but the rest of the class to work harder.
"It was real motivation, just to know that there is someone out there. It was like a reference which I didn't have in previous years.
A few weeks later Hayes and Adzhametova met again – this time at the Berlin Grand Prix in Germany in July. The Ukrainian came out on top once more, beating Hayes over 100m and 200m.
After the race, Adzhametova was full of confidence, stating:
"I'm really happy to have such a great result. I expected it, I wanted it, but I know I can do even better and I can promise that in the near future you will see new records."
She was not wrong.
In a thrilling head-to-head in Rio between the experienced Hayes, competing in her fourth Games, and the 22-year-old Ukrainian, lining up in her first ever Games, it was Adzhametova who came through to clinch Paralympic gold in 11.79 seconds – lowering the world record yet again.
This year the pair will likely meet again, at July's World Para Athletics Championships in London, Great Britain. Hayes is well aware of what it will take to beat her new rival.
"If I look back at my races I think it was my max speed," she explained.
"I had a really good 60m but between 60m and 70m she caught me and passed me. I definitely had it in me because I stuck with her when she passed me. She didn't leave me. My max speed is one thing I want to work on."
Hayes plans to retire from the track after London 2017, and while she understandably wants to leave the sport on a winning high, she is proud of the youngsters that are now making their mark.
"I'm really glad for (Adzhametova), she's an amazing athlete and obviously works really hard. So it's nice to have someone challenging me.
"Hopefully my career inspires the younger athletes as well to keep going. I didn't know my times were going to get better after 2012 - my times got better the older I got. I hope my story motivated them.
"I'm really going to end with a satisfied heart. I've had a long career and done everything I could have done, competed in all the major events, so I'm really going to be glad to hand over the baton."