Darwin Castro seeks Ecuador's first Paralympic medal
The 23-year-old runner, who will compete in the 1,500m and 5,000m T11 at the Rio Paralympics, says athletics makes him "feel alive".
06 Sep 2016
Imagen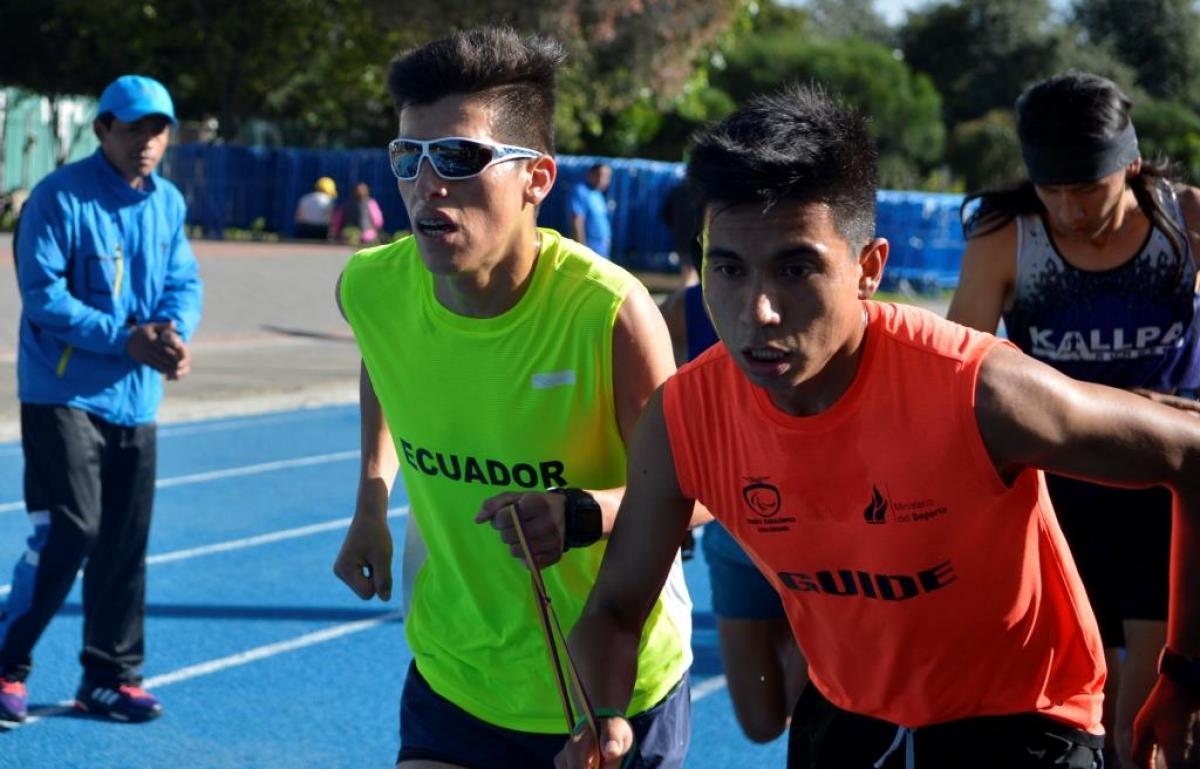 ⒸNPC Ecuador
By IPC
Darwin Castro found renewed hope in Para sport after losing his sight at the age of 18.
Five years on, he is preparing to take to the track in Rio where he is hoping to claim Ecuador's first ever Paralympic medal.
The 23-year-old, who lost his sight due to a progressive eye disease called Keratoconus, will take part in the 1,500m and 5,000m T11.
He feels most confident about the 5,000m after winning bronze at the Toronto 2015 Parapan American Games and clocking a personal best of 16:25.22 at this year's IPC Athletics Grand Prix in Berlin, Germany.
That time would have earned him a bronze medal at the Doha 2015 World Championships and, with the competition fast approaching, Castro is aiming high.
"I want to win Ecuador's first Paralympic medal," he said. "I know it is going to be tough and I might not win it in Rio, but I will at some point, hopefully the gold medal in Tokyo [2020].
"If I continue this way, I have no doubts that I will achieve it."
Castro recalls how hard life was after losing his sight and how taking up sport made him feel alive again.
"Now, if you ask me if I want to have my eyesight back or to be crowned as Paralympic champion, I would choose the latter without a doubt because it is through Para sports that I can inspire people and show them that a disability should not limit you."
Doctors suggested sport could play an important part in Castro's psychological rehabilitation.
He played blind football, swimming and goalball, but nothing made him feel more "alive" than athletics.
Sometime later, Castro met his current guide and best friend Sebastian Rosero.
"I consider Sebastian to be my brother. In fact, once I started to train harder I decided to move to Quito, Ecuador's capital city, where I have been living with him and his family," said Castro, who is originally from Cuenca.
Last year, the Ecuadorian took part in a training workshop in Sao Paulo, Brazil, organised by the Agitos Foundation, the development arm of the International Paralympic Committee.
"I interacted with other athletes with different impairments, which was highly enriching. It has helped me grow as an athlete," he said.
Castro also describes how important athletics is in his life and how he organises his daily plans around his trainings.
"I dream and think about athletics during the whole day. I carefully select what I eat to perform better on the track," he said.
"Athletics is a window to show the world that disabilities are no limit. It is the oxygen I breathe."