David Wagner sets up Masters final with Dylan Alcott
Third day of action decided the quads final and determined which players made it through to the semi-finals in the men's and women's competition.
29 Nov 2014
Imagen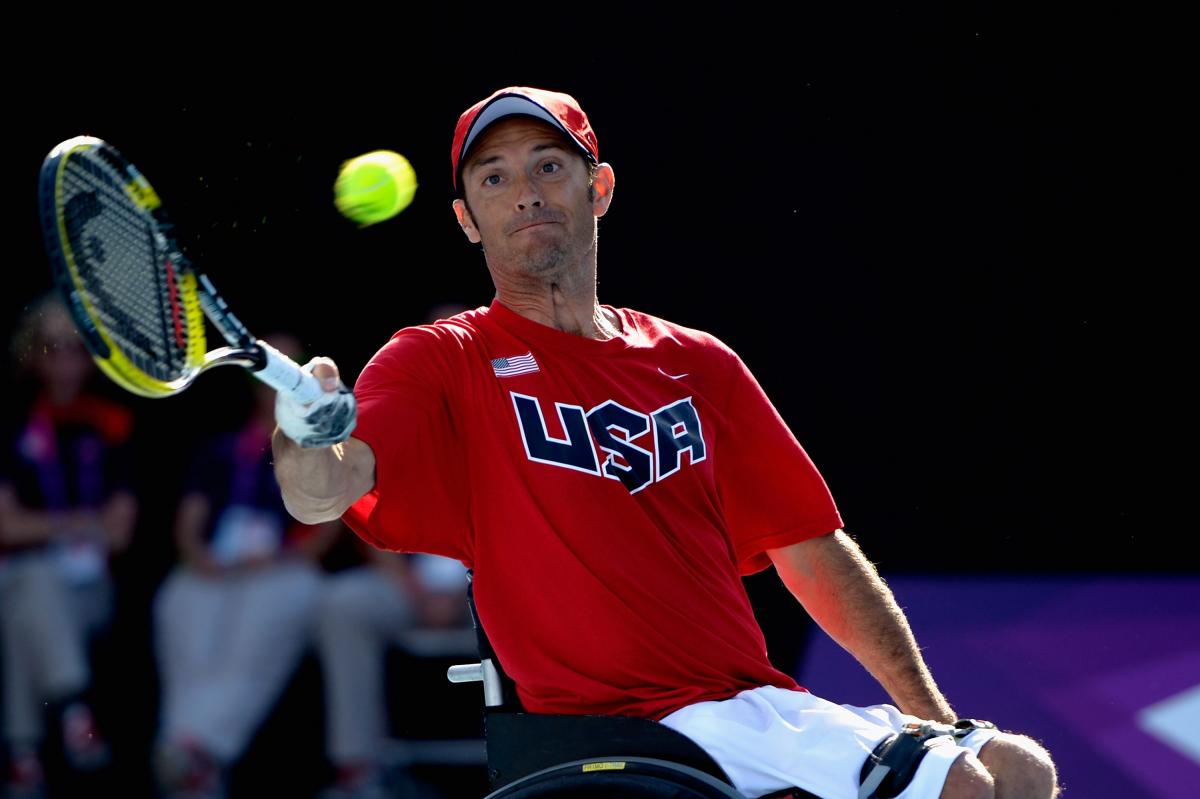 ⒸGetty Images
By ITF
"This last match wasn't my best one, but I'm happy to go into the semis with three wins."
Reigning champions David Wagner, Yui Kamiji and Shingo Kunieda kept their NEC Wheelchair Tennis Masters title defences on track on Friday (28 November), the last day of round-robin pool matches at Lee Valley Hockey and Tennis Centre in Queen Elizabeth Olympic Park, London, Great Britain.
But with top seed Wagner completing the line–up for Saturday's quad singles final in confident fashion, Kamiji again looked far from on top form as she had to battle hard to keep to reach the women's semi-finals.
Wagner's bid to become the first player to win three successive NEC Masters quad singles title took a major step forward as he ended home British hopes in the event after a straight sets 6-2 6-4 win over Andy Lapthotrne. Wagner will now try and avenge Thursday's round-robin loss to Australia's Dylan Alcott in the final.
"There was a lot at stake for both of us. The best players in the world are here and he's one of them. He's Grand Slam champion, he knows how to win. It was going to be tough no matter what. You just have to come and be ready to win," said Wagner after beating Lapthorne.
Alcott goes into Saturday's final unbeaten in London after the world No. 4 defeated 2013 NEC Masters runner-up Lucas Sithole 6-2 7-6(3).
Kamiji clings on to women's title
Saturday's women's semi-finals feature an eagerly awaited match-up between 2013 finalists Kamiji and the Netherlands' Jiske Griffioen, the 2012 champion. If the contest is anything like Kamiji's third and last pool match it will be a thrilling encounter, the world No. 1 having relinquished a 5-3 deciding set lead against Germany's Sabine Ellerbrock before eventually edging past the world No. 4 3-6 7-5 7-6(3).
"When I play against Sabine it's always difficult to find the chance to win and it was today," said Kamiji after claiming the final set tiebreak. "I had a good feeling today and it's getting better. I just focused on my tennis and on nothing else. I have been working on my serve because I didn't have a good feeling earlier in the week, but it's getting better. I feel that I am getting better as the tournament goes on."
Kamiji is likely to need to be better than she has in the first three days after Griffioen moved into the last four unbeaten in Pool B following a 6-3 7-5 victory over South Africa's Kgothatso Montjane.
"This last match wasn't my best one, but I'm happy to go into the semis with three wins," said Griffioen. "Today I really had to fight. Maybe I was a little bit unfocused because you know you're in the semis already. But to pull it out in the end gives you confidence."
A year on from reaching her first NEC Masters semi-final, Great Britain's Jordanne Whiley came out top of Pool A after she beat Dutchwoman Sharon Walraven 6-4 6-1 to join Griffioen in being currently unbeaten
"I came here with the goal of making the semis and coming second in my group and I've exceeded that so I'm happy. It's always hard to find that adrenalin when you know you're already through to the semis, but for me I wanted to finish top of my group; that was important to me," said a relieved Whiley. "I was tired and I was struggling, but that's why I managed to get through it."
With 14-time champion NEC Masters champion Esther Vergeer visiting the tournament on the third day of competition, compatriot Aniek van Koot ensured that she would be the second of the two Dutch women's semi-finalists this year after booking her place in the last four against Whiley. The 2011 and 2012 runner-up earned a hard won 7-5 6-3 victory over her countrywoman Marjolein Buis in their decisive Pool B contest.
"It's definitely nice to be in the semis. I'm so pleased. It was a bit tense but she's a difficult opponent in my eyes and she played well. I had to stay calm," said van Koot "It's definitely easier knowing what you have to do, but she surprises me with her strokes. You can't be caught off guard. You have to stay focused."
Reid earns place in his first NEC Masters semi
World No. 3 Gordon Reid became the first Brit to reach the men's singles semi-finals in the history of the NEC Masters. Needing to beat Frenchman Nicolas Peifer to ensure both players advanced from Pool B, Reid sealed a 6-3 4-6 6-1 victory to finish second to Peifer. Reid and Peifer had the same record as Belgium's 2013 runner-up Joachim Gerard, having won two matches and lost one, but Reid and Peifer had better percentages of sets won against sets played in their three pool matches.
"It's my first time making the semis at a Masters tournament so I'm really pleased. It's really important to have the home crowd support here. Sometimes you get a bit of downer and the crowd lifts you back up. I enjoy playing in front of a big crowd, especially when most of them are cheering for me," said Reid, who now faces world No. 1 Shingo Kunieda in the semi. Reid is the only player to beat Japan's reigning NEC Masters champion so far this season.
After meeting Argentina's Gustavvo Fernandez in two Grand Slam finals this season, Kunieda dominated their latest encounter to earn a 6-0 6-2 win and his place at the top of Pool A.
"I'm very satisfied with my performance and I can keep this good form going into the semi-finals. My serve especially was very good today and I could control the game all the time. It was comfortable," reflected Kunieda.
The Netherlands' Maikel Scheffers will play Peifer for a place in the final after finishing runner-up in Pool A. The 2009 NEC Masters champion claimed his decisive round-robin encounter against Japan's Takashi Sanada 7-5 6-2.
"I'm very happy with that. It was a tough match; I didn't play my best tennis of the week but I'm very happy to be through. I always play close matches with him. He's a tough opponent for me so that's why I'm very happy with the win," said Scheffers.
Live stream coverage of Saturday's fourth day of play, featuring the quad singles final, will be available by clikcing here.