Doha 2015: Mixed zone flashquotes from day nine
Straight from the mixed zone, here is what the athletes had to say at the IPC Athletics World Championships at the end of their event.
30 Oct 2015
Imagen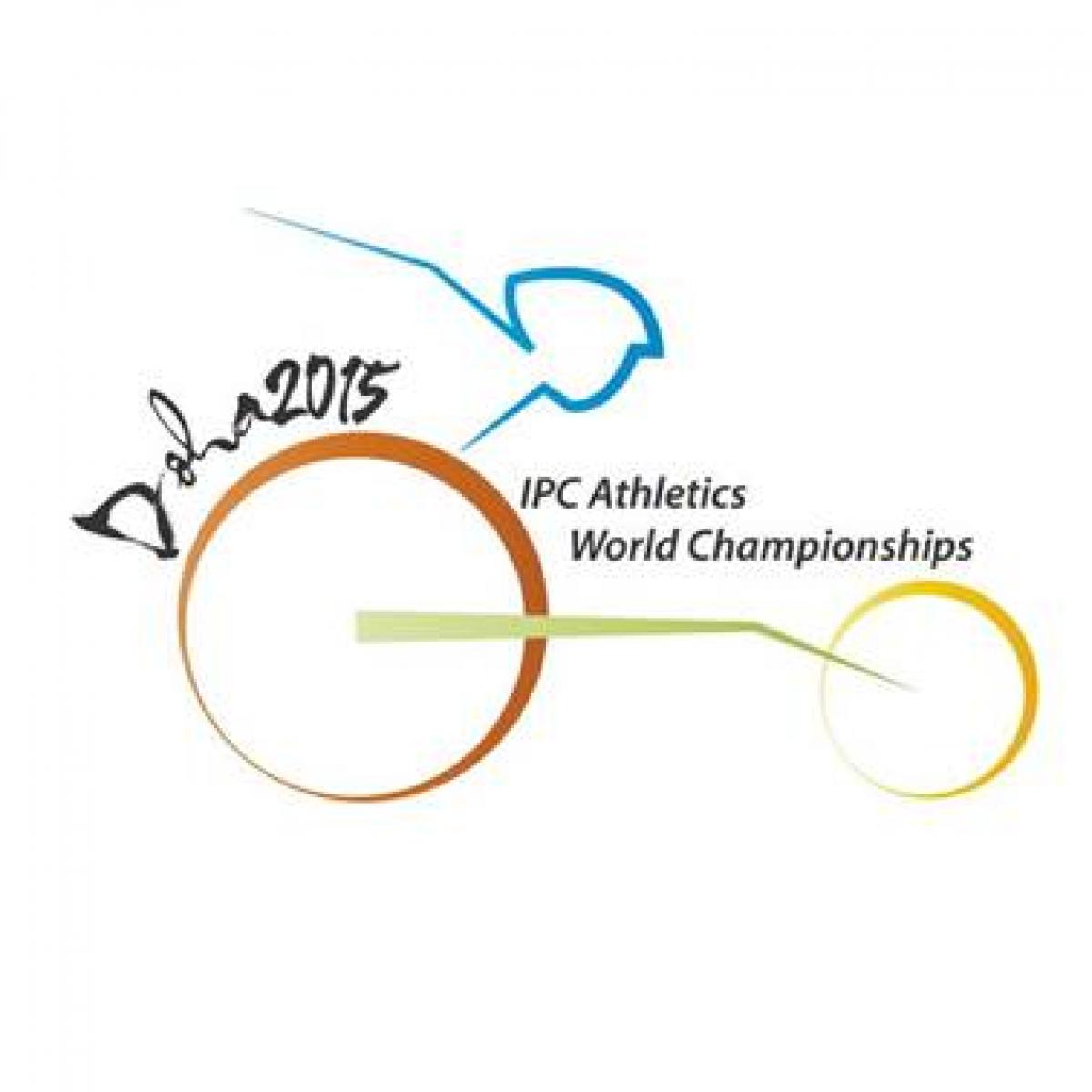 By IPC
Women's 100m T47
Gold: Deja Young (USA):
"It was such an exciting race. I was expecting to get third, so to get out there and get first is amazing. It's a great day!"
Bronze: Alicja Fiodorow (POL):
" I am so happy, it is amazing! I just missed out on a medal in the 200m but here I finally got it and I am happy with the Bronze."
Women's 100m T42
Gold: Martina Caironi (ITA):
"This is my personal answer back to Vanessa Low after stealing my gold medal in the Long Jump a few days ago! I've now got two world records in two days, which was my goal this year. I'm totally happy and satisfied. Now I can relax in the knowledge of my place in the Rio Paralympic Games being secured, and overall it's a beautiful day for me."
Silver: Vanessa Low (GER):
"The race wasn't great, I had a few major missteps but I am still happy with a PB. I came out of the start fine but on the 5th or 6th step, I stepped too far to the outside which slowed me down."
Bronze: Ana Claudia Silva (BRA):
"When I came here I was hoping for a medal in the long jump as it is my speciality, I was not expecting any medal in this race. I can't believe that I did it, it took me a while to realise and I wanted to see the result on the screen to believe it. I'm so emotional."
Men's 1500m T11
Gold: Odair Santos (BRA):
"Everything happens for a reason, I was leading in the 5000m race but unfortunately I fell down and woke up in hospital. God has his reasons for everything and thankfully this is my redemption."
Silver: Cristian Valenzuela (CHN):
"It has been an extremely difficult and challenging race. We almost stumbled into the Turkish team as the track was very tight and we was so close together. We would of liked the gold but it is a good result."
Bronze: Hasan Kacar (TUR):
"I'm really happy to be on the podium, it was a new PB for me, so I am just so happy."
Women's 1500m T13
Gold: Somaya Bousaid (TUN):
"It was a very hard race. The 1500m is my speciality but I am not very well at the moment and carrying a slight injury so I was very worried. My tactic was just to keep a distance between me and the rest of the women right from the start of the race. It was a good strategy and I am very thankful that I could do it."
Bronze: Margarita Faundez (CHI):
"We have been training so much in so many countries outside Chile, like Brazil to get used to Qatar's weather. We are very happy with this bronze medal and are happy with our performance."
Men's 1500m T37
Gold: Michael McKillop (IRE):
"It's been a long hard year, so to leave the Middle East with gold medals is amazing. It was a tough race, but when you have determination to conquer like me, then you can do anything."
Silver: Brad Scott (AUS):
"It was a good race. I thought I was running well and it was just me and Michael going for it, but then he took it up a gear and I tried to keep up but I couldn't catch him. He is a fantastic athlete but he needs to watch out in Rio because I will be coming for him."
Bronze: Madjid Djemal (ALG):
"I'm really happy to get this bronze medal. It is my first medal in this championships. I didn't want to go back to Algeria with no medals. I want to thank Qatar for their generous hospitality."
Men's Javelin F44
Gold: Marcio Fernandes (CPV):
"It was such an incredibly tough competition. I've been training for so long but unfortunately I got a back injury while in Conga and I couldn't perform at my best. Anyway this gold is a gift."
Silver: Rory McSweeney (NZL):
"I made some good throws and I am loving it here in Doha, it has been a great experience for me. I am happy that I managed to meet my expectations and take the silver medal."
Bronze: Helgi Sveinsson (ISL):
"I am happy to be on the podium and celebrate my bronze with my country."
Men's Triple Jump T20
Gold: Lenine Cuhna (POR):
"I'm happy with my gold medal. The competition was very hard but I knew that I could do it. I had a very difficult year as I just lost my mother and I did not train for 2 months and I also got injured. So it is great to get a gold medal after all the problems I had to face."
Silver: Evangelos Kanavos (GRE):
"I dedicate this silver medal to my father who passed away six years ago. I wanted to get a medal and I did my best. I broke the Greek record and did two very long jumps. I will work hard and I will go to Rio."
Bronze: Ranki Oberoi (NED):
"The competition was very good. I injured my ankle a few days ago in the long jump competition so I am very happy with my bronze medal in triple jump."
Women's Shot Put F32
Gold: Maroua Ibrahmi (TUN):
"It's a great feeling to win my second gold medal in this championships because it is the most important competition for me. It's a big step towards Rio."
Bronze: Louise Ellery (AUS):
"The shot put was very tough, but it was awesome and I am so happy to win bronze."
Men's 1500m T38
Gold: Abbes Saidi (TUN):
"I am happy as I have added the third gold medal to my countries total. It is a great feeling to break the championship record, I have worked so hard to get this result."
Silver: Louis Radius (FRA):
"I am very happy to get the silver medal today. It was my objective all year. This is my first world championships, so I couldn't be happier."
Bronze: Deon Kenzie (AUS):
"To be honest I came into this event wanting to win gold, but I have been having a bit of trouble with my fatigue. I can't complain after winning a medal it is definitely a reward for all my hard work."
Women's 800m T11
Silver: Renata Teixeira (BRA):
"I am very happy, this is the seasons best championships and I have won twice here, the last win was the 1500m, so I am the happiest person right now. The focus now is in my country next year."
Bronze: Jin Zheng (CHN):
"I tripped and that robbed us of a gold medal. I am still happy with the Bronze, we are all smiles."
Women's 400m T20
Silver: Natalia Iezlovetska (UKR):
"One month ago I took part in the Global Games in Ecuador. There I got a time of 58.30, and here in Doha it's 59.16. Bearing in mind that I had a baby just one year and four months ago, I couldn't be happier with that silver medal. It's amazing!"
Bronze: Siti Ariffin (MAS):
"It was a very hard race and I wasn't expecting to be in the top three, so to win a bronze medal is amazing, I am so happy."
Men's 200m T34 Heat 1
2nd place: Walid Ktila (TUN):
"I didn't do my best as I'm saving my energy for the final tomorrow so I'll perform better tomorrow. I'm hoping for the gold medal and I will not accept anything less. I know my rivals are very strong but I have experience and I'm fast. I'm very happy because my teammates won three gold medals today."
6th place: Mohamed Al-Kubaisi (QAT):
"I've only been competing for a year while some of the guys I'm up against have 18 years of experience. So I'm just glad to be here and gain experience as well as secure a personal best."
Men's High Jump T44
Gold: Maciej Lepiato (POL):
"This has been the hardest year for me because I've been suffering for back pain, my abduction muscle in my legs was hurting all the time during my training sessions. This gold WC is much more important than a gold in Paralympic games. With Jonathan (Silver) we are good friend, so this gold with him taste better and this medal belongs to him as well."
Silver: Jonathan Broom Edwards (GBR):
"my performance wasn't the best and didn't quite justify the work I've put into this. Not being able to clear the height I needed to pass so that threw me out a bit."
Bronze: Jeff Skiba (USA):
"I feel great to be here in Doha representing my country, it feels fantastic. I have enjoyed the competition a lot. The crowd was fantastic and the other guys were awesome. My plan is to train for Rio and it will be my last Paralympic Games"
Men's Discus Throw F37
Gold: Khusniddin Norbekov (UZB):
"Doha has been such a great experience for me. I've had a wonderful time and this competition was great with really strong competitors. I got the gold medal for my country and I'm very proud."
Silver: Guy Henly (AUS):
"The competition was great, great condition as well. It's always tough but I'm happy to get a PB. It's been a bit of rough week but we worked a few things and it came good at the end which is the time you need it to come good."
Download rights free images from the Championships here, credit: Doha 2015/ Getty Images
For broadcast footage, please email Jose Manuel Dominguez
Watch all the action live and find live results here.
The lastest IPC Athletics updates on Twitter can be found here.