Doha 2015: Mixed zone flashquotes from day seven
Straight from the mixed zone, here is what the athletes had to say at the IPC Athletics World Championships at the end of their event.
28 Oct 2015
Imagen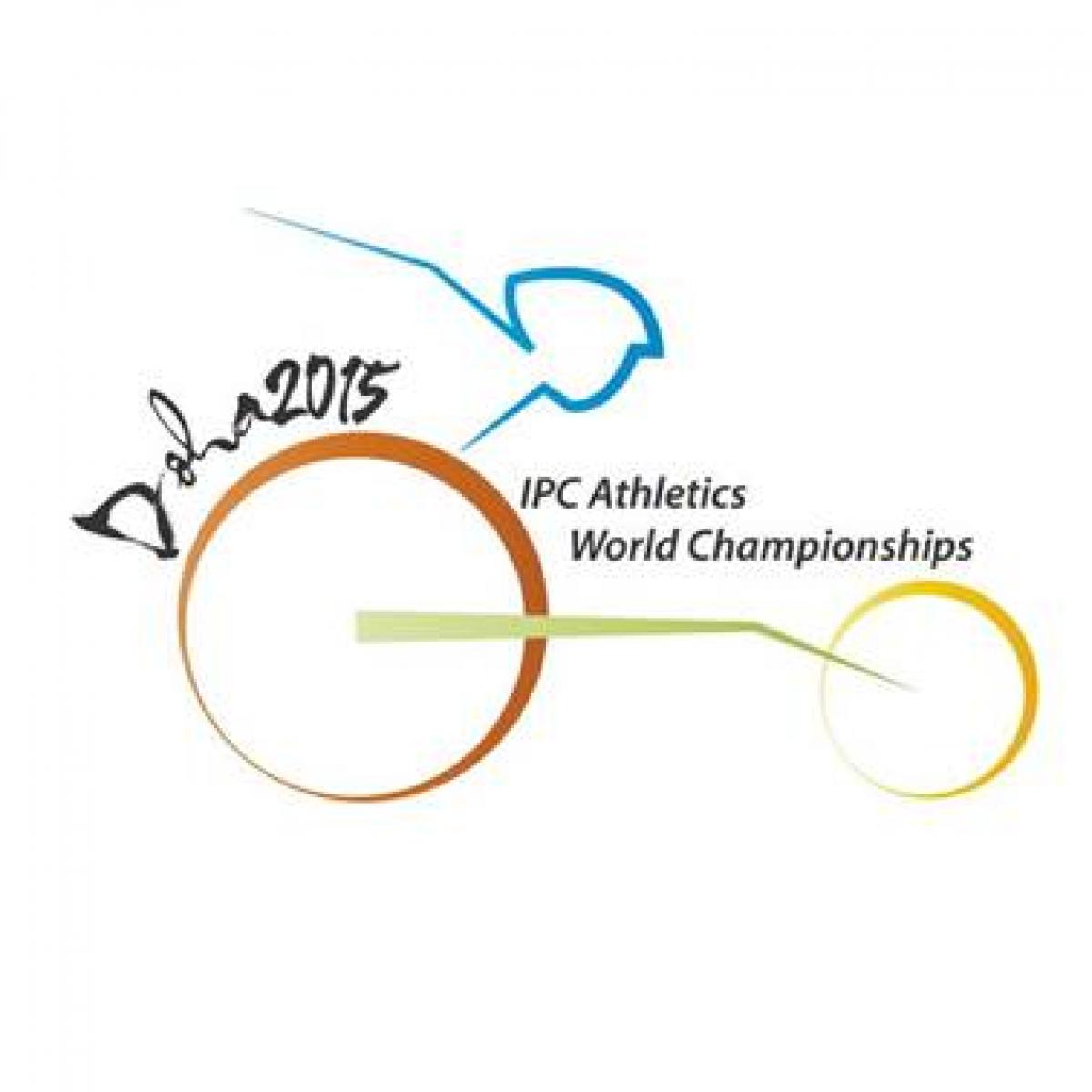 By IPC
Men's Javelin Throw F38
Gold: Reinhardt Hamman (RSA):
"It feels fantastic to be crowned world champion for the second time. I was a bit worried about the Ukrainian, but managed to massively improve my PB in the last throw. Now I can't wait to fly into Rio as reigning world champion. It's unbelievable and I am so happy."
Silver: Oleksandr Doroshenko (UKR):
"We didn't have javelin in my classification for 4 years and now it is back for this world championships. I am very happy to be able to win silver. In 2004 I set the world record and I trained hard to get my performance up to par. I am very grateful to be able to compete here in this great country."
Women's Long Jump T37
Gold: Zhanna Fekolina (RUS):
"I am so happy to have won the gold medal! It's my first ever medal in the world championships, so it feels great."
Silver: Franziska Liebhardt (GER):
"I am very happy. I came here not expecting to be amongst the medals, the other athletes were very good, so I am satisfied with the result."
Bronze: Anna Sapozhinikova (RUS):
"I won the gold medal in the last world championships, but I am still happy with the bronze here in Doha. I have been training a lot for sprinting over the last year, so my long jump ability has been affected as a result."
Women's 200m T47
Gold: Yunidis Castillo (CUB):
"I have only been training for 5 months so this gold for me is the greatest achievement I could ever get. It was a hard race but I am extremely happy and can't wait for Rio."
Silver: Deja Young (USA):
"The race was difficult, this is only my second para athlete meet ever, so I am so excited and satisfied with my result."
Bronze: Anrune Liebenberg (RSA):
"I am extremely happy to be top 3. When I saw the times on the board yesterday from the heats, I knew it was going to be such a tough race today. I got there in the end and it is just amazing, I do this for the love of the sport, but to get a medal is always very rewarding."
Men's 200m T42
Gold: Richard Whitehead (GBR):
"If you had said in 2004 that I would be three time world champion, I wouldn't of believed it. I have so many people to thank that have been on the journey with me, coaches, teachers and my team mates. Unfortunately I recently lost a very close friend of mine to cancer, so this is for him."
Silver: Anton Prokhorov (RUS):
"I am really happy to be second in a really tough final. Richard is so strong, he is the Paralympic champion, and the one to beat as always, but yea, I am extremely happy with the silver medal. "
Bronze: Daniel Jorgensen (DEN):
"It is crazy! I never expected a medal in the 100m, and it was unfathomable for me to even think about getting a medal in the 200m. Now I am leaving Doha with medals in both events, so this has been like a fairy tale for me in Doha. I was disappointed not to win gold in long jump, my favourite event, but overall it has been magnificent."
Men's 100m T33
Gold: Ahmed Almutairi (KUW):
"Thank god I managed to do well and get the gold medal. My first ever world championship medal. I was still off from my own world record by quite a bit but I think that's mostly due to the wind. I now dream of getting a medal at the Paralympic games next year in Rio."
Silver: Daniel Bramall (GBR):
"I came here and was not expecting a medal, it has been a great atmosphere. There has been a lot of pressure but I have enjoyed it, it has been fantastic."
Bronze: Toby Gold (GBR):
"I am really excited to now have qualified for Rio 2016, it has been one of the toughest races, competing against some amazing athletes so I am very pleased."
Men's 100m T34
Gold: Walid Ktila (TUN):
" I have just won the third gold medal for Tunisia and I am very happy and proud of that. This result is due to a lot of hard work, now I will be working towards my 4th gold medal."
Silver: Mohamed Hammadi (UAE):
"Usually in the 100m I place 5th or 6th I have never placed in the top 3. I have been preparing for this which has been a stepping stone for Rio. I have to focus from the start because it is such a short distance. Walid and I are more than just friends, we are brothers, Arab brothers, and we are like family."
Bronze: Bojan Mitic (SUI):
"This is my first medal here in Doha, so I am really happy. It was such a strong race and Walid is a world class athlete. Every medal is a good medal, and I am satisfied with my place."
Women's Shot Put F33
Bronze: Brydee Moore (AUS):
"I feel fantastic, I cannot believe it, third place is amazing, I have enjoyed the competition and I am looking forward to Rio now."
Women's 100m T12
Gold: Omara Durand (CUB):
"I have won three gold medals, I am the happiest in the world, three is the magic number!"
Bronze: Oxana Boturchuk (UKR):
" I am not too happy about the bronze medal. I have been training and competing for seven days straight now, and maybe my legs were a bit tired."
Women's 100m T11
Gold: Cuiqing LIU (CHN):
"I am really excited and happy to have won my third consecutive gold medal. I know that everything is possible as long as I give it my all and work hard. I must thank my guide for this success. We're like brothers and sisters and share full confidence in each other. I hope to see Terezinha on the track again in Rio, she's my role model and someone I have looked up to for years. Today is actually my birthday so it was a perfect gift to myself to win the world title."
Quote from her guide, Donglin Xu – " I feel a lot of responsibility as a guide for Cuiqing, I am very lucky to work with such a brilliant and talented athlete. She works so hard and is always willing to put in the work. Doha has been a target for many years, and the results show that."
Men's Javelin F41
Gold: Pengxiang Sun (CHN):
"It is a great feeling to win! I was a bit nervous before the competition, but everything went really well and I'm just relieved to be going to Rio as the world champion."
Silver: Kovan Abdulraheem (IRQ):
" I lost my title this evening which is disappointing but he broke the world record and is an amazing athlete. I am satisfied with my silver medal and will now work hard to come back stronger."
Bronze: Kyron Duke (GBR):
"I am over the moon, I couldn't have done much better. Onwards and upwards to the future in Rio 2016."
Women's 800m T34
Gold: Hannah Cockroft (GBR):
"I can't quite believe it, I have been so nervous about this competition, but I gave it all that I had and I won the gold medal! It's a team GB top three as well, so it's incredible."
Silver: Melissa Nicholls (GBR):
"It's beyond amazing, my motto is dream big – and that's exactly what I did. It's such a strong field, but I got the silver medal which is amazing! I guess my performance was fitting with the Doha 2015 slogan, because this was beyond incredible!"
Bronze: Kare Adenegan (GBR):
"I am feeling great. This is my first world championships and to be on the podium with the other GB ladies is just amazing! It has been so nice here in Doha, I have enjoyed training here, and the weather helped a lot, I just can't wait to get back on the track."
Women's 800m T20
Bronze: Shirley Kerkhove (NED):
"It was a really good and tough race, something I can feel in my legs now! I knew that I could do it, to get a medal. My objective was the gold medal from the beginning, but I'm still pleased with the bronze. I've really loved everything here in Qatar, and the organization has been really good!"
Men's 800m T20
Gold: Alexander Rabotinitskiy (RUS)
"I'm really happy. It took a really strong finish, but I got there and won the gold medal."
Silver: Luis Arturo Paiva (VEN):
"I lost the gold in the last few meters, I did my best but the Russian guy was too strong. I was happy to finish in a strong position and looking forward to hearing my national anthem on the podium."
Bronze: Dimitrii Makarov (RUS):
"It was a tough race with strong competitors, so I am happy to be on the podium."
Women's Shot Put F44
Gold: Juan Yao (CHN):
"This is my second gold medal, so I am really happy. It feels amazing to break the world record."
Silver: Yue Yang (CHN):
"I am very thrilled with the silver medal and I will work hard for Rio 2016. My performances today I know could have been even better but I am pleased that I will still win a medal for my country."
Bronze: Frederike Koleiski (GER):
"I am very happy this is my first medal in such a big competition, I did my best and now I will work hard before Rio next year."
Men's Long Jump T47
Silver: Roderick Townsend-Roberts (USA):
"I am not happy at all with my jump, I should of done better, I am still confident and full of energy but the silver will have to do for now."
Bronze: Setiyo Budihartanto (INA):
"I'm very happy with my performance. It is my first world championships and I get a medal and a new personal best. Absolutely incredible."
Women's 400m T44
Gold: Marie-Amelie le Fur (FRA):
"Tonight there were perfect conditions to break the world record. My goal was to run under 60 seconds, and I wanted to go for the gold. The field was very strong, but I am so happy to be victorious. Now I will be going home to bed and to rest for tomorrow's 100m T44 event."
Silver: Irmgard Bensusan (GER):
"I am very happy that I finished and that I didn't die. Only crazy people run 400m. I am very excited that I won the silver as I have an injury so that was not by best time. I hope I can go to Rio."
Bronze: Grace Norman (USA):
"It was a very good race, I was relaxed in the first few meters, but in the end I had to really push harder. I knew it was going to be a very tough race but anything can happen in these races. It is a great experience to be here."
Men's 400m T13
Gold: Mohamed Amguoun (MAR):
"Finally, I got my revenge, I was third in the 800m race. When I woke up today I was focusing only on the gold medal. It is a great feeling to be a world champion and to break the world record. I can't wait for Rio."
Silver: Egor Sharov (RUS):
"I'm very happy to get the silver medal. It's not my favourite distance, Mohamed is so strong – but I have worked hard to improve my 400m, and I think my coach will be pleased with my result."
Bronze: Nambala Johannes (NAM):
"I really wanted to win the gold today, but that was not meant to be and I am pleased to come away with a medal."
Men's Discus F42
Gold: Aled Davies (GBR):
"I'm actually a bit disappointed that I didn't break the world record in all six throws. I've been throwing 52.58m in training, and I keep going over 50m weekly, but today there wasn't too much wind and I'll try to get there in Rio"
Women's Discus Throw F55
Gold: Marianne Buggenhagen (GER):
"The competition was very exciting. I didn't expect this result, I am very satisfied with my performance. I would advise anyone to take up sport, not only to win medals but because it helps so much in day to day life."
Bronze: Marie Hawkeswood (GER):
"I knew Marianne would be on the podium, it follows the world rankings, really I was maybe hoping to beat the Chinese to the silver medal , but hey a bronze at the worlds is very good."
Download rights free images from the Championships here, credit: Doha 2015/ Getty Images
For broadcast footage, please email Jose Manuel Dominguez
Watch all the action live and find live results here.
The lastest IPC Athletics updates on Twitter can be found here.