Doha 2015: Mixed zone flashquotes from day ten
Straight from the mixed zone, here is what the athletes had to say at the IPC Athletics World Championships at the end of their event.
31 Oct 2015
Imagen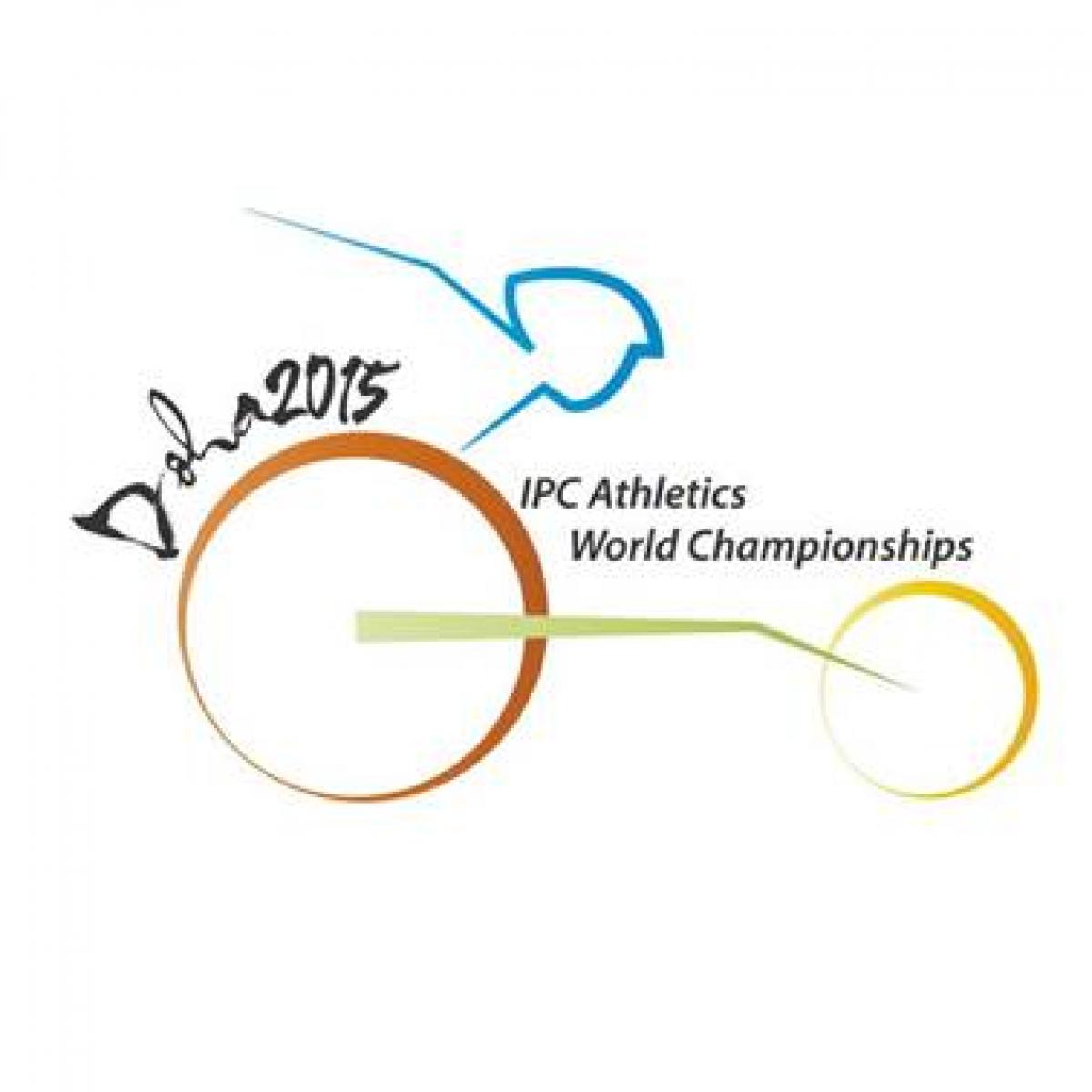 By IPC
Men's 200m T36
Gold: Evgenii Shvetcov (RUS):
"I'm lost for words, I was trying to win the gold medal, so it feels amazing to do it and break the world record."
Men's 200m T34
Gold: Walid Ktila (TUN):
"Every new race is always an exciting new experience, I never get bored of competing. When I came here I was looking for four gold medals and I have succeeded in this. I am excited to hear the national anthem of Tunisia again."
Silver: Mohamed Hammadi (UAE):
" It was a great race and it is always good to compete against Walid. Despite my out dated chair I still managed to win 4 medals at this world championships, which is a good omen for Rio."
Bronze: Henry Manni (FIN):
"When I woke up this morning I really wanted to go for a place on the podium. I got the bronze medal, and I am really happy about that."
Men's 4x100m T11-13
Silver: Uzbekistan:
"The race was very good, we ran fast as a team and we are very happy with second place."
Bronze: Spain:
"We are the happiest in the world. We got this medal and we consider it our reward from all the hard work we have put in over many years."
Women's 4x100m T11-13
Silver: Brazil:
Alice Correa – "Jerusa fell down and fortunately her guide Luiz passed me the baton inside the right zone and we weren't disqualified. I managed to come back into the race and leave the team in a good position. I am happy with the medal but I think we could of gone for gold."
Terezinha – "In the 4x100m it is a matter of time for us to beat the world record, I am happy with the result, we did our best today, and we will do even better next year."
Bronze: Russia:
"It was our goal to get a medal, and we're so happy that we succeeded. It was a tough race with strong competitors, but we always had the belief that we could do it!"
Men's 100m T37 Final
Gold: Andrey Vdonvin (RUS):
"I'm extremely happy to win gold and break the world record. I feel in great shape and this was a terrific race for me; everything came together."
Silver: Fanie Van Der Merwe (RSA):
"I enjoyed the race a lot, I got a season's best for me and it's been a long time since I've gotten 11.5 so I feel blessed and happy."
Women's Javelin Throw F46
Gold: Hollie Arnold (GBR):
"I'm really happy I'm over the moon! Coming out here and being the last one to compete, I felt a lot of pressure so return my title is amazing. I feel happy to be here and the GB team have done so well so far and I'm so happy to have added another gold medal"
Silver: Katarzyna Piekart (POL):
" I'm so happy and excited because this is an unexpected medal; last year I gave birth to my second child and I'm back as professional! Such a gift"
Bronze: Holly Robinson (NZL):
"It was a tough competition but I'm really happy I got the third place. Everyone here in Doha has been awesome, I have enjoyed a lot this competition. The local organizing committee has done a great job. I am looking forward to go to Rio next year."
Men's 100m T38
Silver: Edson Pinheiro (BRA):
"After the restart I was still getting ready as the gun went so had a poor start. I'm happy with the final result, the Chinese is very strong and I did my best. I have beat my PB three times this year so I'm pleased with that."
Women's Shot Put F12
Gold: Assunta Legnante (ITA):
" During the last shot, my legs were trembling, I have to go under treatment and most probably under surgery soon, my back is hurting so much if not, I could've shot more meters and not few centimetre. This 2015 has been a black year for me but this gold medal is a great award for myself for my team my family my boyfriend my dog my friends everyone"
Silver: Sofia Oksem (RUS):
"I'm very happy to break the world record and I got a silver medal. I went for gold but hopefully that I'll come in Rio"
Women's 4x100m T35-38
Gold: Great Britain:
"we had a great start, the change overs were great. Georgia ran an amazing bend giving Sophie a great lead going into the final straight. GB have always seemed to drop the baton in relays so we beat the curse of the British baton."
Silver: Russia:
"It's a fantastic result for us, a new personal best and a silver medal for Russia. We couldn't be happier. It was a spectacular team effort we're just excited."
Bronze: Australia:
"The race went well considering we only did a few training sessions together so it was good to come together at the end as a team"
Men's 4x100m T42-47
Gold: Germany:
Markus Rehm: "I'm really happy, I knew it was possible but it was very hard, we needed to keep a good distance from the US and we did it."
Johannes Floors: "It was amazing, the goal we wanted we achieved it, I just said to myself run run."
Silver: USA:
"we had a very good start, things could have gone a lot better but doing this in training and out here in front of a crowd is two different things. There are always going to be mistakes but we still ran a good time even with a slight mistake, so we will go back work harder and bring on Rio baby"
Bronze: Russia:
"It's a great performance from the whole team against some really strong competitors. We're really happy with the bronze medal"
Men's 400m T51
Gold: Peter Genyn (BEL):
"The competition was very tough. I knew that the Algerian and Mexican athletes were very good at the 400m I'm very excited to have overtaken them and I'm happy with my gold medal"
Silver: Edgar Cesareo Navarro Sanchez (MEX):
"The race has been really a hard one, so hot and all the competitors were so well trained and great champions. I really want to thank the LOC of Qatar for the amazing hospitality. On behalf of Mexico we want to say thanks to everyone."
Men's Discus F34
Gold: Wang Yanzhang (CHN):
"it feels great to win a gold medal here and I was confident going into the competition. I work very hard and it's great to see the results. After a break and a rest I will start to work for Rio."
Silver: Mauricio Valencia (COL):
"I've seen and competed with so many great champions and athletes in this WC in Doha and I'm honoured to have achieved the silver medal. I'm proud for my team and for my country Colombia deserves it."
Bronze: Jason Roberts (CAN):
"The competition was a little bit different, I was a little bit nervous because I knew that it was my last opportunity to do a something for my country and I'm very happy about getting on the podium today."
Men's 400m T52
Gold: Tomoki Sato (JPN):
"I was quite nervous before the race. The competitors are really strong but I'm so happy to win the gold medal"
Bronze: Pichaya Kurattanasiri (THA):
"The race was very hard but I'm happy with third place as the Japanese athletes were very fast."
Women's 400m T52
Gold: Marieke Vervoort (BEL):
" I had flu, I did not sleep all night and I was warm, so I did not expect that I can win a gold medal. To break a Championship record was more than great for me. If you believe in yourself you can achieve things beyond incredible."
Silver: Kerry Morgan (USA):
"I am very happy. It's my third medal. I have enjoyed my fame in Doha, everything was great"
Bronze: Yuka Kiyama (JPN):
"I really wanted to get a medal, so to come away with a bronze really inspired me. I hope it can help me push on in pursuit of even better results."
Women's 400m T34
Gold: Hannah Cockroft (GBR):
"Finally we are finished! I get to the end with three gold medals has been massive. A lot of people had their doubts about me, but I knew I could do it. I have worked so hard. The competition has been fierce and definitely the hardest World Championships so far. I'm excited for what I can do going forward"
Silver: Alexa Halko (USA):
"The race was very fast and I tried to get off to a fast start and I think it kept me going for the rest of the race. I didn't expect it to be this tough."
Bronze: Kare Adenegan (GBR):
" It was a very hard race, I can't complain about my results because I know that my rivals are very strong, the results were so close, I had a very good long season, now all what I hope is to be qualifies to Rio and I'm not sure about that."
Men's Shot Put F55
Bronze: Karol Kozun (POL):
"It was a very hard competition and I did not expect that. It is too bad that the judge fouled my best throw but I am happy with the bronze medal."
Men's 4x400m T53/54
Bronze: France:
"we are very happy with this result, we have a great coach who trained us very well, some of us don't have big experience in this type of rally, but we did it. Thanks to all of our team mates for the great support."
Download rights free images from the Championships here, credit: Doha 2015/ Getty Images
For broadcast footage, please email Jose Manuel Dominguez
Watch all the action live and find live results here.
The lastest IPC Athletics updates on Twitter can be found here.