Doha 2015: Mixed zone flashquotes day two
Find out what the athletes had to say on the second day of the IPC Athletics World Championships.
24 Oct 2015
Imagen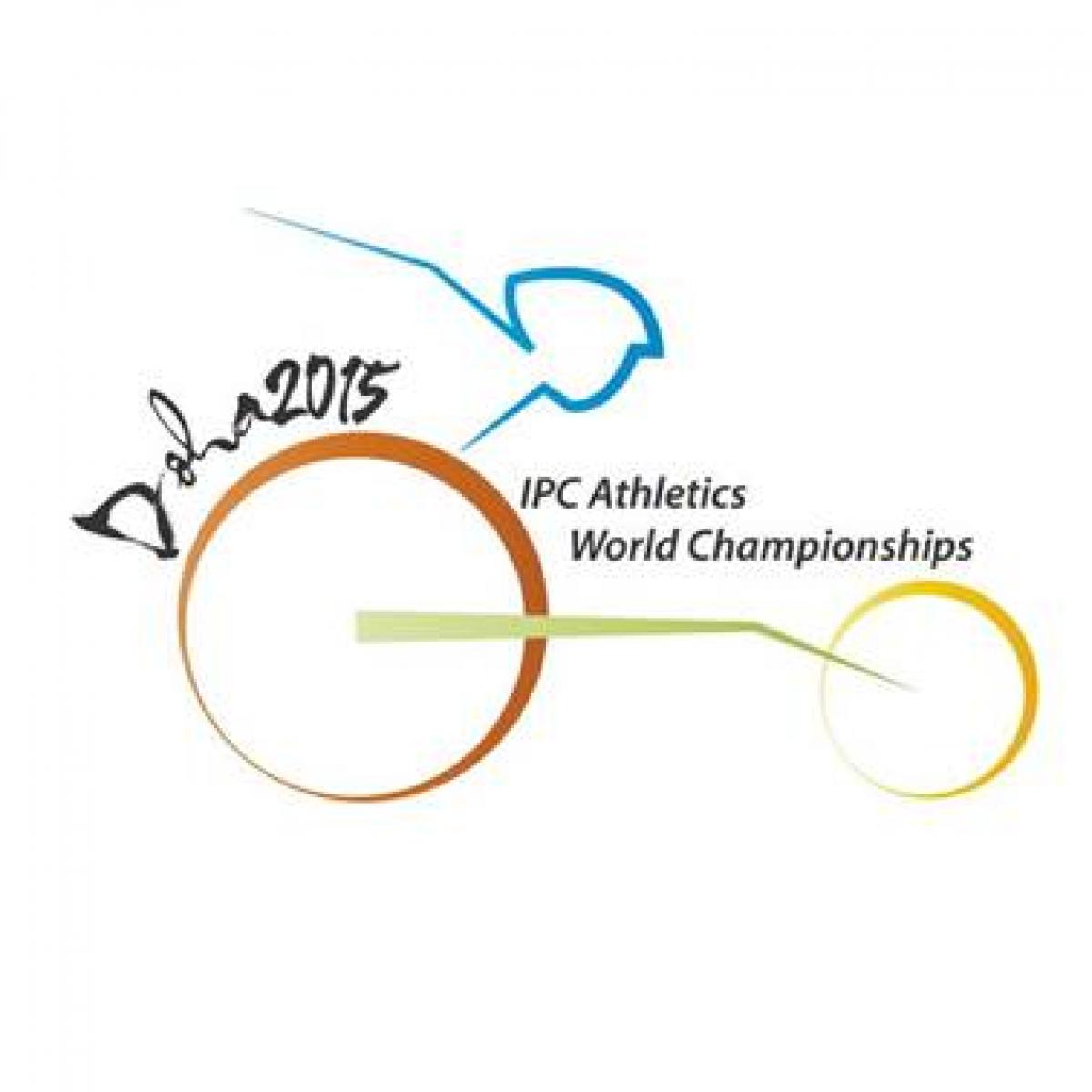 By IPC
Men's 400m T36
Silver: Paul Blake (GBR)
"I was expecting tough competition, especially with the reigning world champion. I didn't execute the race as well as I could of done but I can't complain with the silver medal."
Men's 400m T47
Gold: Jaquvis Hart (USA) - Championship Record
"I am very pleased to get gold here and a championship record, it has been an exhausting week so being crowned world champion has definitely made it worthwhile.
"It was a great race, I saw that I took an early lead so I took it and ran with it."
Silver: Shane Hudson (JAM)
"I have waited so long for this achievement, I am very happy and I didn't expect myself to do this well."
Bronze: Alexey Kotlov (RUS)
"I feel very proud, I have been training for many years for this. I am in Doha for the first time and I am very pleased to come here and experience this amazing place."
Women's 400m T11
Silver: Terezinha Guilhermina (BRA)
"It was very difficult this evening, we slowed down in the final stretch because we got very tired towards the end."
Women's 400m T12
Gold: Omara Durand (CUB) World record
"I am so very proud of this gold medal and my new world record! It has been a hard competition but our hard work paid off in the end. I would like to thank everyone involved for the perfect organisation of the event and how well we have been looked after here."
Silver: Oxana Boturchuk (UKR)
"I am so happy, it is the best result of my whole career. I know need to start preparing for Rio and get better to beat Omara."
Bronze: Edmilsa Governo (MOZ) African record
"It was a good competition but very difficult but I am happy with the bronze."
Men's 400m T20
Gold: Daniel Martins (BRA)
"This is a dream come true for me, my competition time was very good and I couldn't have done any better. I am over the moon."
Silver:Deliber Rodriguez Ramirez (ESP)
"I am not happy at all, my performance was not good enough and I expected better from myself."
Women's shot put F37
Silver: Franziska Liebhardt (GER) European record
"That was an amazing event to compete in, the distances achieved were huge and I alongside some amazingly strong athletes so I am so happy to come away with the silver medal."
Bronze: Irina Vertinskaya (RUS)
"I have to be pleased with my performance in this competition, I was up against so many strong opponents, Mi from China was incredible, she beat the world record three times, I couldn't believe it."
Men's 800m T13
Gold: Egor Sharov (RUS) Championship Record
"I have been up against the Algerian so many times, he is so good it is crazy, he won in Barcelona in May and I have won here in Doha so it is one victory a piece, roll on Rio."
Silver: Abdellatif Baka (ALG)
"I wanted to protect my title from Lyonn 2013 but I couldn't unfortunately. I am now going to train very hard for Rio 2016. I want to thank Qatar for this incredible event, everything seems perfect."
Bronze: Mohamed Amguoun (MAR)
"The competition was really tough especially racing against the Algerian and the Russian so I am very happy with the bronze medal."
Women's discus F41
Gold: Raoua Tlili (TUN)
"My father passed away this year so I did this for him and I dedicate my win to him. I am extremely proud to do this for my country and my team mate also won silver which was amazing, we can do it again in Rio 2016 because we are confident of our level and we train very hard. We are not scared of competing at the highest level and against the best."
Silver: Fathia Amaimia (TUN)
"The competition was very hard but thank god I managed to get the silver medal so I am happy with that."
Bronze: Niamh Mc Carthy (IRL)
"This is amazing, really unexpected. It is my first world championships so to win the bronze is huge for me, I am so excited."
Men's long jump T44
Gold: Markus Rehm (GER) - World record
"When I had the world record at 8.29m I thought that it might be difficult to beat it, but to then go on and get 8.40m was really special. As I said the conditions were really good, and I felt in terrific shape, and I woke up feeling that it was going to be my day. Thankfully it all worked out for me."
Ronald Hertog (NED)
"This competition is just incredible, the temperature is amazing for competing in, the atmosphere is brilliant, and I am enjoying it very much. The results from the ladies long jump yesterday showed us that the pit is capable of jumping far and Markus and I showed that this evening. I struggled to find the right timing in my jump to start off with but in my 4th jump I finally got it."
Women's javelin F54
Bronze: Ntombizanele Situ (RSA)
"I really enjoyed competing tonight, I was a little worried about the weather but it was great, I am very happy with my performance."
Women's 200m T52
Gold: Marieke Vervoort (BEL)
"I am very happy, every medal you take makes you stronger and when you can breathe you can do anything!"
Silver: Kerry Morgan (USA)
"It was my first race so it was good to get one under my belt and check out the track which I found really good."
Men's 100m T12
Gold: Leinier Savon Pineda (CUB)
"This is my first world championship, my previous experience was in Toronto and I have been preparing for this moment since those Games. I am extremely happy with my experience."
Bronze: Fedor Trikolich (RUS)
"I am very happy to get bronze here, I am enjoying the competition and happy to be here performing in Doha."
Men's 100m T11
Gold: David Brown (USA)
"Words cannot explain how I feel right now. It's a great honour to race against these guys, I love competing against them, to come out here and defeat them this time in the Middle East is a great success for me. I am speechless.
"These facilities in Doha are actually amazing, the best facilities I have ever come across. They have a very fast track here and I am excited to win the 200m. The crowd has been amazing, it's been a great experience so far."
Silver: Felipe Gomes (BRA)
"This race was very close. I was in a bit of pain today but I felt good in the race, I did my best in the final and attained my goal."
Event: Women's shot put F57
Gold: Stela Eneva (BUL) European record
"I feel so good to be the best in the world, I can't believe it! I want to thank the volenteers here in Doha they are really top notch."
2. Angeles Ortiz Hernandez (MEX)
"I got 9.96m in the Parapan American Games and managed to get 10.86m here tonight. I am very happy about this as I have a bad shoulder injury at the moment, the competition was very tough but pleased with my performance here in Doha."
Women's long jump T47
Gold: Carlee Beattie (AUS)
"Winning my third medal is an amazing feeling. All the facilities here are fabulous, and the competition is well organized. We were welcomed warmly and the people are very friendly. My next goal is Rio 2016. I will compete with the best of the best there and I'm aiming for gold."
Silver: Yunidis Castillo (CUB)
"I got the silver medal with my first jump 5.46 and I'm very satisfied because I didn't train a lot so I'm so very happy with my achievement."
Bronze: Anna Grimaldi (NZL)
"It's crazy! It's my first World Championships and I still can't believe that I got the bronze – I'm so happy! Doha is such a cool city and the atmosphere is so good – I've never experienced anything like it."
Download rights free images from the Championships here, credit: Doha 2015/ Getty Images
For broadcast footage, please email Jose Manuel Dominguez
Watch all the action live and find live results here.
The lastest IPC Athletics updates on Twitter can be found here.