English blind football squad expect battle at Euros
Team England believe they can better their fourth-place finish from 2015.
12 Aug 2017
Imagen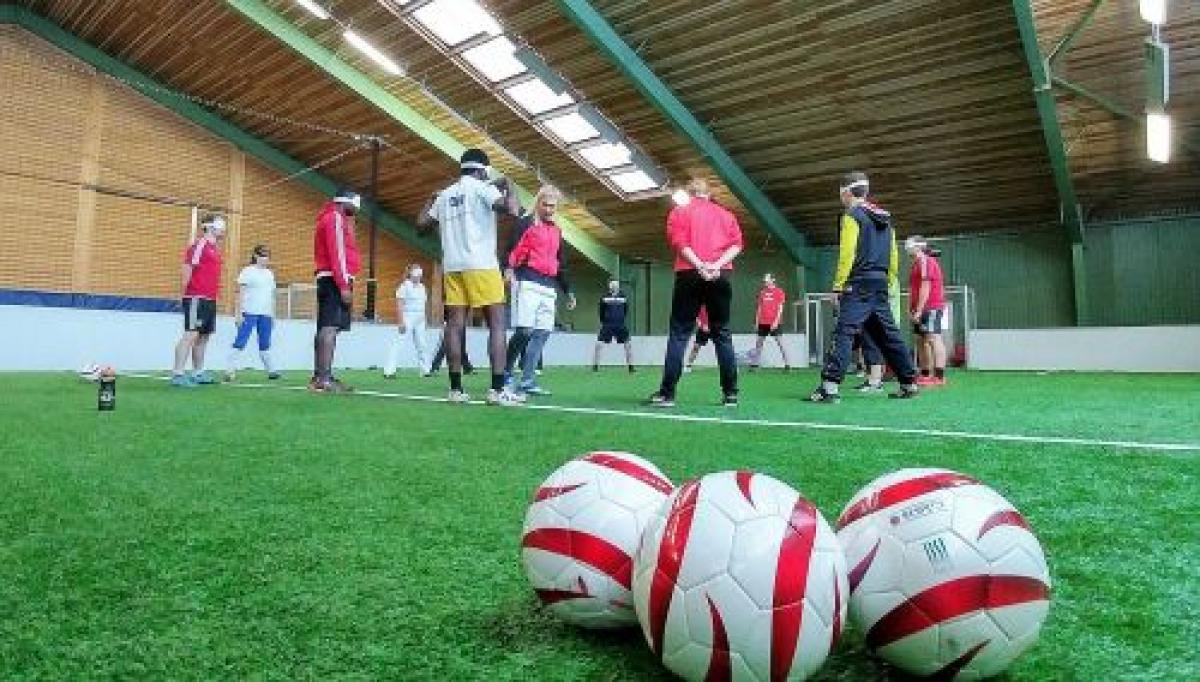 ⒸIBSA
By Liam Billington | For the IPC
"However, with respect to our opposition, I do feel that we will make it out of the group stages."
English head coach Jon Pugh believes this year's International Blind Sports Federation (IBSA) Blind Football European Championships is anyone's game. But he is confident his team has put in the necessary preparation to contend with the other nine teams, as competition kicks off on Thursday (17 August) in Berlin, Germany.
"The standards of European teams are really rising," said Pugh. "Any team in Europe could compete on the world stage.
"They're all good teams in our group, and the other one really is a group of death – whoever gets out of that will really fancy their chances."
England are in group A with hosts Germany, Italy, France and Romania, with group B containing defending champion Turkey, Belgium, Georgia, Spain and Russia*.
As part of their preparation for the European Championships, the English beat upcoming groupmates Romania 7-0 in an earlier tournament, a confidence boost for Pugh's squad.
"The Romania game was a great opportunity. They had a few players missing but we played very well," he said. "We've just come off the back of a five-day training camp with two games against Japan, who are one of the strongest teams in Asia, which is one of the strongest confederations.
"We were conscious that we haven't played enough games going into the tournament so we were very grateful to Japan."
The games, a 3-2 loss and 2-1 win, also helped them practice systems and prepare mentally.
"The games against Japan have given the coaching staff the chance to try out all tactics that we may potentially use in the Euros and also allowed all of the playing squad to gain valuable minutes and experience leading up to this major championships," Dan English said.
His teammate Robin Williams added that the team is getting back to their best at the right time and want to do better than their fourth-place finish from the last Euros.
"It's been a long two years since the crushing disappointment of failing to win the Euros in 2015 and not qualifying for Rio," Williams said. "However, the last year has been very positive.
"In my opinion there's no preparation that can match playing lots of games, and we've learned a lot about ourselves and the areas we need to improve on."
As to the question of what England can and should be looking to do at the tournament, hopes and expectations are high.
"We want to qualify for the World Championships next year, so getting out of the group is our main priority," said Pugh.
"We're always confident going in, but we know there are areas we can improve upon – we've been trying to focus on maintaining a high level for the full match. If we can do that, we're a match for anyone."
Owen Bainbridge agreed: "I feel that both groups in this upcoming competition are tough. However, with respect to our opposition, I do feel that we will make it out of the group stages."
*Editor's note: The International Paralympic Committee suspended the Russian Paralympic Committee on 7 August for its inability to fulfil its IPC membership responsibilities and obligations, in particular its obligation to comply with the IPC Anti-Doping Code and the World Anti-Doping Code (to which it is also a signatory). As a result of the suspension, Russian athletes cannot enter IPC sanctioned events or competitions, including the Paralympic Games. For further information please click here.