European double for Emma Wiggs
Paralympic and world champion heads British success
11 Jun 2018
Imagen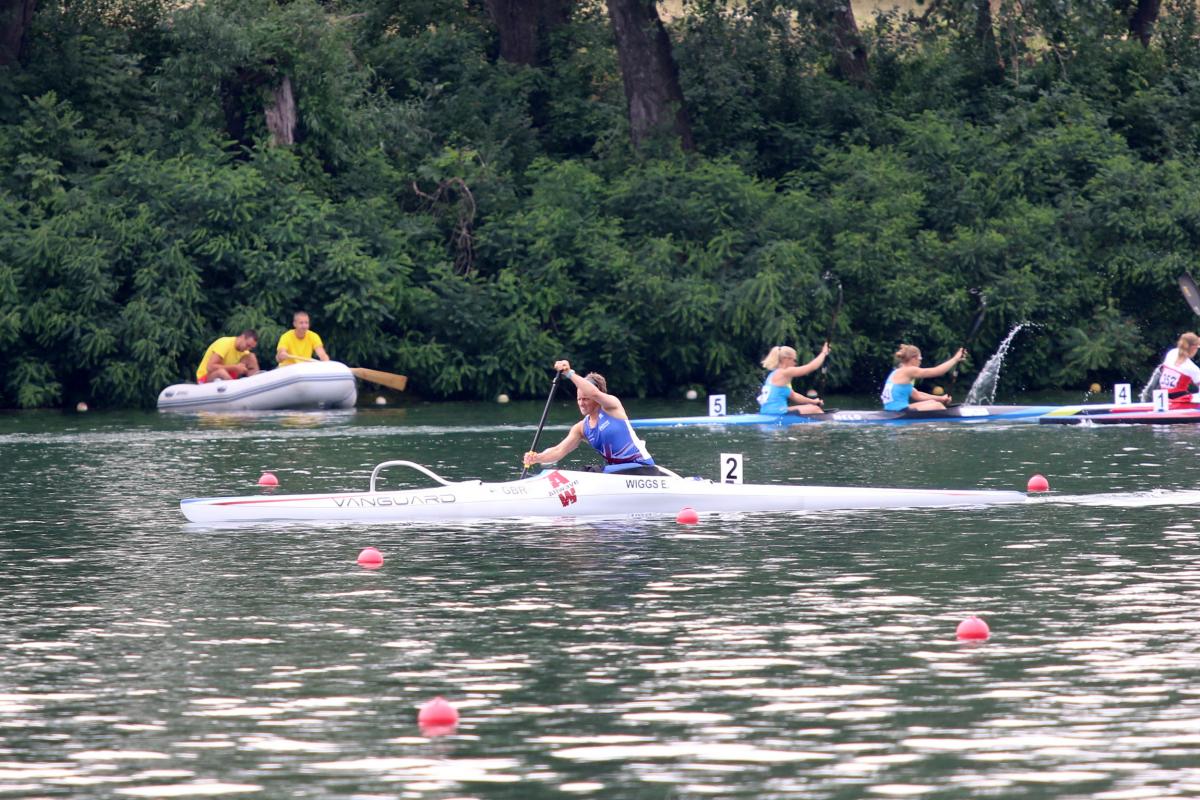 ⒸECA
By Louise Wood for the IPC and European Canoe Association
Emma Wiggs dominated on the kayak and Va'a boats to lead Great Britain to the top of the medals table at the 2018 European Canoe Association (ECA) European Para Canoe Championships held 9-10 June in Belgrade, Serbia.
In both KL2 and VL2 events, Wiggs finished ahead of her compatriots.
The VL2 sprint saw Wiggs win by a margin of 2.6 seconds from Jeanette Chippington, but the KL2 – in which Wiggs holds the Paralympic and world titles in – was a much closer affair. She claimed her second title by just 0.4 of a second this time from Charlotte Henshaw but admitted she was not satisfied with the victory.
"I am not really happy with it, particularly the first half," Wiggs said after her VL2 race. "It's just great experiencing racing in two boats the Va'a and kayak [on Sunday]. So, I've been trying to juggle the training for that. It's nice to get out there and be able to perform like that, so I'm really pleased."
Russia* finished in the bronze medal positions; Mariia Nikiforova in VL2 and Nadezda Andreeva in KL2.
It was a successful Championships for Team GB as they collected eight medals, consisting of four golds, three silvers and one bronze.
Adding to Wiggs' success was David Phillipson in the men's VL3, and Jeanette Chippington in the women's KL1. For Paralympic gold medallist Chippington, the KL1 victory was her sixth European title.
Chippington's gold was belated but very welcome. After initially finishing second to Maryna Mazhula she was promoted to first after the Ukrainian was disqualified. That meant an upgrade to silver for Russia's Alexandra Dupik and bronze for Poland's Kamila Kubas.
"It was so exciting. At the 100 metres mark we were all pretty neck to neck and then Italian girl capsized. At the finish it was like 'beep, beep' and I knew I had got silver. Going up to collect my medal I realised the Ukrainian had been disqualified. Literally, just before, I'd been saying to my coach, it's great to get silver, but I lost that European title. So I am now European Champion again. It's really good, really exciting," explained Chippington.
Phillipson brought further joy to Great Britain after capturing his first major medal with the VL3 win in only his second full season. Poland's Tomas Mozdzierski broke up a one-two British finish by taking second, followed by Jack Eyer.
Austria's Markus Swoboda spoiled another British triumph in the men's KL2 event. The Rio 2016 silver medallist retained his title from Plovdiv, Bulgaria, edging Great Britain's Nicholas Beighton by 0.4 seconds. Ukrainian Mykola Syniuk was third.
Italy finished second in the medals standings with two gold medals. The first came from Marius Ciustea in the men's VL2, to add to his victory from the opening World Cup in Szeged, Hungary. The silver went to Russia's Roman Serebryakov, followed by Hungary's Tamas Juhasz took bronze.
"I went to the race very determined to have a nice race. I am happy," said Ciustea.
Italy's second gold came in the men's KL1 from world and defending European champion Esteban Farias, who was followed across the finish line by Hungary's Robert Suba and France's Remy Boulle.
In the KL3 men's final, Ukraine's Serhii Yemelianov defended his European title from 2017. The world and Paralympic champion added to his medal haul by beating Russian pair Leonid Krylov and Atrem Voronkov who settled for silver and bronze respectively.
"The preparation was very difficult, but the race was very easy. I am not 100 per cent satisfied, but about 90 per cent. But it will get better," said Yemelianov.
The women's KL3 title went to Sweden's Helene Ripa. The former Para Nordic skier and swimmer finished ahead of Romania's Mihaela Lulea and Poland's Katarzyna Sobczak respectively.
"I had a very good race [on Sunday], a good start, and I came up very fast. I was then just strong all the race. I am very, very happy, and I think I have never done so well," said Ripa.
Finishing third in the medals table were Russia thanks to world champion Larisa Volik's gold medal in the women's VL3. She defended her European title by a comfortable margin of over three seconds from Ukrainian Nataliia Lahutenko and German Anja Adler in third.
The European Championships featured 81 athletes from 19 different countries. Complete results can be found on the organising committee's website.
The 2018 World Championships will take place in Montemor O Vehlo, Portugal from 22-25 August.
*Editor's note: The International Paralympic Committee suspended the Russian Paralympic Committee on 7 August 2016 for its inability to fulfil its IPC membership responsibilities and obligations, in particular its obligation to comply with the IPC Anti-Doping Code and the World Anti-Doping Code (to which it is also a signatory). As a result of the suspension, Russian athletes cannot enter IPC sanctioned events or competitions, including the Paralympic Games. For further information please click here.