Ex-policeman paralysed in prison break aims for Rio 2016
Powerlifter Joseano Felipe, who was shot in spine trying to stop mass escape in 2000, broke an Americas record at the Rio 2016 test event.
26 Jan 2016
Imagen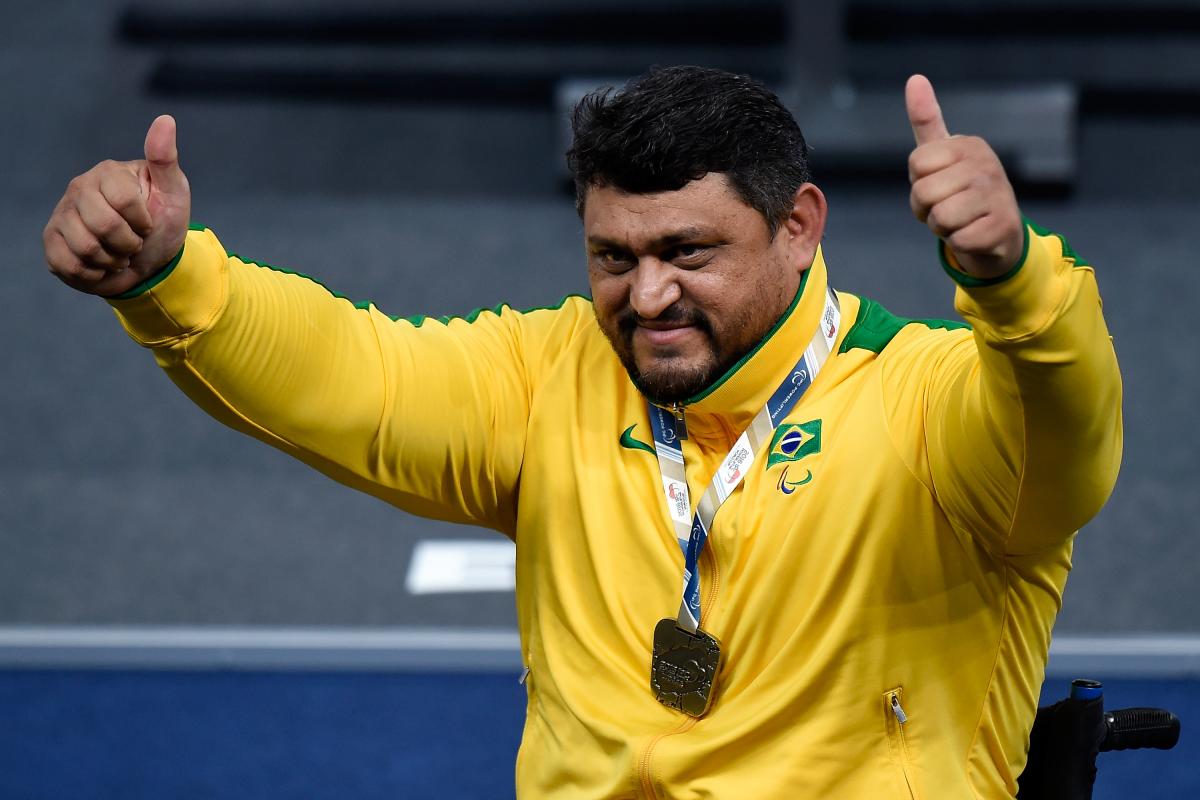 ⒸGetty Images
By Rio 2016
"If this had not happened, would I be here? Would I be so much more united with my son? It makes me so happy."
Powerlifter Joseano Felipe managed to hold back the tears as he stood on top of the podium with the Brazilian national anthem playing, but only just. "The film of my life went through my head, everything happened very quickly," said the Felipe, who won gold in the up to 107kg category at the Rio 2016 powerlifting test event on Saturday (23 January).
His story could indeed be a movie. A member of the military police's special operations battalion, known in Brazil as BOPE and immortalised in the Elite Squad films, he was shot in the spine and left paralysed from the waist down in 2000. It happened as he was trying to stop a mass jail break-out staged to 'rescue' notorious bank robber Valdetário Carneiro from Alcacuz prison in Nísia Floresta in north east Brazil.
Adapting to life as a wheelchair user was difficult, and Felipe fell into depression. His life changed when, while doing hydrotherapy in 2005, he was invited to try powerlifting. He has since won gold at the Toronto 2015 Parapan-American Games, and is now on the cusp of qualifying for his Paralympic Games, in Rio this year.
Become a powerlifting expert with our interactive infographic.
Joseano Felipe lifted 206kg at Carioca Arena 1 in Barra Olympic Park on Saturday, setting a new mark in the Americas for the up to 107kg category. That leaves the 42-year-old seventh in the world rankings, from which the top eight will earn places at the Rio 2016 Paralympic Games when qualifying ends on 29 February. However, with two Chinese lifters ahead of him – and with a limit of one place per nation in each weight category – the Brazilian is effectively in sixth place and will still attend the Kuala Lumpur stage of the IPC Powerlifting World Cup on 24-28 February, when he could improve his ranking.
Last year Felipe started to be trained by his son, Phelippe Michel, who is in his final year of studying for a degree in physical education. "If this had not happened, would I be here? Would I be so much more united with my son? It makes me so happy," Felipe said.
The Rio stage of Powerlifting World Cup, which doubled up as the Rio 2016 test event, allowed Games organisers to test a series of areas, such as venue operations, sporting equipment, national referees and anti-doping procedures. Pedro Meloni, Rio 2016 weightlifting and powerlifting manager, revealed that one innovation was to provide the magnesium carbonate – which powerlifters rub on their hands to improve grip – in block form rather than powder, which is messier.
Jon Amos, chair of the IPC powerlifting technical committee, said: "It was a very profitable event, we are very close to how it will be during the Games. The volunteers were impeccable."