Five questions for Buffalo 2015 playoffs
With playoff matchups determined, here's what to watch in the final games at the 2015 IPC Ice Sledge Hockey World Championships A-Pool.
01 May 2015
Imagen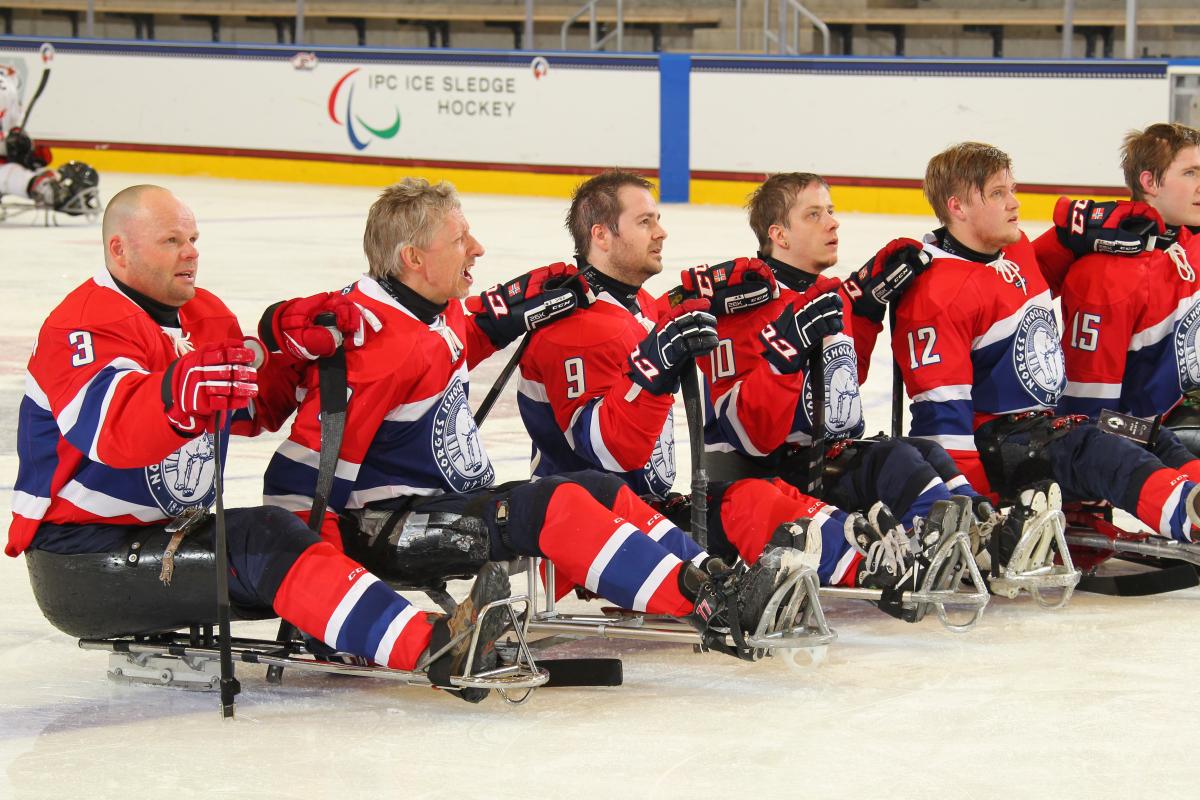 ⒸBill Wippert
By Stuart Lieberman | For the IPC
"Right now, we are the underdogs. The others might be a little bit faster and quicker, but we have the potential to surprise with our passing game."
The playoff matchups are set at the 2015 IPC Ice Sledge Hockey World Championships A-Pool, which are taking place at the HARBORCENTER in Buffalo, New York in the USA.
The classification games on Thursday (30 April), will feature the Czech Republic against Germany at 4:30pm (ET) and Japan against Italy at 8pm (ET), with the winners advancing to the fifth-place game.
In the semi-final games on Friday (1 May), Canada will challenge Russia at 4:30pm (ET) and then Norway will take on the USA at 8pm (ET).
Here are five looming questions as the playoff games begin:
1. Can Canada defend their world title, and will goaltender Corbin Watson continue his shutout streak?
Despite taking bronze at the Sochi 2014 Paralympics and this year's World Sledge Hockey Challenge, Canada are still the reigning world champions and are trying to retain that title. If top scorers Greg Westlake, Billy Bridges and Brad Bowden – all of whom have 10 points apiece in Buffalo – continue to score, and if goaltender Corbin Watson continues his shutout streak, there is no reason you will not find Canada playing for their fourth world title.
"We're having fun with it and are loving every moment of it," Watson said of the Championships. "We're still feeling fresh and are ready to go the whole way."
2. After a World Championships bronze and a Paralympic silver, will Russia be able to kick it up a notch to grab that elusive gold?
Russia won a surprise bronze at the 2013 World Championships in Goyang, South Korea, and stepped up to claim silver at Sochi 2014, but are they ready to reach that top spot on the podium yet? In their first two games at Buffalo 2015, Russia scored just four goals and allowed six. But in their final preliminary round game, they began to show signs of the team they were at the Paralympics, beating Germany, 10-0. With several new players on the team this season, including goaltenders Andrei Kasatkin and Evgenii Plotnikov, team captain Dmitrii Lisov said he is working hard to infuse the "Russian spirit" in them in order to beat a more aggressive team like Canada in the semi-finals.
3. What must the USA do to win gold on home ice?
The host nation's contingent has a rare opportunity to win a world title on their home ice, and in front of a live television audience on NBC Sports Network. Since losing to Canada in the gold-medal match of the 2013 World Championships in Goyang, South Korea, they have won every major international tournament they have played in. Forward Declan Farmer insists all three lines are gelling at this point in the season, especially with their dump and chase game, but that they will have to watch out for Norwegian veteran star Rolf Pedersen in the semi-finals. Head coach Jeff Sauer believes his team has the talent, but the squads they will be facing have more experienced players, so in order to make it to the top USA must keep their confidence level high, yet stable.
4. Will Norway be able to break the 'big three?'
The Norwegians have medalled at five of the sport's seven World Championships, and Sochi 2014 marked the first Paralympics their ice sledge hockey team did not make the podium. But the big question remains – will they be able to challenge Canada, USA or Russia for a podium spot? Morten Vaernes, who leads the team with three points in Buffalo, said nothing is over until it is over.
"Right now, we are the underdogs," Vaernes said. "The others might be a little bit faster and quicker, but we have the potential to surprise with our passing game."
5. Which two teams will survive the classification round to keep themselves in the A-Pool?
Germany and Japan are the newcomers to the A-Pool this season, and are trying to stay in it for the next Paralympic cycle, while Italy and the Czech Republic are trying to avoid relegation from the tournament they've played in for the majority of the last decade. These teams are built on veteran players such as German forward Frank Rennhack, Japanese defenceman Satoru Sudo, Czech goaltender Michal Vapenka and Italian forward Florian Planker. But which team will have enough depth on the bench to support their stars and remain in the A-Pool? Expect the classification matches to come down to stamina and who can last longer on the ice.
CHAMPIONSHIPS COVERAGE
Live coverage of all the games at the World Championships, along with results, statistics and ticket information can be found at Buffalo2015.com.
Up-to-date details of where games can be watched live nationally can be found at Buffalo2015.com.
IPC Ice Sledge Hockey will tweet live updates from on site in Buffalo from @IPCISH and is encouraging all fans to use the #Buffalo2015 hashtag when tweeting about the tournament.
Images from the Championships are available at www.Flickr.com/Photos/Paralympic. Media wishing to receive high-resolution images should contact Lucy.Dominy@paralympic.org.