Five takeaways from the Para athletics test event
Japanese and Asian records fall as 120 Para athletes take part in the Ready Steady Tokyo competition at the National Stadium
12 May 2021
Imagen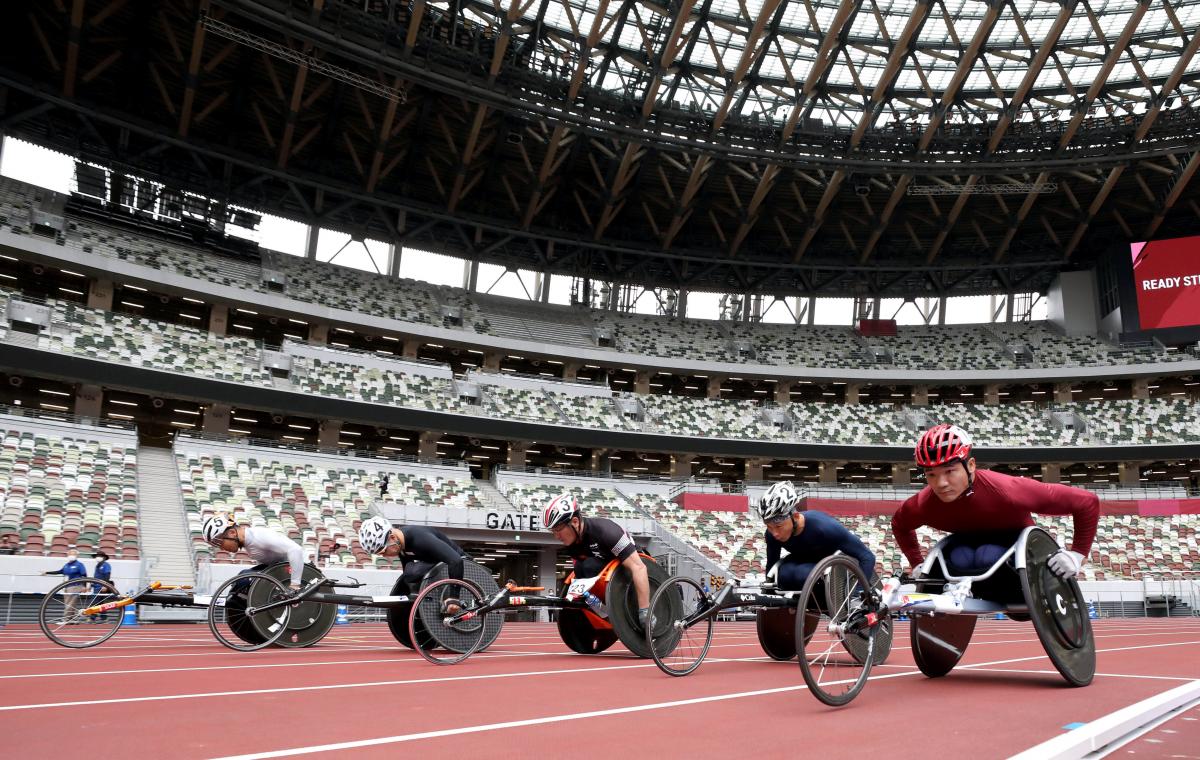 ⒸTokyo 2020 / Shugo Takemi
By Tokyo 2020
After a successful Ready Steady Tokyo Athletics Test Event on Sunday, it was time for Japan's Para athletes to take to the track at the National Stadium. 
Compared to last Sunday's athletics test event, temperatures were much cooler for the Ready Steady Tokyo Para Athletics Test Event that took place in Japan's capital on Tuesday (11 May).
The stage was set at the glorious National Stadium in Shinjuku, Tokyo as 120 Japanese Para athletes, including the likes of Rio 2016 long jumper and 100m runner Chiaki Takada and javelin thrower Shunya Takahashi, took centre stage.
It was also a special day for Akihiro Yamazaki (javelin) and Sae Tsjuji (sprinting), who had their places on Japan's Paralympic team for Tokyo 2020 confirmed, due to their world ranking as of 1 April.
Now, as the clock continues to count down until the Opening Ceremony of the Paralympic Games on 24 August, find out everything you need to know about the recent Para athletics test event:
National and Asian records fall
With the Ready Steady Tokyo test event starting at 10:00 a.m. local time (JST), it did not take long for the first national record to be broken. After only an hour, Ryo Kosone broke his own F54 javelin record with a 23.80m throw on his fourth attempt while Masaki Shimbo's followed suit with a 49.87m throw that shattered a record he had set only last month (47.64m).
By midday, Yuya Sambongi had gone one better by breaking an Asian Record with his time of 53.43 in the men's T45 400m.
And the records continued to fall on the track as Yuki Oya clocked 17.12 seconds in the men's 100m T52 to break the Asian record he had set at the Japan Para-Athletics Championship in March this year.
The future is here
When people think of Japan there are a few things that often come to mind including culture, food, anime and... robots!
Tokyo 2020 launched its Robot Project in May 2019, one of many programmes aimed at ensuring the Games are the most innovative in history. The project has brought together experts in the field of robotics and has been supported by Japan's Cabinet Secretariat; the Ministry of Education, Culture, Sports, Science and Technology; the Ministry of Economy, Trade and Industry; the Tokyo Metropolitan Government; Panasonic Corporation; Toyota Motor Corporation and Tokyo 2020.
Inside the National Stadium, the capabilities of the Field Support Robot (FSR) were put to the test. The robot helped retrieve athletes' javelins after they were thrown and it also has the ability to retrieve discuses.
In past Games, staff would use a radio-controlled car to collect javelins and discuses, but these FSRs, which will feature at both the Olympics and Paralympics this summer, have autonomous capabilities and can select the best route when moving from one point to another.
The perfect preparation
Only the media and a few members of the athletes' families were able to enter the 68,000 capacity stadium, but those who could were greeted with state-of-the-art facilities. And for many of the athletes at the test event, it was also a first chance to run, jump or throw in the National Stadium.
"The moment I entered the stadium, I felt the unique atmosphere of the Paralympics," said reigning women's long jump T64 world champion Maya Nakanishi, before adding, "There was a moment when I felt that I was back on this stage again, so I have a renewed determination to improve my performance and shine with the time I have left. Something big is waiting for me here."
Vision-impaired long jump athlete Takada, who had hoped to jump 4.60m, took the chance to see where she can improve, noting that she wants to make her run-up to the pit straighter.
"I've been practising the aerial movement after stepping off [the plate] again. I think I did 60 per cent or 70 per cent of what I had to do today. The jump itself was not so good, but I think it was good to get used to the arena for the first time," she said.
The surface of the running track also drew praise.
"It was very easy to run on the track and there was no wind, so the conditions were perfect on the ground," said Rio 2016 T11 long-distance runner Kenya Karasawa.
"My impression is that it is light, easy to run on and I am feeling good, but I think I can aim for the world record with it. I was very excited and had a lot of fun with the way it went," Tomoki Sato said with a big smile on his face.
Sato, the London 2017 World Para Athletics champion and two-time Rio 2016 silver medallist, is using world records - he currently holds world bests in 400m and 1500m T52 - as his motivation heading into the Paralympic Games.
"I'm going to do my best in the race and I'm going to make a world record in a close race near the finish line," he added.
Look away and you'll miss it
As you take the Japan East Chuo Line from eastern Tokyo to the west side, you could be forgiven for missing the stadium that sits just a stone's throw away from Shinjuku Gyoen National Garden and a short way down the road from Yoyogi Park.
But it was all part of renowned architect Kengo Kuma's original design, which has a strong emphasis on environmental awareness. Despite the host city's dense urban feel, the stadium works well to showcase nature and greenery against a metropolitan backdrop.
Kuma envisioned a building he called a "living tree", and as you walk around the stadium you see nods to this idea with more than 47,000 medium and small-sized trees planted within the precinct.
More athletes, more events, more medals
Buckle up for a spectacular Tokyo 2020 Para athletics competition this summer because it will be unlike anything the world has seen before.
Alongside swimming, athletics is one of the most highly-anticipated sports at the Paralympic Games. It was one of eight sports included in the first Paralympics programme at Rome 1960 and has been part of every edition of the Games since.
Unlike its Olympic counterpart, Para athletics track events are characterised by different finals for each classification. A typical example of this is the 100m, where during the Rio 2016 Games there were 16 men's classes and 14 women's classes yielding a total of 30 gold medal winners.
The Tokyo 2020 Games are set to host the largest athletics contest to date in terms of the number of athletes and medal events, with 1,100 athletes expected to compete across 167 medal events: 93 for men, 73 for women and one mixed event.
The Tokyo 2020 Paralympic Games Para athletics competition will take place from 27 August to 5 September 2021.