Hongzhuan Zhou 'won't easily give up' on Tokyo 2020 Paralympics
One of world's best wheelchair racers wants to close career on a high note
07 Aug 2020
Imagen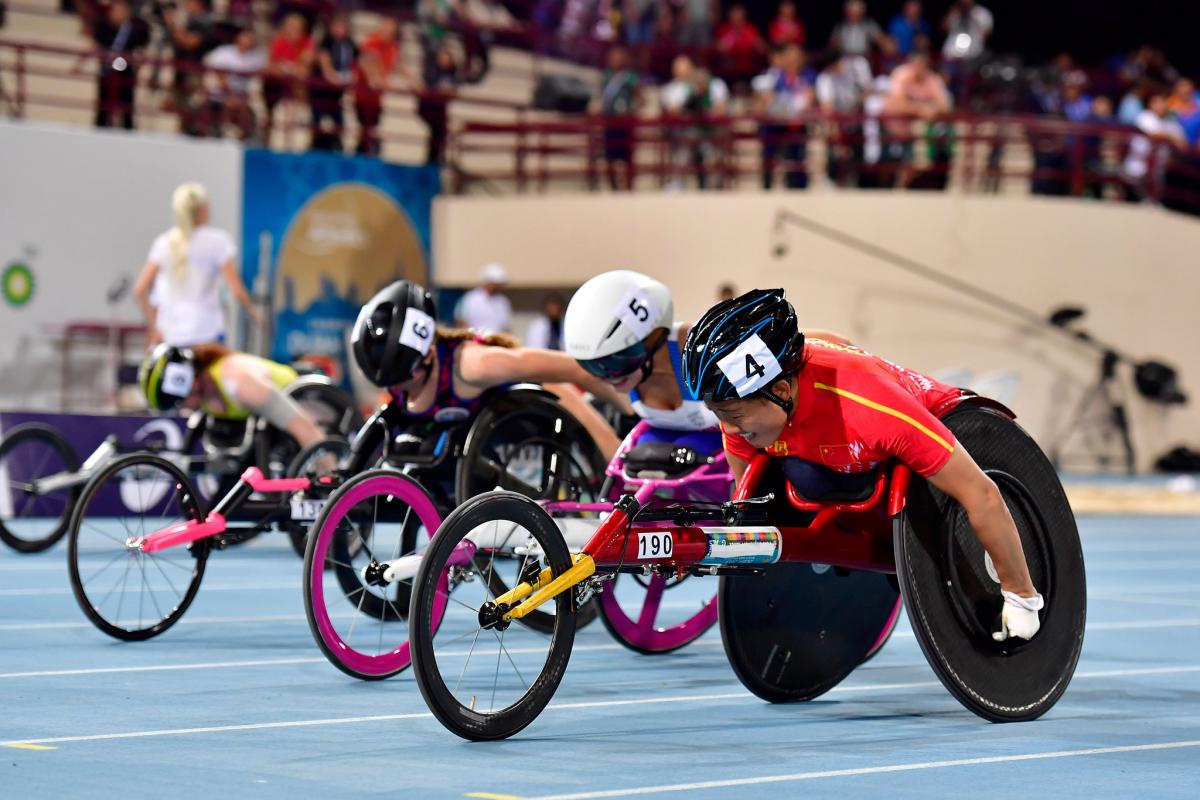 ⒸDubai 2019
By Zhen Ma and Ros Dumlao | For the IPC
Wheelchair racing phenome Hongzhuan Zhou had retirement plans after the Tokyo 2020 Paralympics. She wanted to go back to the Beijing Sport University campus to finish courses, and transfer her experiences on the track to helping people with disabilities in China. 
When Tokyo 2020 was postponed, Zhou needed time to accept the news. 
"The postponement for one year was absolutely unexpected," she explained. "It is really a big challenge for me because I no longer have any physical advantage due to my age. But I have gradually adjusted my mindset. I accepted this reality and put myself into the daily training again. Tokyo 2020 will be my last Paralympic Games. I have worked so hard for such a long time after Rio 2016. So I won't easily give up."
The T53 athlete closed Rio 2016 with three gold medals in the 400m, 800m and 4x400 distances, and a silver in the 100m. She has amassed 11 medals over three Paralympics. 
At 31 years old, Zhou is aware of the other talents she will have to beat out.
At the Dubai 2019 World Championships, younger athletes such as Swiss Catherine Debrunner and Australia's Madison de Rozario both overtook her to the finish lines.
With no competitions in 2020, she does not know much on her opponents. 
"We have lost plenty of chances of competing with foreign athletes since most of the events have been cancelled due to the pandemic, thus I currently lack the insights regarding the status of my competitors from other countries. As a result, it seems that the level of tension and confrontation is not as good as before."
But the Chinese star is determined to end the last chapter of her athletics career on a high note. Even if that means training at home to keep her arm strength. 
"We have stopped training for two months from April to June, and the impacts on my training were quite limited for the rest of the time," Zhou said. "Apart from some pandemic prevention measures as washing hands frequently, social distancing and keeping hygiene, everything was going well."
Born in the Huangye city in Hebei province, China, Zhou caught polio when she was three years old. She started training wheelchair racing in 2004 and made the national team the following year.
"I didn't know anything about wheelchair racing until 2004 when Hebei provincial Para athletic team sent a crew to my city looking for kids who have the potential for sports. Then I was luckily selected by the coach and started to train with the provincial team. One year later, when I was under 17, I moved a further step: joining the national team."
It was history from then on. In addition to Paralympic medals, she has also collected 18 world titles, seven being gold. But the sport has brought more to her life than accolades. 
"I am going to say confidence," Zhou said. "I became much more confident than before. My introverted character has been improved a lot, I became more social and more willing to talk with others."