Kayleigh Haggo racerunning for something bigger
First world champion in her class, British athlete splits the time between sport and supporting young people with disability in her community
28 Jul 2020
Imagen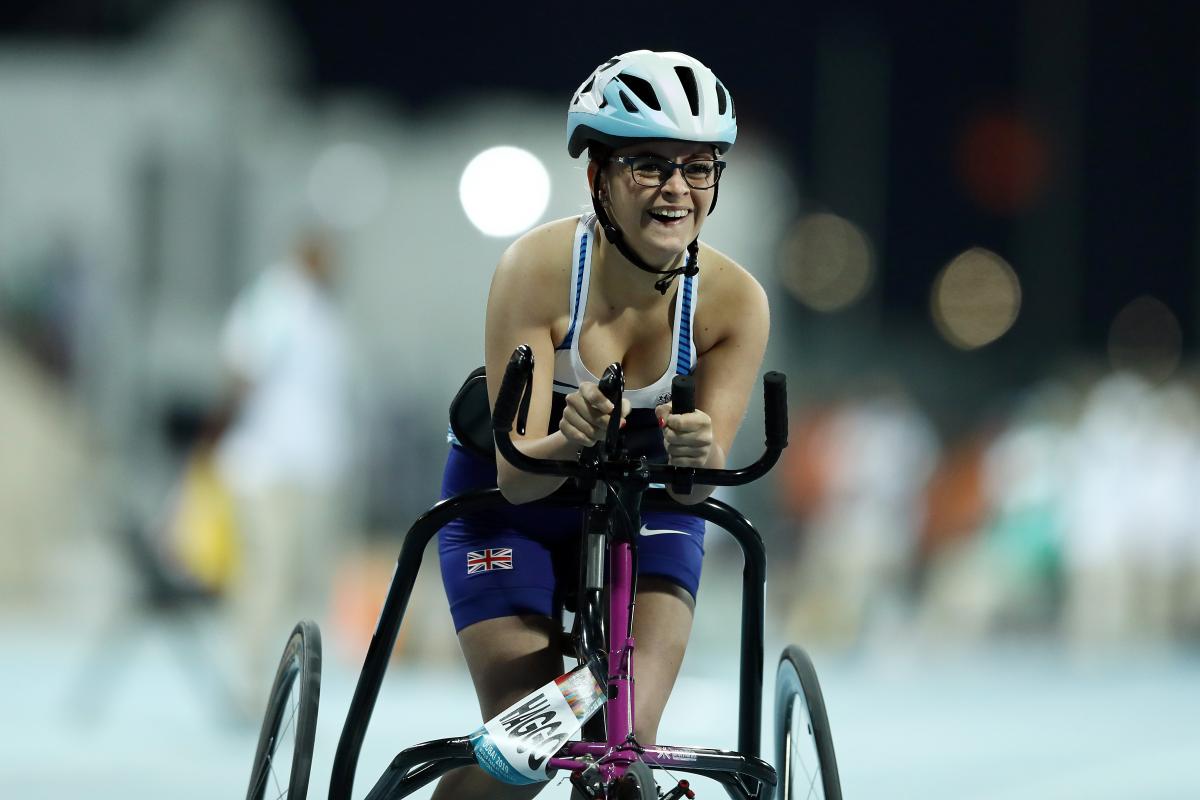 ⒸBryn Lennon/Getty Images
By Mary Barber | For World Para Athletics
When Kayleigh Haggo wins her next medal, she will dedicate it to her local community after the residents surprised her with enough equipment to set up a gym at home during the lockdown imposed by the COVID-19 pandemic.
The Great Britain star, who was crowned the first ever 100m RR3 RaceRunning world champion last year, had posted an appeal on social media for help to find equipment.
It followed news that the company where she had placed an order for essential items had stopped making deliveries. She had to set up a gym at home when sports centres were closed following the coronavirus outbreak. 
Just two days later Haggo had a fully equipped home gym, thanks to the kindness of residents in the town of Maybole, which is about 70km from Glasgow in Scotland. And they were happy to support her. 
The 21-year-old, who has cerebral palsy which affects her balance and motor skills, works tirelessly in her local community helping children and young people with disabilities take part in different sports and other activities. 
She also gives talks and motivational webinars, works as a project co-ordinator for disability sports for two organisations, is a part-time swimming coach and a volunteer. 
"I had asked on Facebook if anyone could help me find some equipment and soon after I had a full home gym with everything I was looking for and more. It was amazing," she said. "It has meant I can carry on with my gym work from my house." 
Among the donated items was a bench press, a rowing machine, and weights.
"I was totally overwhelmed by the community, which came together for me, so when I next win a medal, I will dedicate it to them."
Making history
Haggo won the women's 100m RR3 gold medal at the World Para Athletics Championships in Dubai, UAE last November, when the event made its debut.
She crossed the line in 18:32 ahead of her Great Britain team-mate Ellie Simpson, who took silver.
"I got the silver medal for RaceRunning at the European Championships in 2018 so to get gold was the best outcome that I could have hoped for," Haggo said.
Before the lockdown Haggo, who studied sports coaching and development at university, was training for the European Championships in Poland, due to be in June. The event was postponed to 2021 following the pandemic. 
She had been training 10 times a week either in the gym, where her routine could include work on her abs one day and upper body the next, or in the pool or the track with her RaceRunner. 
The three-wheeled bike is designed for people with neurological conditions, like cerebral palsy. There are no pedals and athletes, who are supported by a saddle and a chest plate, propel themselves forward using their feet and they steer with their hands.
Haggo's boyfriend Kevin, a production worker, goes to her training sessions to set up her bike. "I couldn't do it without him," she said. 
They live with her mother, Sandra, who works at an National Health Service (NHS) hospital.
From swimming to athletics
Haggo began racerunning at the age of 12 and won three gold medals at the Brno 2012 European Para Youth Games in Czech Republic.
Then she took four years away to concentrate on swimming but returned to RaceRunning when it became a World Para Athletics event. She hopes it will become part of the Paralympic Games in the future. 
"I love to run, and with my bike, I don't have to worry about falling over as I have a chest plate to support me. I can run as fast as I want, which is amazing. It has been my goal to go to the Paralympics. I hope RaceRunning will be in the Games in 2024."
In the meantime, she has been busy conquering other goals, which have included a 21km half marathon using her RaceRunner. 
"Before the lockdown I hadn't run over 8km so to complete a half marathon was great. I did it in one hour and 32 minutes and now I want to do it again in under an hour and 30 minutes."
The lockdown has also given her the chance to horse ride again, which she restarted to help ease a problem with her hip. Cappy, the horse she rode a few years ago, was still at the stables when she went back in June. "He remembered me, which was nice." 
She has also tried meditation and yoga for the first time. These quiet activities offset her busy life motivating youngsters with disabilities to take part in sport as well as mental health and wellbeing sessions. 
She is a part-time project co-ordinator at Inspire Girvan and South Carrick, a disability sport inclusion project in Scotland, and has a similar job with Activity Schools in South Ayrshire. 
Haggo has received numerous awards for her work in the community and as an athlete. Last month she was nominated for Sports Personality of the Year at the South Ayrshire Sports Awards. Inspire Girvan won the Community Project of the Year.
As a local hero, her outlook on life remains upbeat, despite the many obstacles she has faced. 
"I try to think of the positive things in a situation instead of the negatives. Some days I can't be bothered, particularly if I'm in pain, but then I think of the bigger picture, which for me is to get stronger and faster. 
"It's good to have a routine, to be focussed, to try something new and to have an end goal."