Love brings Neeraj Yadav back to his dream
'My wife kept on convincing me why I needed to go back and compete. Sports boosted up my confidence and motivated me,' says Indian thrower
26 Jul 2020
Imagen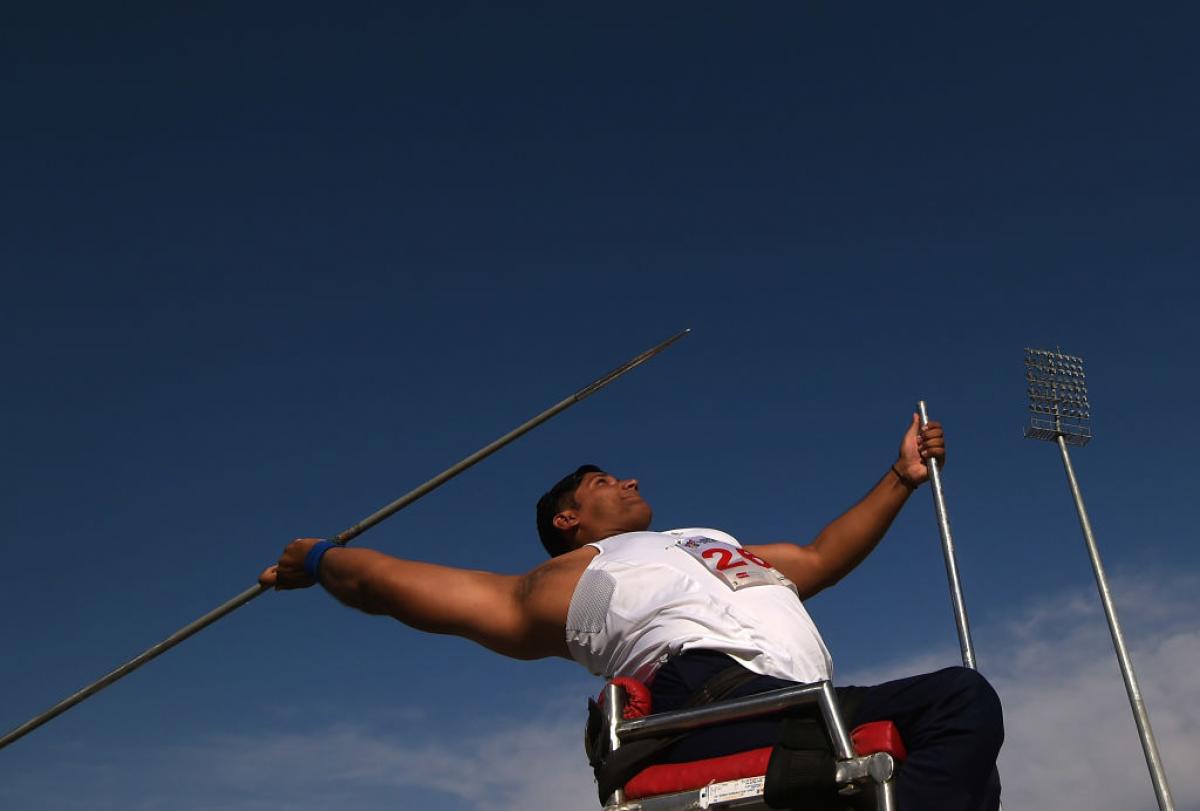 ⒸTom Dulat/Getty Images
By Jasvinder Sidhu | For the IPC
It has been a test for Indian Para athlete Neeraj Yadav since birth. Diagnosed with polio, Yadav's constant companion has been his wheelchair. His adversities, though, started when he lost his father at a young age, and it was sports that gave him strength and direction.
Despite that, at one point, his financial insecurity forced him to call it quits in 2012. Working two shifts – morning and evening – barely gave him time and motivation to pursue his passion. However, his beloved wife Shobha Yadav kept pushing him to pick up the javelin again.
Yadav had met her at the school, where both used to work together. Yadav doubled up as a sports instructor and was a vocational therapist at the Indian Spinal Injury Centre.
"My wife is my strongest motivator," said Yadav, adding, "My family was not in a position to support me. I was facing financial crises. After I married, I decided to quit the sport. My only aim was to find a job to provide a good life for my family. But my wife kept on convincing me why I needed to go back and compete. She was also ready to adjust. And she was right as my heart was always there." 
It did not take long for Yadav to get noticed and soon, he was in the Indian squad. But it was a gold medal in javelin F55 class at the Indonesia 2018 Asian Para Games 2018 that gave him his due recognition.
From javelin to discus
As his pet event is not listed in Tokyo 2020, he wants to make sure not to miss the bus by qualifying for the discus throw.
"My preparation was excellent, and we were to have a final trial for Tokyo in July. As discus throw is different than javelin, I had to work more on my back movement. I am now more focussed on technique," said the 36-year-old, who used to spend around four to five hours daily under Naval Sharma until the pandemic put an abrupt halt to his training.
"Everything was going as per plans and we used to work on what we discussed, and the practice was working well as my throw was improving, but now I will have to start working all over again. This pandemic has put everyone a bit off track," said Yadav, who is confident that, like all the adversities in his life, this too shall pass.
The final trial was the key as the competition is tough, said coach Sharma.
"Neeraj was scheduled to compete in a final trial this month for confirming his ticket to Tokyo but the COVID-19 situation has put everything on hold. He is an excellent athlete and was preparing well, so we were hoping for the best."
With the Games postponed, Yadav is aware that he has better chances of being on that flight to Tokyo and is keen to leave no stones unturned.
"Winning a medal in the Paralympics is my dream. A Paralympic medal for your country is huge. I see huge opportunity due the postponement and even if I need to work twice as hard as I can, I will.
"I used to consider myself a weaker person. I used to be sacred. But sports boosted up my confidence and motivated me. Now when I come to the ground, I do not consider myself a person with a disability. I always feel that I can achieve what I have dreamt of and so this one year will be all about chasing that dream."