COVID-19: India's Harvinder Singh targets Tokyo 2020 from his farm
'Humidity and wind will be the key factors. How better I can fight these two factors will decide my fate'
23 May 2020
Imagen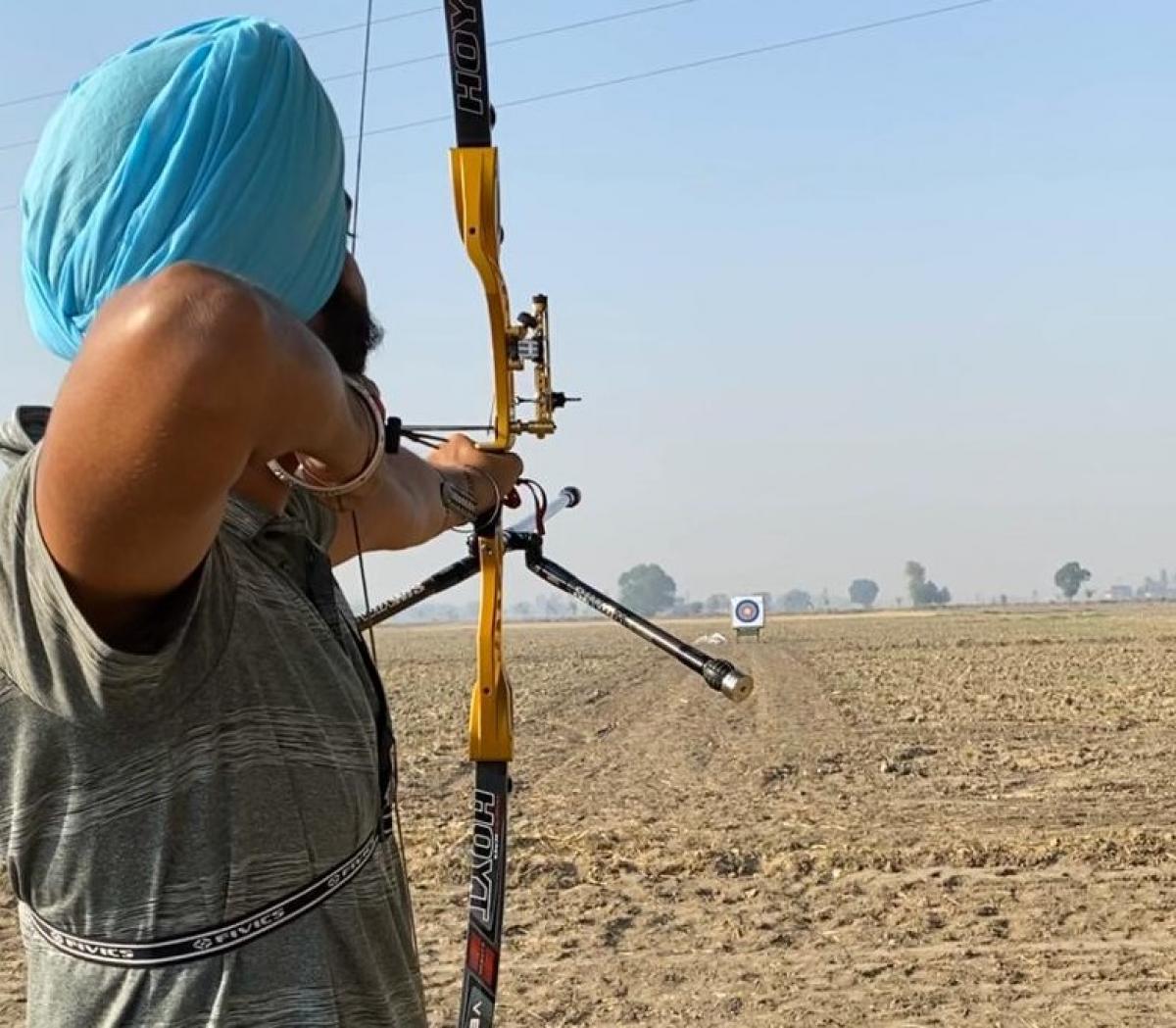 ⒸAsian Paralympic Committee
By Priyanka Sharma (Asian Paralympic Committee) | For the IPC
India's top Para archer Harvinder Singh strongly believes there is no substitute for hard work, irrespective of what life throws at you.
He recites a proverb in Hindi "Mehnat itni khamoshi se karo ki safalta shor macha de" (Work hard so silently that your success makes all the noise).
Like millions worldwide, COVID-19 has put his training schedule in disarray. But Singh, who suffered an impairment to his leg as toddler following a side effect to a dengue fever injection, has transformed his farm in a remote village in Ajitnagar, Haryana into a target practice venue.
"It's difficult to not pursue your usual daily routine, stop training and stay indoors. But as a responsible individual we need to be safe.
We have to look at the positive side, we now have one more year to train hard and be better prepared and achieve our goals," said Singh adding he has been shooting around 150 arrows everyday. 
"I have tweaked my training routine and I'm now focusing on shooting and physical training. Apart from shooting, I am working out with my physio – strengthening, conditioning and core exercises in the evening sessions," said Singh, who shot into limelight with his marksmanship at the Indonesia 2018 Asian Para Games (APG), where he won India's first ever gold medal in Para archery.
"Before the Asian Para Games, nobody knew me. I was happy that I lived up to my promise and above everyone's expectations," said Singh, adding that he had put four years of relentless effort in his pursuit for gold.
"It was one of the most difficult phases in my life; I had lost my mother 20 days ahead of the Games. But I kept my focus going and never let my motivation down and gave my best. Though I had worked hard, the gold medal was surely a surprise and it was all for my mother," said Singh reminiscing his APG 2018 exploits.
Taking motivation from APG 2018 show
Along with the gold, the success was a huge shot in the arm of the 28-year-old archer and it helped him realise his full potential and overcome his limitations.
Singh said, his APG 2018 campaign, over time, has become his 'pillar of strength' and he remembers it whenever he is in difficult situation and tries to draw motivation from that moment.
"I keep telling myself – if you can succeed in such difficult times. Why can't now?"
Last year at the Fazza Para Archery Championships, the archer had a disappointing campaign, having crashed out early in Dubai.
"I expected a lot from myself in that event and finally buckled under pressure. But then once again it was my APG 2018 spirit that boosted my confidence. I worked harder to secure my ticket to Tokyo 2020 with a ninth-place finish at the World Archery Para Championships in the Netherlands in June," revealed Singh, who also took a bronze in Bangkok 2019 Asian Para Archery Championships.
Singh is now solely focused on winning a medal at the Tokyo 2020 Paralympic Games. For his technical expertise, the archer relies on coach Gaurav Sharma but still reaches out to his long-time coach Jiwanjot Singh Teja.
"He (Jiwanjot) has now moved to Canada. But I am always in touch with him and seek his guidance. For mental toughness, he is the right person as he can lift my confidence and keep me motivated."
The archer is backed by flagship programmes in India - the Olympic Gold Quest (OGQ) and Target Olympic Podium Scheme (TOPS) and that has added financial stability.
Singh, who holds a Masters and Doctoral degree in Economics from Punjabi University, Patiala, said in his initial days of struggle, the university stood behind him as a pillar and provided him with the necessary equipment and training facilities.
"It was only after the APG 2018 success that support came to me from all quarters. I also got my new equipment (Hoyt) after the APG 2018. In fact, I promised myself not to have a new equipment until a medal winning performance at Indonesia 2018. I have given back my old equipment to the University so that someone in need like me can use it," said Singh.
Wind an important factor in Tokyo 2020
The postponement of Tokyo 2020 due to COVID-19 will certainly help him prepare better but he feels wind will play a key role in the outcome on the D-Day.
"I was a little disappointed as I have been training hard but now we have to look ahead and move on. Humidity and wind will be the key factors in Tokyo. How better I can fight these two factors will decide my fate in Tokyo," asserted Singh, who is seeking training in Europe for cope up with the wind but that can happen only once the pandemic ends.
"I was hoping to train in Europe before the Games and also take part in two competitions in Italy and the Czech Republic. Getting some competition practice before the Games will also be important. I had prepared my proposal accordingly. Now, we have to wait and watch," said Singh.