Equipment change helps Marcel Pavlik return to archery
Slovakian world No. 1 almost quits sport due to old bow
07 Apr 2020
Imagen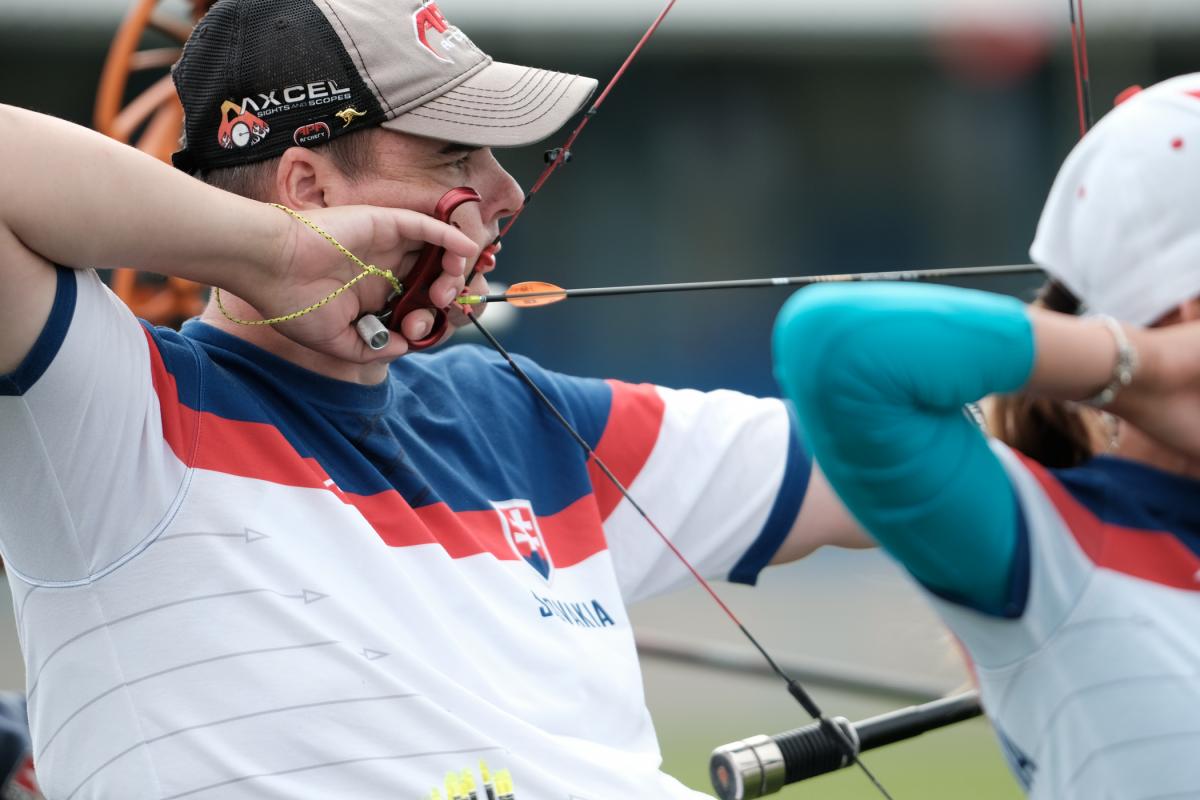 ⒸJan Povysil
By Lena Smirnova | For the IPC
Slovakia's Marcel Pavlik has been a constant on the Para archery scene since 2013, reaching the world No. 1 rank in the men's compound open on several occasions.
His performance back in February at the 6th Fazza Para Archery World Ranking tournament in Dubai, UAE, was confirmation that Pavlik is on the rise again. 
But 10 years ago, the champion archer nearly gave up on the sport.
Releasing the recurve
Pavlik first picked up a bow – a traditional recurve, to be precise – in 2008. But he found himself feeling pain and suffering from "target panic."
"I could not shoot," he recalled. "I just see the yellow, but I cannot release the arrow. It's a mental block. I was not able to release the arrow."
The physical and mental strain proved so severe that Pavlik quit archery in 2010 and switched his full attention to handcycling. 
For two years until 2012, Pavlik did not pick up a bow. But as his road miles added up and cycling became increasingly repetitive, the longing for archery started to come back.
"I did handbike for two years and I did a lot," Pavlik said. "One time, when I got 80km behind me, I said, 'OK, I want to do archery again and with a compound bow."
New bow, new archer
The compound is a modern bow with several strings and pulleys, thus more efficiency and power. It became a game changer for Pavlik as he got back into archery with newfound energy and no back pain. 
"With the compound bow, I had to start from the beginning, but I had less pain and health problems with the back with the compound bow in comparison to the recurve bow," Pavlik said.
Jokingly nicknamed the "dark side" by some archers, the compound bow has more parts and is considered more technically complex than the recurve. For Pavlik, who is often self-coached, the challenge was to master this new equipment.
"With a recurve bow, many people know how to do it and set the bow, but with the compound bow in Slovakia, there are few people who shoot with it so I had to start from the beginning and I had to learn everything by myself," Pavlik said. "I studied a lot by myself, from YouTube, from various websites because nobody could tell me, 'do it this way or that way.'"
This tenacity and love for the sport eventually yielded top results, starting with a team bronze at the 2013 World Archery Para Championships in Bankgok, Thailand, followed by multiple individual victories at continental Championships and other international events.
Pavlik's thrilling 143-142 victory over Italy's Paralympic silver medallist Alberto Simonelli in Dubai earlier this year not only ensured that he defended his title, but also restored the Slovak's world No.1 ranking spot.
Pavlik's knowledge about compound bows has become so extensive that it is not a far-fledged notion to see him create his own design.
"I have some ideas about parts of bow, but I don't know what I would call the new bow. I won't call it Marcel Pavlik's bow," he said, adding that at most, he might give the design his initials 'MP.'