Fazza 2020: Singapore's Alim lives up to her reputation in Dubai
Turkey, Italy clinch two golds each
27 Feb 2020
Imagen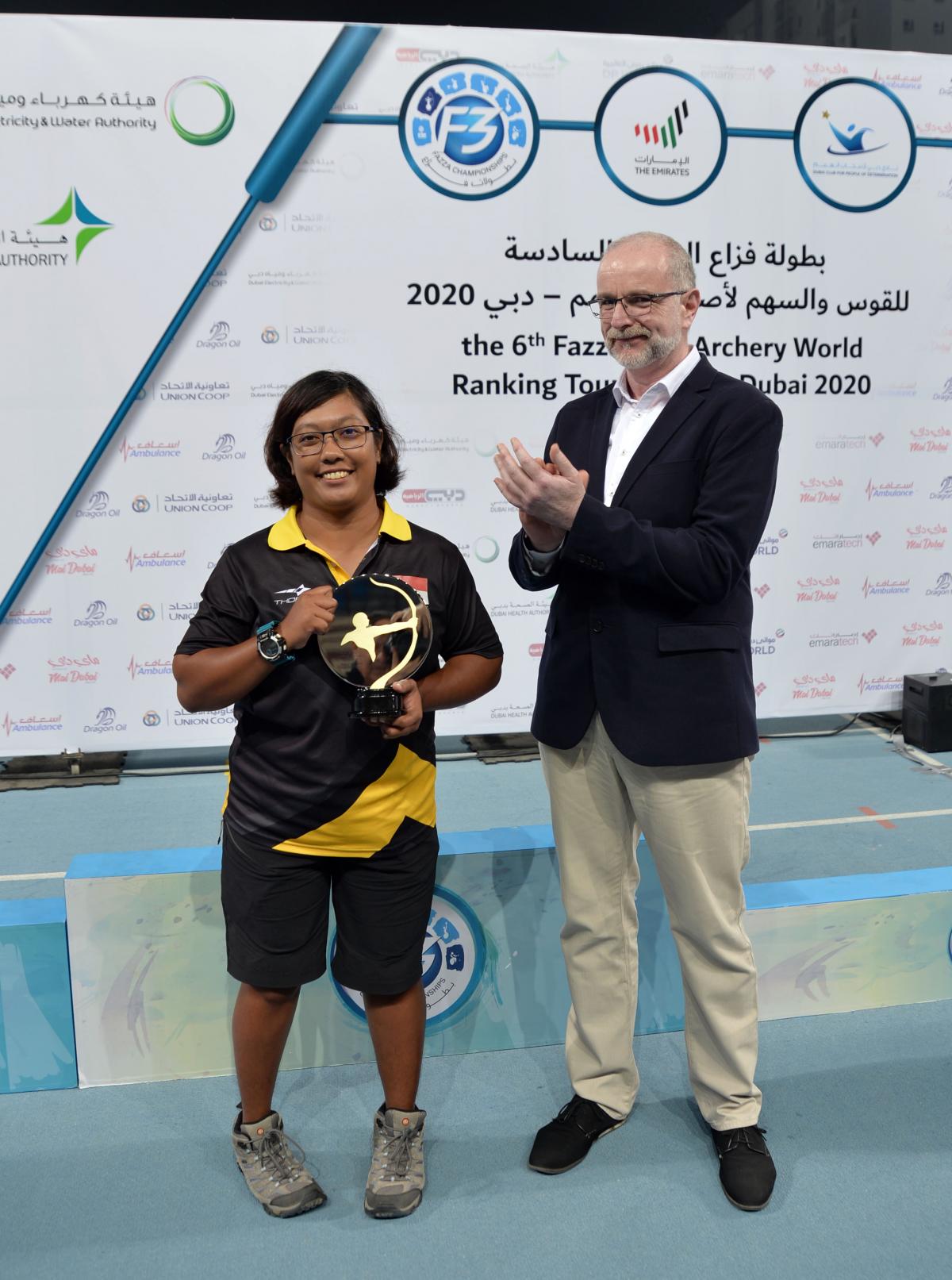 ⒸLOC Media
By LOC Media
World No. 1 and world champion Nur Syahidah Alim of Singapore clinched gold in the Compound Open Women finals and picked up the Best Female Player of the Tournament award as the curtains fell on the 6th Fazza Para Archery World Ranking Tounament in UAE.
Alim overcame a fighting Maria Andrea Virgilio from Italy 135-131 in the final that was led by the former throughout.
Alim thus continued her great run of form from the 2019 World Para Archery Championships in Holland. He was keen to keep the momentum going all the way to the Tokyo 2020 Paralympic Games.
"The final was challenging. It was a close contest and I was trying to stay focused throughout the match. My coach was always telling me, 'Breathe in Confidence and Breathe out Anxiety'.
"It is also part of our training process. I am happy to execute the plans my team had. I am looking forward to the Tokyo 2020 Games now," said Alim, who finished fifth at the Rio 2016 Games and hopes to have a "podium finish in Tokyo."
"External factors will be important in Tokyo. Thus, we will train accordingly. I hope I can live up to the expectation of my country and I can inspire the youngsters in Singapore."
Pavlik defends title in style
The men's Compound Open final was another edge-of-the-seat affair as Slovakia's European Championships bronze medallist Marcel Pavlik defeated an equally strong Alberto Simonelli, the Paralympic medallist from Italy, to defend his title in style.
Simonelli stayed on the heels of Pavlik until the end, starting with level scores to a difference of two points in the fourth end (112-114).  The Italian star hit a perfect 30 in the fifth end but Pavlik kept his calm and scored a 9, 10 and X to win the thriller by one point (143-142).
Pavlik raised his bow in jubilation and hugged his coach. "I have worked very hard to have a good 2020 season. And to win at the start of the season is surely a confidence booster. I am excited about the Paralympics," said the overjoyed Slovakian.
Two gold each for Turkey, Italy
Elsewhere, it was Turkey and Italy who shared the honours claiming two gold medals respectively. While Turkey finished with seven medals overall, Italy closed their campaign with eight medals.
The Recurve Open Men title was claimed by Patru Eugen of Romania who shocked Turkish Paralympian Sadik Savas 6-2, before Merve Nur Eroglu compensated it and gave Turkey its first gold in Recurve Open Women's final.
Eroglu defeated London Paralympic silver medallist champion Elisabetta Mijno 7-1 for her first international gold medal. She is a two-time Worlds silver medallist.
The W1 Men and Women Open events were won by Gaspar Tomas of Hungary and Aiko Okazaki. Tomas saw off Jean Pierre Antonios 134-126, while Okazaki made a strong comeback in the final end to win 115-111 over great Britain Victoria Rumary.
In the team events, Italy led the table with two gold medals in Compound Men Open Team and Mixed Team W1 events.