India's Palak Kohli battles all odds to brace for Tokyo challenge
'The Tokyo 2020 postponement was indeed a disappointment for me as I missed my board exams to secure qualification points towards my dream'
03 Jul 2020
Imagen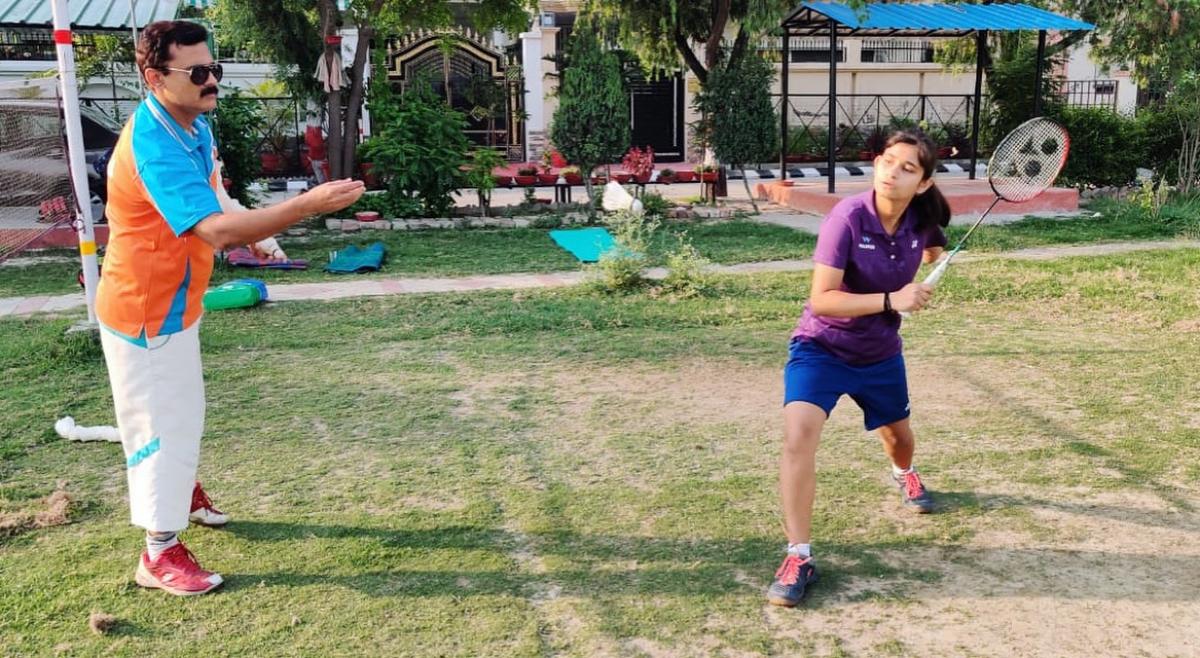 ⒸAsian Paralympic Committee
By Priyanka Sharma, Asian Paralympic Committee | For the IPC
India's 17-year-old Para badminton prodigy Palak Kohli not only shares the same surname as her country's cricketing star Virat Kohli but also has the same zeal and determination as the batting maestro.
Seven months have passed, and she has been away from her home and family in Jalandhar, a district in the state of Punjab. She hasn't taken any break from training either since last year. No Christmas, New Year or Holi, the Indian festival of colours, nor has the current lockdown due to COVID-19 pandemic pinned her indoors.
While most athletes were confined to their homes, Kohli chose to stay in Lucknow, the capital city in the state of Uttar Pradesh, and continue her training sessions under National Para badminton coach Gaurav Khanna. Despite being just 17, Kohli firmly believes she has it in her to achieve her target - Tokyo 2020 qualification and then win a medal for India.
"2020 has been an important year for me in terms of my returning to full fitness and focusing on my target, the Tokyo 2020 Paralympic Games. After my injury last year, I worked very hard to get my form back and started the New Year on a good note. I didn't want to break the rhythm and consistency," said Kohli, who has a deformed left hand by birth and competes in SU5 women's singles and doubles events.
"I know this is a difficult time for everyone and being safe is the priority for every athlete. But I didn't want to start from the scratch when the lockdown is lifted. My parents were also not happy about my decision of staying back here, but I was getting closer to my dreams. And they respected my decision so that I can get better with my game and, Gaurav Sir helped me in this," said the youngster.
Kohli, who made her Nationals debut with three gold medals last year, is currently continuing her practice at an outdoor makeshift court at a nearby park in her residential society in Lucknow.
In fact, just before the nationwide lockdown was imposed in India, Kohli had bought most of the gym equipment to continue her strengthening and conditioning exercises.
"I am also aiming to make a comeback in singles events, so I have to get my 100 per cent fitness before the events start.
"As most of the athletes of our Academy have returned home before the lockdown was placed in mid-March, I moved into a paying guest accommodation and took permission from the management to put up a makeshift court. Thankfully, they agreed. And now I and three other athletes are training here under Gaurav Sir in two sessions." 
With four international medals in her nascent career, Kohli has already made a place for herself among her peers. At No. 5 in the Badminton World Federation women's doubles world rankings, she and her partner Parul Parmar, are inside the Tokyo 2020 Paralympic qualifying cut. The duo won the women's doubles title at the Uganda Para International Tournament last year, before taking the silver at the Peru Para Badminton International in one of the two tournaments, they competed in 2020.  
The top six in the list published by International Paralympic Committee will get automatic qualification. "I want to be remembered as a Paralympian. And winning a medal at this biggest stage will be my dream," said the determined Para shuttler who is ranked 10th in the women's singles SU5 event.
'Tokyo2020 postponement was disappointing'
Competing at the Tokyo 2020 Games, next year, is all the more important for Kohli as she competed in the qualification tournaments at the cost of her high school examinations. Out of the 13 qualification tournaments, 12 were completed and the last one was cancelled due to COVID-19.
"The Tokyo 2020 postponement was indeed a disappointment for me as I missed my board exams to secure qualification points towards my dream. I was only focused on doing well at the Games. But this has been a challenging time for everyone and the decision was taken to ensure the safety and well-being of the athletes. Thus, the time I have got now, I want to overcome my weaknesses and get better and better in my game."
Not just at the Tokyo 2020 Games, Kohli has already set medal targets for Paris 2024 and Los Angeles 2028 Paralympics.
"With all these targets to achieve, I will have less time for studies. However, I wish to study Physical Education and Mass Communication as my other career choice. I also want to be a qualified Official of Badminton like umpire or referee in future," said Kohli.
Carolina Marin a big inspiration
The rise in her career notwithstanding, Kohli too saw the fall early as she faced a career-threatening injury in the summer of 2019.
A calf injury during the Irish Para Badminton International in June 2019 forced Kohli for a two-month lay-off. Though she returned for the BWF Para Badminton World Championships in August, but it was just to secure some crucial qualifying points.
"The injury wasn't healed then. But I still wanted to take a chance and secure some important points. I then played in Thailand, China and Japan, but didn't get the result as I expected. Negative thought crossed my mind quite often that how am I going to reach my goal when I am down with injury so early in my career.
"That was the time when I watched Carolina Marin's comeback videos; how she spent hours in her rehabilitation to make a winning return after an eight-month break. That was quite inspiring for me; I kept my patience and started working on strengthening and conditioning of my body, especially my legs."
Kohli too acknowledges Khanna for his contribution and support in her career. "He is the one who also guides and motives me. He is not just my mentor but one whose qualities I want to have as a human being. When I was injured, it was him who was my pillar of strength, encouraging me to stay strong and to never give up," said the player who is supported by flagship programmes Olympic Gold Quest (OGQ) and Welspun Super Sport Women's Programme, while the Japanese manufacturing giant Yonex backs her with equipment.
All for the sport
For Kohli, Para badminton is her world now. "The last few years has been a life changing experience for me. Para badminton introduced me to a whole new world. I am more confident and stronger now, able to set targets for myself and work towards achieving them as well.
"It has been the reason for my happiest moments in life. I, no more, feel disabled or being sad about my condition. For the last two years, I am also the school captain and am very happy to be able to change the perceptions of so many people. I hope I can do something big in Para badminton and make my parents, coach and country proud one day."